03 October 2019 - Unicaja Malaga showed its character by downing Buducnost VOLI Podgorica 83-70 at home in EuroCup Group D on Wednesday. Volodymyr Herun paced the winners with 19 points in less than 19 minutes and Josh Adams added 15 on 5-of-7 three-point shots for Unicaja. Scott Bamforth led Buducnost with 19 points and Justin Cobbs added 16. Bamforth had 11 first-quarter points to lead Buducnost to an 18-25 lead after 10 minutes. Carlos Suarez and Jaime Fernandez rescued Unicaja and Adams allowed the hosts to get a 48-42 margin at halftime. Unicaja led throughout the second half and took off midway through the fourth quarter to seal the outcome.
Suad Sehovic got Buducnost going with a three-pointer and a layup by Bamforth soon gave his team a 2-5 lead. Unicaja found a go-to guy in Herun, who singlehandedly gave the hosts their first lead, 9-7. Herun kept pacing Unicaja, scoring 12 points in the opening 6 minutes for a 14-9 margin. Bamforth struck from downtown, igniting a 0-12 run in which Cobbs had 7 points, good for a 14-21 lead. Bamforth remained unstoppable, leading the visitors to an 18-25 margin after 10 minutes. Carlos Suarez and Alberto Diaz each nailed a triple to make it 24-27 early in the second quarter. Nikola Ivanovic and Hassan Martin stepped up for Buducnost, but Frank Elegar, Fernandez and Suarez fueled an 11-0 run that put Unicaja in charge, 35-31. Aleksa Avramovic took over with a backdoor layup and Adams did better with back-to-back three-pointers for a 43-35 Unicaja cushion.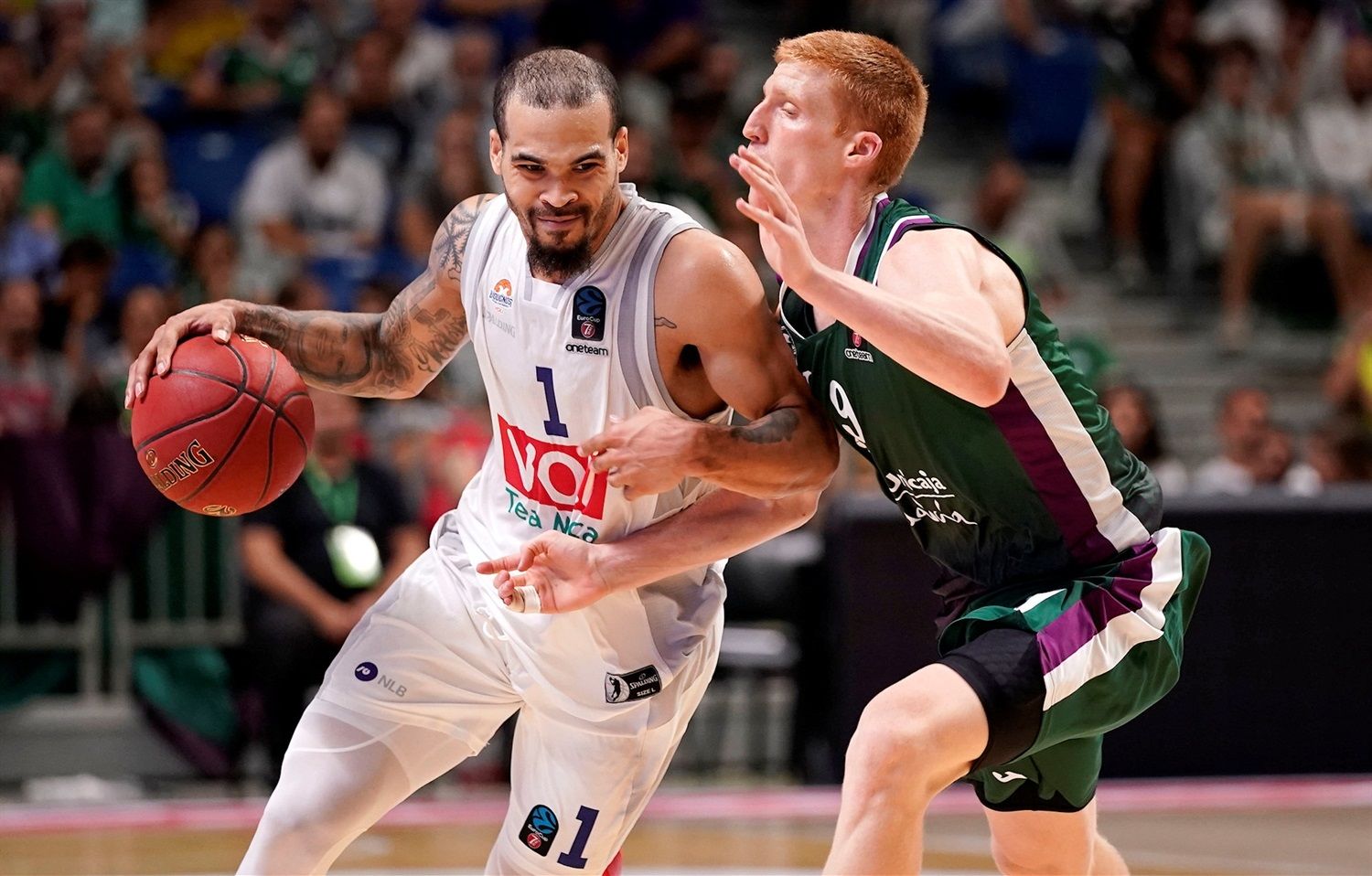 Ivanovic and Cobbs tried to change things for Buducnost, but Fernandez and an unstoppable Adams kept Unicaja in charge, 48-42, at halftime. Herun and Fernandez scored around the basket soon after the break and another triple by Adams made it a double-digit game, 55-45. Adams hit his fifth shot, getting help from Deon Thompson and Diaz to keep Unicaja way ahead, 63-51. Martin and Bamforth brought Buducnost a bit closer, 67-59, after 30 minutes. A three-pointer by Danilo Nikolic gave the visitors hope at 69-62 with 7 minutes left. Waczynski answered from downtown, igniting a game-breaking 12-0 run which Herun capped with a layup that sealed the outcome, 81-62, long before the final buzzer.
Adams blew up the game with his shots from downtown; he hit 3 of them late in the first half to put Unicaja ahead for good and added 2 more after the break to ignite the crowd. Adams finished the game with 15 points, 3 rebounds, 2 assists, 2 fouls drawn and a performance index rating of 15 - all in his first-ever EuroCup game.
Buducnost managed to get within 69-62 with 7 minutes left and Unicaja was struggling on offense. Waczynski and Diaz each hit a three-pointer in a 12-0 run that helped the hosts put the victory on ice. The great fourth-quarter defense made it possible, too - Unicaja allowed 11 points in the final 10 minutes.
Three-point shots and its overall aggressiveness allowed Unicaja to win the game. Unicaja hit 10 of 29 three-pointers (34.5%) and limited Buducnost to just 4 of 17 (23.5%). Unicaja won in offensive rebounds (12-9), steals (7-3) and blocks (3-2). The game went to the team that wanted it more.
For the second time in three EuroCup campaigns, Unicaja opened the regular season against Buducnost. Back on October 19, 2016, Unicaja downed Buducnost 62-86 in Podgorica behind 19 points from Jamar Smith. Unicaja went on to win the EuroCup title that season. Suarez, Waczynski and Diaz played that game and are still with the team.
Both teams return to EuroCup action on Wednesday, October 9. Unicaja visits Adecco Arka Gdynia in what will be a very special game for Polish swingman Adam Waczynski. Later that evening, Buducnost hosts Dolomiti Energia Trento.
Source: EuroCup 7Days News
Read more news about sports in Montenegro at TMN's dedicated page.