10 September 2018 - The Sixth International "Big Game Fishing" competition in fishing for swordfish, tuna, mahi-mahi (dolphinfish) and albacores, organized by the "Big Game Fishing Club Herceg Novi", will be held from 12th to 15th September in Herceg Novi. The event is supported by the Tourist Organization Herceg Novi, Herceg Novi Municipality, and City Port Management Agency. This year, 20 teams will take part in the competition. The event will be held at the sea within Montenegrin borders, outside the Bay of Kotor, 12 miles from the coast and moving from City Port Škver.
For each day of the event, the departure within the competition is scheduled for 8 AM, and return to the Škver is reserved for 6 PM. The official opening and the beginning of the event is scheduled for Wednesday evening, September 12, at 8 PM at the local bar "Stanica" in Šver. Each competition day will be followed by an entertainment program at the Stanica bar, starting at 6 PM. Also, weighing of the catch and scoring will be performed at 8 PM each event evening at the bar location, when the bar will offer a variety of fish specialties free of charge for all visitors.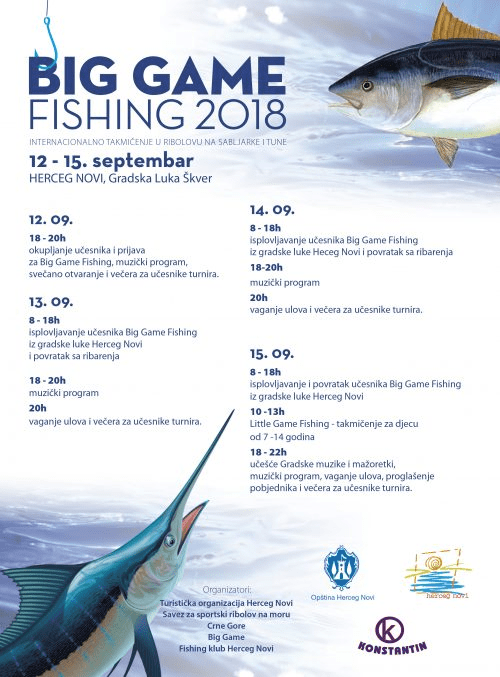 Within the "Big Game Fishing" competition, on Saturday, September 15, "Little game fishing" will be held - a competition for children aged seven to fourteen, starting at 10 AM.
"Big Game Fishing" competition in Herceg Novi has an international character, so the participant teams, besides the hosts from Montenegro, include guests from Serbia, Russia, Switzerland, Germany, and Italy.