October 2, 2020 - In these dark days of the COVID-19 epidemic, everyone needs to take off a little above the clouds and socialize. It is even nicer to learn together, proposes an invitation to a seminar offering continuous psychosocial support for parents of children and young people with special needs. The seminar was held in Herceg Novi as a part of a broader project to support those children and their families.
About twenty experts from Kotor, Tivat, and Herceg Novi joined the coordinator, Dr. Sonja Vasić, for a two-day gathering organized by the NGO Meritum, held last weekend in the Blue Salon of the "Dr. Simo Milošević" Institute in Igalo.
The session leader was Dr. Nenad Rudic, a psychiatrist at the Institute for Mental Health in Belgrade and a consultant to UNICEF Serbia, whospoke to Radio Tivat at the end of the workshop:
"We had the opportunity to exchange our professional experiences and to provide our thoughts on the topic that brought us together: what is the best way to help this group, and what is possible, not forgetting that from the practice of helping children with special needs, parents are not just on the sidelines, but are actors in both child development and in our work with them. The reality is that both in our country and elsewhere in the world, a major issue is how to find the right models and ways of sustainable support to parenthood. Especially in the most challenging situations, we certainly do not have all the answers. It is in those challenging situations where we are wondering whether the profession can, within its competencies, develop support meetings, sometimes within its daily practice, but also as a special activity. These sessions can take place both with groups of parents and through individual counseling. Within these sessions, the parents need to be able to ask questions, feel good while asking them, get clear answers to personal questions, and feel that the child development services are working with the child. We are on the same side as the parents and we are trying to understand each other."
In particular, there were discussions on child development and disorders, mental health problems in children and young people with special needs, quality of life, and parental stress and their own mental health problems.
Emphasis was placed on the partnership model of counseling support to parents, to which attention will be paid in the next three similar sessions provided by the organization. The idea is for participants from three Boka municipalities to organize continuous work with parents in their communities after the training.
The organizers read a letter of support from Mary Borojevich, president and founder of the NGO Meritum, who came to Montenegro after many years dedicated to caring for children with special needs in Serbia.
"For the last four years, I have turned my attention to Montenegro, continuing the work with special needs children. We supported the daily care center in Herceg Novi for two years by paying the rent and funded in-home schooling for those kids who could not attend school. Our latest effort is to provide for the needs we learned of from professionals and family members when we held a needs assessment seminar last November at Cattaro Hotel," explains Mary Borojevich for TMN.
"This is planned to be a four-phase training program; the first phase was held 26-27 September. Our goal is to answer the call of the area's population with one sole goal in mind. That is to improve the special needs reality so that everyone may reach their full potential. Of course, the very wonderful side effect will be a more capable and compassionate society in this beautiful Boka that I have come to love and call my second home," says this humanitarian worker interviewed by TMN two years ago.
Tivat is Finally Opening the Doors of Daily Care Center for Children with Special Needs
Among the workshop's participants last weekend in Igalo, was Marijana Škanata, the President of the NGO European House Tivat, which gathers parents of children with special needs from the town. The NGO has been supporting children with special needs and their families since 2007. As a parent of a child with special needs herself, advocating for better policies and practices through the years, Marijana was invited to join the gathering both as a journalist and experienced worker on the topic:
"The first thing that struck me was the great enthusiasm I felt among all the participants. They came with many ideas, cooperation suggestions, and proposals of how continuous psychological support should be provided within the social care system. In today's world, psychological support is needed more than ever. As a parent, I took the opportunity to emphasize some good and some bad examples of how participants in health and social care systems could be helpful or psychologically unsupportive with parents in very delicate moments. In doing this, we discussed real problems and found solutions together, acting as a team."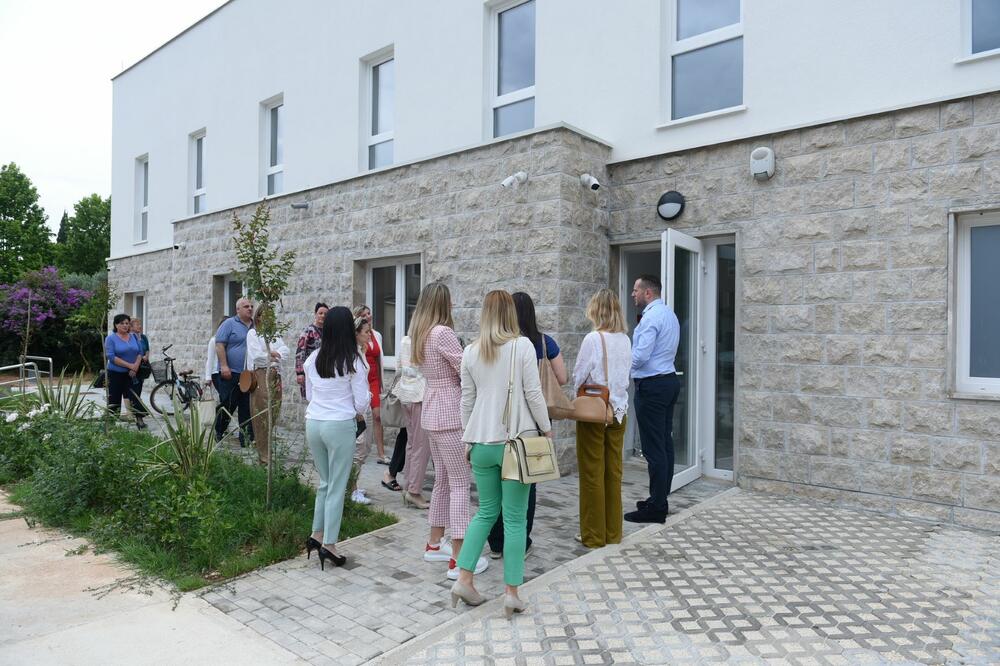 Daily Care Center for Children with Special Needs in Tivat, Photo by Sinisa Lukovic
NGO European House Tivat was founded in 2000. Their mission to help special needs children began in 2007 when Marijana took part in a working group to create the Local Action Plan for Children, introducing the need to organize a daycare center for children with special needs in Tivat into the local plans. After years and years of EDT efforts, those plans are finally coming to fruition - the daycenter will host its first guests on Monday, October 5.
The Montenegrin "Monte Carlo," as some like to call Tivat when making a development-level comparison, has succeeded in opening the Daycare Center after dozens of projects, educational, and funding events organized by EDT Tivat.
"We started collecting funds and advocating for the daycenter in December 2008, with our first project dedicated to children with special needs - I want to go to the EU, me too! It took a lot of time, but some of our children will finally have this vital service. It is important not only for them but also for their families. Of course, we are happy and look forward to future cooperation and joint projects with this important local institution," said Marijana Mišić Škanata for TMN.
The institution "Daycenter for Children and Youth with Disabilities" Tivat was officially opened on August 12, and its doors open to guests on Monday, October 5. According to the coordinator, Vedrana Petković, the Center in Seljanovo can accommodate 20 guests.
"The center's working hours are from 7am to 3pm; every aspect will be designed with the needs of the children in mind," Vedrana points out, noting that the center is counting on close cooperation with the NGO European Home Tivat.
Guests will have at their disposal a living room, a room for individual work, rehabilitation room, and sensory room, and the center is open to children and young people up to 27 years of age.