Social and health protection, as well as real inclusion in the society of children and young people with special needs in Montenegrin society, is still in the background. In addition to all the initiatives and positive moves, there is a lot of work to be done in terms of the development of adequate services, and in terms of public awareness and sensibility, as well as the questioning of the legal regulation defining this area. An American with Balkan's origins and retired as a member of the US Army, Mary Borojevich has been devoted to various projects to help children and young people with disabilities in the Balkan area for 18 years. She started her mission in the USA, continued in Serbia, and then in Bosnia and Herzegovina. For two years now, Mary has been working in Montenegro, which she has chosen for her new address. Since she has a great experience and good connections, she could be of a great help to our country in order to improve the support system for the most vulnerable part of our society.
TMN: The main reason for our conversation is not that you decided to live in Boka Bay but the fact that you founded a non-governmental organization MERITUM with the intent to help us deal with many issues related to the status and living conditions of the community of the most vulnerable group of society - children and young people with special needs.
MARY BOROJEVICH: It's true. It is not uncommon when anyone wishes to come to live here. It is really beautiful. But I lived in Belgrade for 17 years, sometime from 1999-2000. The main reason for my arrival here was to help children after the war. So, after 17 years of work in Belgrade, I was trying to continue my mission. Also, during those years, I expanded my activities to Bosnia and Herzegovina. Specifically, in Kostajnica, in Republika Srpska, where my grandfather from my father's side comes from. We were very successful both in Belgrade and in Kostajnica, but I started dreaming about working and living somewhere nice where I feel good. As you know, in Belgrade and Kostajnica the climate is not very pleasant. So when I discovered the possibilities for myself here and the needs in the sphere I am concerned, I thought that my new mission, the continuation of work to help children with special needs, should be here.
TMN: What is the background of this story? I suppose you do not invest your own money to help children? Is there any foundation behind your projects that work internationally?
MARY BOROJEVICH: That's right. I was at the forefront of an international organization from Houston, Texas, named Cherish Our Children International. This organization began to help children in Romania during the tragic years of the country's presidency and the dictatorship of Chaushesku. The woman who founded the organization, Julie Hall, introduced me to the Serbian princess Jelisaveta Karađorđević. Jelisaveta organized humanitarian events for fundraising in San Diego, where my American address is. Then I met her, and she persuaded me to come to Belgrade to help. So, in fact, I first arrived in Belgrade. As it was associated with the Cherish Our Children International organization, we launched the Children's Center in Belgrade. I decided to go to Belgrade and see with my own eyes how this center works, where the money went. And, I was very, very disappointed with what I found. First of all, there were no children at the Center, there were several employees who received unusually high salaries. And they did nothing. There were no children. Of course, I had informed the board of directors of the foundation. After that, they invited me to enter the board of directors myself and become a person responsible for overseeing projects in the Balkans. Today I am no longer at the forefront of the organization. After 17 years, I retired from the office two years ago and set up my organization. My organization, which is also registered in America, is called SNAP - Special Needs Advocacy Partners. In September, it will be two years since we started collecting funds for this organization, and now MERITUM, an organization I have founded in Montenegro, gets funds from SNAP.
TMN: Although you're a native of America, both your mother's and father's families are from the Balkans.
MARY BOROJEVICH: Yes. This can be seen by my surname- Borojević. My grandfather, the father of my father, was born in a small village of Poduška near Kostajnica on the river Una. Today, it is administratively in the Republic of Srpska. And right there is one of our missions - we have a kindergarten in Kostajnica. This kindergarten was bombed during the war. Croats were trying to get it back in function, but they did not have the funds to rebuild it. I offered them my personal help with my own money because that is where my root was, I really wanted to help. I told them that I would be happy to rebuild the kindergarten, but they also have to give us some space within the kindergarten for children with special needs. Here I am faced with a very strong resistance, because, culturally, it is not common for children to mix. I told them that I was aware of this, I realized, but the rest of the world, the contemporary world, long ago realized that inclusion, mixing different children with different needs, is good for everyone. In the end, they let me do what I was going to do and I did it. My heart is there. I am very happy that I was able to help the area, where my grandfather comes from. And, my grandfather was the best grandfather in the world! So, there are my roots on my father's side. On the mother's side, our family is Stepanovic. Her grandparents came to America from Croatia, from Ogulin. There they lived in a small Serbian village where people were mostly engaged in cattle breeding. So, for my father, I am the second generation in America, by the mother the third. What I think it might be interesting for our audience to hear is that I do not have my own children, I do not have natural descendants. But I felt the real need to devote myself to helping children, the children who really need help. And I wondered who needed the help most?! Blind and weak children? Do I help small children? Do I help teenagers? Do I help children by providing them with funding for education? There is a great need to help children in different spheres. And then I told myself, how do I usually do this in my life - I want the toughest challenge, I want the most complicated mission! And I wondered which the most vulnerable group of the youngest is?! For me, these are kids with special needs. And not only relating to the difficult challenges they have in life with their physical and mental disabilities, which is difficult to overcome. Already, in the cultural sense, I have recognized that public awareness is the greatest challenge and the area where is the most difficult to make a difference.
TMN: Unfortunately, I believe that the situation is very similar or the same in Bosnia or Serbia, there is still a great stigma here when we talk about children with special needs and their families. Numerous families still keep their children away from the public eye and are not ready to seek help to facilitate the lives of their children and the families as a whole. There are still children who live hidden behind the doors, through which nobody enters.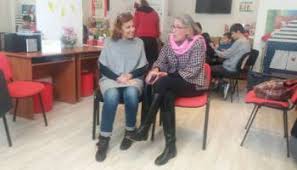 MARY BOROJEVICH: Hidden, that's the right word. I must be honest, unfortunately, it is true. And, in that sense, I do not see a significant difference between Bosnia, Serbia and Montenegro. The situation is the same, and unfortunately, very bad. The stigma you are talking about is very present. But what encourages me is what I have emphasized as I spoke about the experience in the Republika Srpska - when the competent authorities say no that is not the reason to turn and go. We were there to help children to have the kindergarten again. And listen to what's happening - kids from high school have organized the action of collecting toys for our kids. We helped them to organize a concert in a small fortress, in cooperation with peasants from Croatian Kostajnica. Because, you know, children, young people, teenagers, they do not want to talk about war- they want to go ahead, they want to be progressive. And, in this very small, rural village, people have embraced the change. They admitted that children with special needs would also be in the kindergarten. Which of these children was needed, just like the rest of the youngest part of the society. In Serbia it was a little harder, it took more time. It was that we were in Belgrade. You know that Belgrade is overwhelmed, corrupted, dirty, fast, complicated. Our mission is now in Sopot, which is about 70 km from Belgrade. The US embassy is a very important partner there. In the end, we realized our project with the help of the embassy, we built a beautiful and very functional center in Sopot.
So when I arrived in Montenegro, I had 17 years of experience with a stigma related to these children. Their families, as well as society as a whole, keep them aloof, hid them. Particularly difficult for me to accept, something that is incomprehensible to us in the West - that mothers here have a complex, feel guilty. Unjustified guilt, based on old-fashioned, even subordinate beliefs, and feel that they are guilty of their children being special needs. But I put the children in focus. I want to help them maximize their potential. For example, some of our patrons in Belgrade are working today in car centres, in McDonald's. We have come across encouragement and help from organizations like ours. Otherwise, these kids would still sit idly in their homes, watching television, playing computer games, or listening to music. And one of those children could be the new Nikola Tesla! Who can know this! He may be hidden among these children. One of the goals we want to push in the right way is testing, not only to find their problems and constraints but also to find out whether any of these children have a special talent in some spheres. This is how I can save hope, even when faced with various problems with families, society. To encourage myself to believe that this mission is like a treasure hunt, I am confident that I will find this treasure.
Allow me to point out something - the officials at the local government of Herceg Novi, where my Montenegrin mission started, were extremely compassionate. They helped us in every sense from the very beginning, and they were supportive at every step. And I want to share it with everyone, I want people to know. I know the administration has problems, and we have them in America. So, when I found officers who are really willing to help, who really care, who allow me to call them in the middle of the night, always ready to help me - I want to praise them, I want to emphasize that it exists!
TMN: In Montenegro, Herceg Novi is one of the municipalities with the largest number of registered children with special needs. A day center for children with special needs has functioned in this city. However, unfortunately, it was closed for ten months due to lack of space. There you found the way to help. Talking to all the institutions dealing with children with special needs, as well as the families themselves, when asked what they needed the most, they said a provision of space for the day center. And, you did, you've temporarily solved their problem.
MARY BOROJEVICH: That's right. In November 2016, we had a conference in Herceg Novi and we called everyone. We invited representatives of health institutions, specialists, representatives of the municipality, people from the Children's Home in Bijela, specialists from the Igalo Institute. The reason for this is that we really needed information, we needed to see the needs of the community. So at the beginning, we said to them: Let's pretend it is Christmas. Do you have a list of what you would like for Christmas? Tell us what you want! And consensus reached - everyone agreed that it is most needed and the most urgent to re-work the day center. The day center was ten months without a roof. Thus, for ten months, 14 registered children did not know where to go during the day. I thought it was not a problem that only affects children, it is a problem for parents too. How do they go to work? Who will take care of their child during the day? How will the child continue with therapies? What about the other aspects of the child's care in the Day Center? So, I started searching for an adequate space. I also looked for a house for myself. And I found a few-hundred-year-old stone house, which I now intend to preserve in its authentic form for the time to come. My architect, Mr Boris Ilijanić, a very educated man and a conservative who is very familiar with the old stone building, helped me find what I was looking for. It took me two years to find a home and go to work on its renovation. I thought - I can do the same when the day center is in question. We found an acceptable solution. Since last spring, there is a new space, which is nice and functional. This is a temporary solution. We, MERITUM, have a two-year contract with the municipality to provide the rent for the space within that time. I think the municipality is close to finding the final solution, the permanent address of this significant social service.
MERITUM currently has two other projects - we set up a sensory room at the Igalo Institute. As you know, its purpose is to perform adequate analyses as well as provide therapy to children with various sensory disorders such as autism. It's a room with lots of different, specialized equipment. And this room has not been in the Institute so far, even though they provide the service to this group of patients. The third actual program is related to the project of NGO Kolo Srpskih sestara, with regard to children who are not in need of care outside of their homes. But they have certain developmental problems. Through this project, for ten children of preschool age, a defectologist, a psychologist and a physicist have been provided to continually work with them until they are ready to go to school. And, this project is 100% successful. Specialists prepare children, children become ready for school, and then they continue to support them, to make sure they succeed in following the curriculum. Otherwise, all ten children would get stuck in their homes, separated from other children, isolated from the community. So this is a very important and good program as well. So, I am very ambitious and focused on what I want to do, and I have funds through the foundation. I am aware of the great need in this sphere.
TMN: MERITUM is not an organization that offers only material and logistical support. You intend to help the most vulnerable group in our society also in an institutional sense. You offer all kinds of support. And even though your organization is registered in Herceg Novi, you are planning to expand across Montenegro.
MARY BOROJEVICH: Exactly. You know, I'm a retired American Army member. So, I have close contact with the military attaché at the US Embassy in Belgrade. And I believe in the same cooperation with their colleague in the Montenegrin Embassy. As an American who now lives in Montenegro, I have already contacted them, I talked to the military attaché in Podgorica. He helped me organize a meeting with the Assistant Minister of Labor and Social Welfare, who was very well-intentioned and friendly. I believe we will work together. MERITUM is actually an acronym. The name comes from the goals we set ourselves. It is a multidisciplinary, educational, developmental, research transfer of successful methods. In the United States, people ask, during the various programs we are organizing to provide funding for what we are doing and intend to do, where these resources go, and Americans are, in principle, very generous. When they hear where their voluntary contributions went, when they see the results of our work, they are very happy and satisfied.
I am very passionate about my mission. Especially since I have successful projects behind me and I know I can make a difference. And I know your society can be better, richer if we take into account these kids. And not just children. All other people with special needs. Someone in your law has set the age of 27 as the age limit for institutional support! Why 27?! And what, you're 27, and you have no support anymore. Until when? It should be up to the age of 65 when you can get support services for the elderly. Meanwhile, you are forgotten. And we cannot ignore the fact that many of these young people, even though they have reached the 27-year limit, are mentally or physically at the age of seven or twelve. What about them? They are forgotten. So, we want to create support programs for that group of people who definitely need support.
Improvements and support are needed not only in terms of education and healthcare but also in terms of true inclusion in society. Last year I saw the billboards. They were written in Cyrillic, I did not quite understand. But there was a picture of a bus stop. It was raining, and in the stand, there was a covered bench. But people did not sit on a covered bench. They stood in the rain and waited for the bus. And why? Because there was a man in a wheelchair under the cover! No one wanted to stand beside him, as if he had an infectious disease. It was a good billboard. It was also useful for me to understand that even today, in the modern world, there are people's prejudices against people, there is fear. Even I do not think it is a fear, as much as it is ignorance. You know, in America, the best places in stadiums are for people with special needs. The best spots at the cinema are for people with special needs. Restaurants - they would close them immediately when there would not be toilet facilities for people with special needs. In our schools - the kids are all together. They must be together. That's not a question. Children like children, of course, they are curious at the start, maybe a little scared. But in just a few weeks, they become friends. After a while, they forget the disadvantages, only see one of their friends. Working with the youngest is the way to make your society make a significant step forward in this sphere.