At the King Nikola Castle until April 15th, an exhibition entitled "Voices of Silence" was presented by the award-winning painter Goran Četković who lives and creates in Sutomore, reports Vijesti on April 1, 2018.
This is a new series from the same cycle that was presented to residents of Bar in 2016, which is considered "one step further" by the author, with numerous large formats that, as a painter, were challenging for him.
"Frankly, through the stories of colleagues and friends, this topic has come to light. By circumstance, I created bigger blind frames and canvases and went off. A decade ago, I created larger pictures. But I'm not a slave of the format, and for me, a good picture is a good picture, regardless of the dimension. I deal with the same topic as in my small and medium-size images, and the story is the same, but some changes are desirable, which I would do to make it even better. I think that this has now yielded fruit and quality," said Ćetković.
In addition to these formats, in the previous years of his creative work, the artist also changed the color on his canvases.
"All this comes to me spontaneously. The colors are there on the pallet, my eyes move and then my hand. It is true that my painting binds to the color blue which is dominant, as that is the color of the universe. Every single head on my canvas is a universe of itself, my universe, untouched by any detail, all with the aim of expressing this central motif. What I want to say is that I am certainly extending through dark and light relationships, through the psychological tinting of characters," Ćetković continues.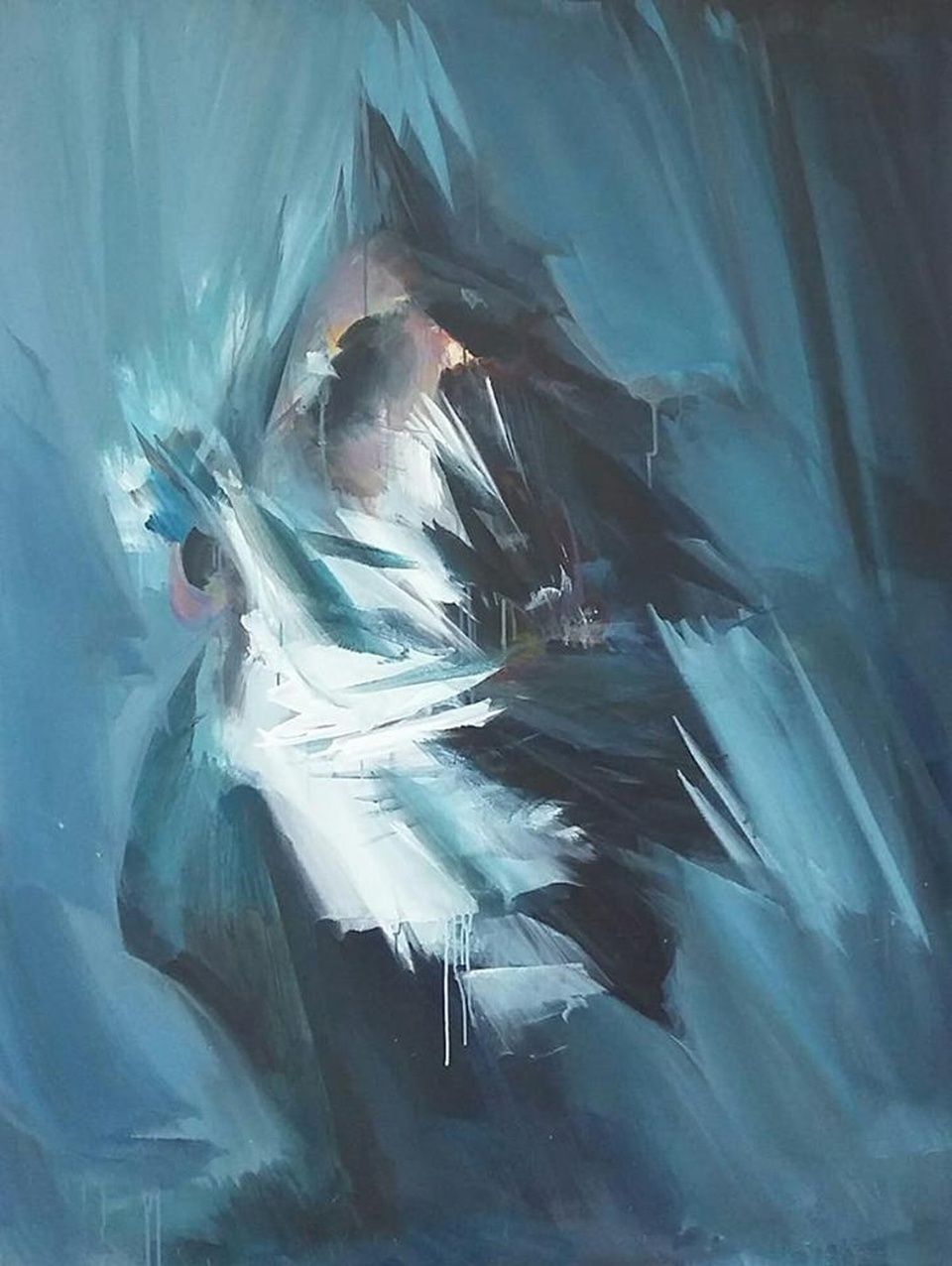 Regardless of the novelties, technically, his gesture remained the same.
"This handwriting, gesture, and brush strokes remain recognizable. It is a wide brush, and it gives power to my works - without it my painting is unthinkable. Naturally, what I'm trying to do, which is seen in my works at first glance, are the elements of expressionism and abstraction, with a powerful fantasy," the artist points out.
The possible pivotal work of this setting is the "Thinker", a large-format oil on canvas, as well as Goran's award-winning work "Philosopher" from 2016. "The Thinker" is distinguished by artistic airiness, and in the context of new works, is a clear sign of Ćetković's latest work. The birth of this painting, says the artist, was a painstaking process.
"Every big canvas from this phase began with the form of the 'Philosopher', and today's 'Thinker' I painted for months. The canvas where I started to paint a self-portrait turned into the 'Thinker', and I came to a form that is very unusual in the artistic sense. It looks fresh, but under these layers, there was a lot of work and a lot of searching in all phases of the image. The epilogue has flaunting form. It was the first painting I wanted to do on the big screen, but, it is one of the last ones I created. I wanted work that can separate everything, and here it is now in the central place in this setting. I think it deserved it," Ćetković adds.
In Goran Ćetković's creative process, as a rule, what sets a drawing is diametrically opposite to the final result, where a miniature cycle is conducted on one screen.
"In my paintings, I lean towards the power of expression and expressiveness, and if you are buried in one place, if you place the drawing on the canvas and remain faithful to the end of the painting process, then this image is static and loses its dynamics. It is important for me that the image is dynamic, to rotate, that it is alive, that it works, that I constantly fight with it. If it is static, it's totally different from the goal of my painting," the painter pointed out.
These items will be exhibited at the ULUCG Art Pavilion in Podgorica in September and will be supplemented with new works, "to get more quality in that large area." This detail points to Ćetković's work discipline, which has been characterized since his student days.
"There were rises and falls today, and when I look back, it's possible to say that without work there is nothing. Some days the work is reduced to only two or three hours, but you have to go to the studio every day, you have to take the brush in your hand, live with these images, and watch them. Sometimes we do more work by watching and analyzing the works in silence. With the loneliness and silence in the studio, as an escape from the modern noise and consumer society, these characters who are distanced from this world come out," Ćetković concluded.
Names are framing images
The titles of Goran's paintings breed with reflection: "The face of the world", "Creation", "Prayer", "Face of war", "Birth/happiness", "Thinker", "Circle", "Nausea", "Thought", "Peace" "Smile", "Fear", "Expectation", "Scream".
"It's interesting that I always create the picture first, and only when it sits in the studio for some time, after I have analyzed it and did what I wanted, will I give it an adequate name. I try it to be as short, simple and effective as possible, and it is usually one word for the essence," says Ćetković.
This article was translated from an article by Radomir Petrić on Vijesti.me Goran Ćetković: Every single head on my canvas is a universe for itself