The opening of the documentary exhibition "Intangible Cultural Property of Montenegro" on 5 December at 18:00 at Kotor's Solidarity Gallery marks the start of an international conference entitled "Intangible Cultural Heritage of Boka Kotorska" to be held from 5 to 7 December 2019.
The exhibition will be opened by the Director of the Directorate for Cultural Heritage, Ministry of Culture Aleksandar Dajković, with Mayor of Kotor Željko Aprcović, Acting Director of Municipal Public Institution "Museums" (OJU "Muzeji") Slađana Mijanović and ethnologist-anthropologist Danijela Đukić also speaking at the event. The exhibition's curators are Anastazija Miranović, Branko Banović, Mileva Pejaković-Vujošević, Tanja Vujović and Tanja Rajković.
The musical segment will feature Kotor Klapa ensemble "Pearls of Boka" ("Bisernice Boke"), celebrating their 40th year.
The multidisciplinary scientific conference "Intangible Cultural Heritage of Boka Kotorska: Status, Challenges, Potential" (5-7th December 2019) is being organised by MPI "Museums" Kotor, with the support of the Secretariat for the Protection of Natural and Cultural Heritage of the Municipality of Kotor.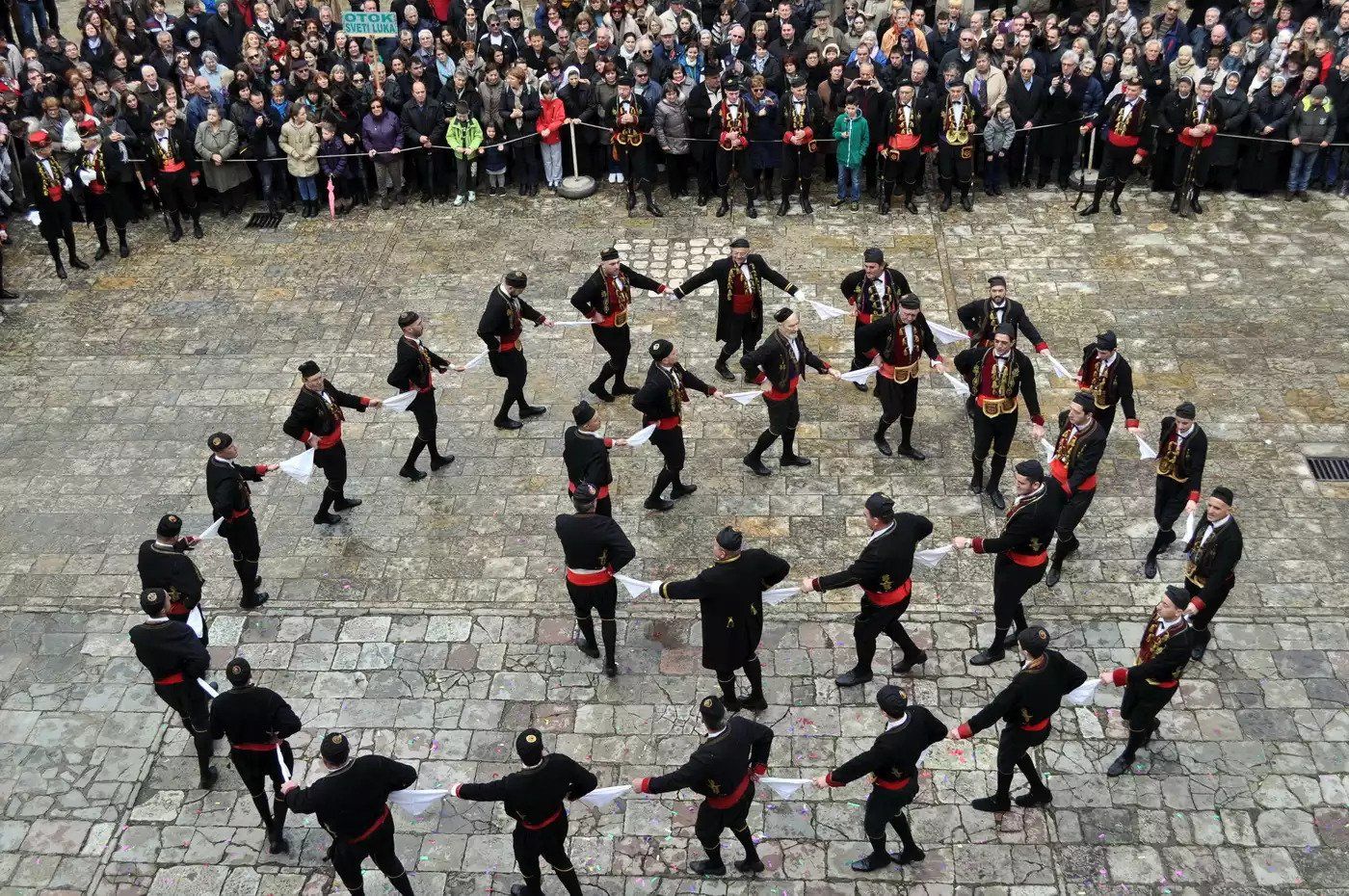 Bokelian Navy dance Kolo - Photo Boka News
Events, festivals, customs of both local and national importance, skills and traditional crafts are recognised by the UNESCO Convention on Intangible Cultural Heritage adopted in 2003. The Parliament of Montenegro ratified the Convention in 2009, and with the subsequent adoption of a series of legislative acts, intangible cultural heritage was recognised in 2010 (Law on the Protection of Cultural Property). With the conference, MPI "Museums" is marking ten years since the ratification of the UNESCO Convention on Intangible Cultural Heritage.
With their addition onto the UNESCO Representative List of Natural and Cultural Heritage precisely 40 years ago, and after the devastating 1979 earthquake, Kotor and Boka Bay through their unique blend of different cultural and natural influences and heritage of universal values, became renowned worldwide as areas with values belonging to the whole of humanity.