06 September 2019 - Art exhibition Fragments of Light by artists Miloš Radunović and Igor Husag was opened last night at 8 PM by exhibition curator Maja Dedić in Gallery "Klub" within the Contemporary Art Centre of Montenegro. The exhibition will run until September 23.
The first night of the exhibition was visited by numerous guests and curator Maja Dedić used the opportunity to thank everyone and invited all interested parties to make sure to check out the exhibition by two young artists.
She also added that the generations of younger artists are starting to appear in the very dynamic Montenegrin contemporary art scene lately and that such artists are leaving the imposed frameworks derived from classic media. This type of approach shows greater readiness for experimentation and new research in the direction of extending the boundaries of artistic disciplines and media.
"At their first joint solo exhibition, symbolically titled "Fragments of Light", these two close in age artists - being versed in contemporary media - rely on the experiences of their own rhythms and give emphasis to light as a unifying element in their works. Partially or completely based on play and experimentation, Miloš and Igor elaborate this theme from different positions, by simultaneously exploring the boundaries of their spatial and visual experiences - from the light and shadow forms that are inseparable from the image and drawing, to the bright beams of light particle lasers, i.e. their extensions in photo and video works," said Dedić during the opening ceremony.
In his previous work from the series "Fragment, fluid", which includes two installations of drawings and digital prints, Miloš Radunović projects his vibrant and dynamic inner world, bursting with emotions and specific visual means. His artwork reveals that he's keen to experiment in the drawing and digital prints media. In his work, Miloš observes the movement of the color through matter and bases his research on the phenomenon of its transformation and structure. When asked about the other ways he uses to express his emotions, thoughts and imagination, Miloš points out that he is especially devoted to drawing. His work involves fitting smaller fragments of different formats into single units and using them in a series of drawing processes. Finally, when these small fragments are done, the artists proceed to use different techniques of digitization and format enlargement so his artwork can reach bigger formats and present matter that is invisible to the naked eye. His artworks often closely resemble the textures from nature and Miloš himself likes to describe his paintings with usually one word such as: sand, Moon, dirt, river etc.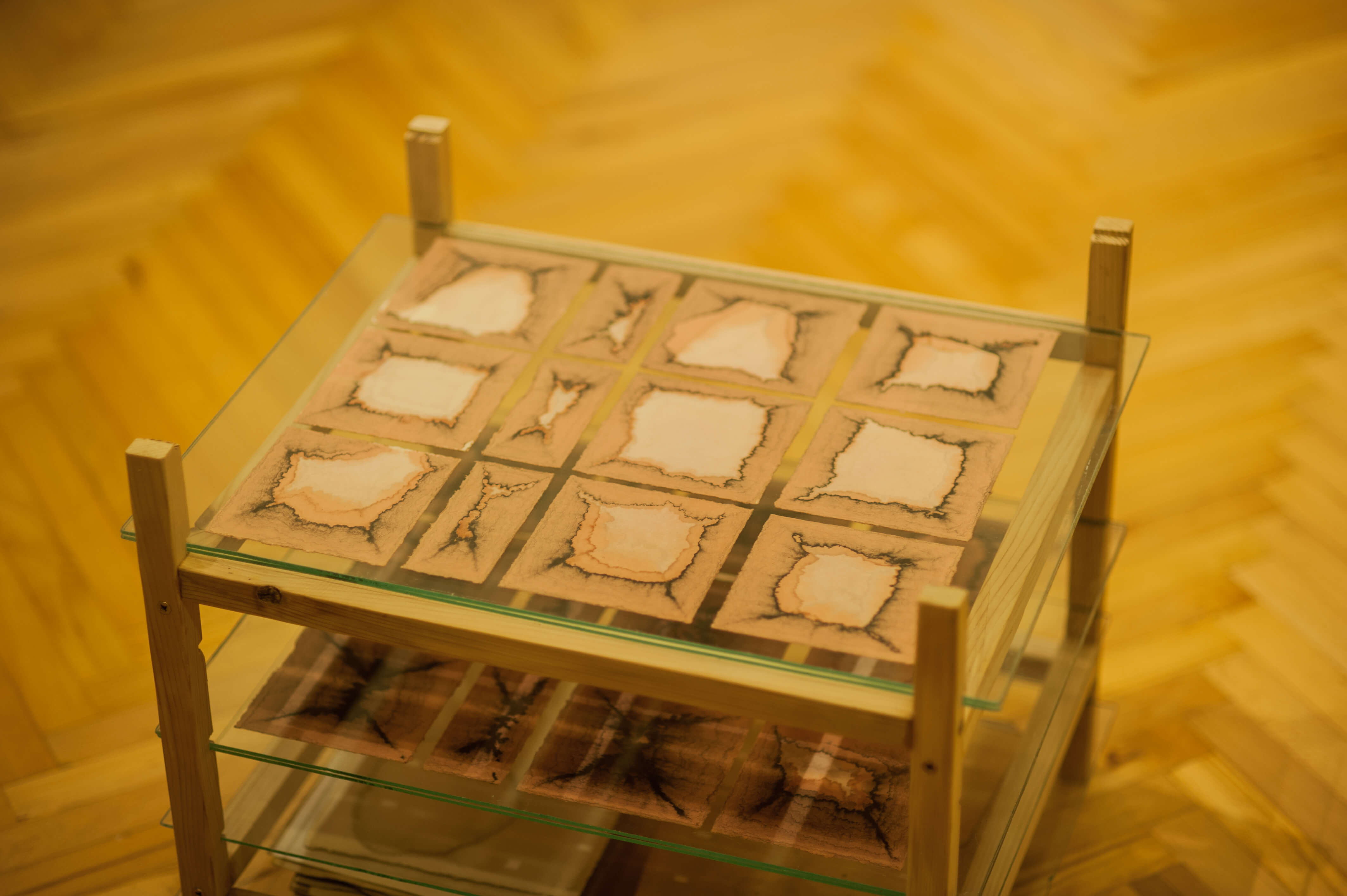 "What you see in this circle is nature describing itself: electricity, gravity and magnetism together aligning tiny colored particles over paper submerged in water. This is what it looks like," said Miloš for one of his numerous paintings.
The second part of this exhibition is definitely devoted to issues of identity and existence of individuals who are lost in contemporary society. This is presented by Igor Husag and his work "Laser Boy".
"This work consists of a digital print installation and three video works in which the artists problematizes the influence of globalization on the positioning of a man in the modern consumer society. Using his body as the medium of expression, he sets up the work as an interactive installation that connects the author's body with technologies of light; it springs alive with the activation of a neon sensor and amazes with its combination of audio and visual effects," said curator Maja Dedić on the topic of Igor Husag's artwork.
She also added that in this way body structures with localized beam interference, together with the bar code associations, become part of a creative play that illustrates the world's automated and robotic everyday way of life. By expressing themselves by experimentation, play and light elements, Miloš and Igor create intriguing, interesting and creative artworks that resonate with the spirit and the perceptions of the times humanity live in right now.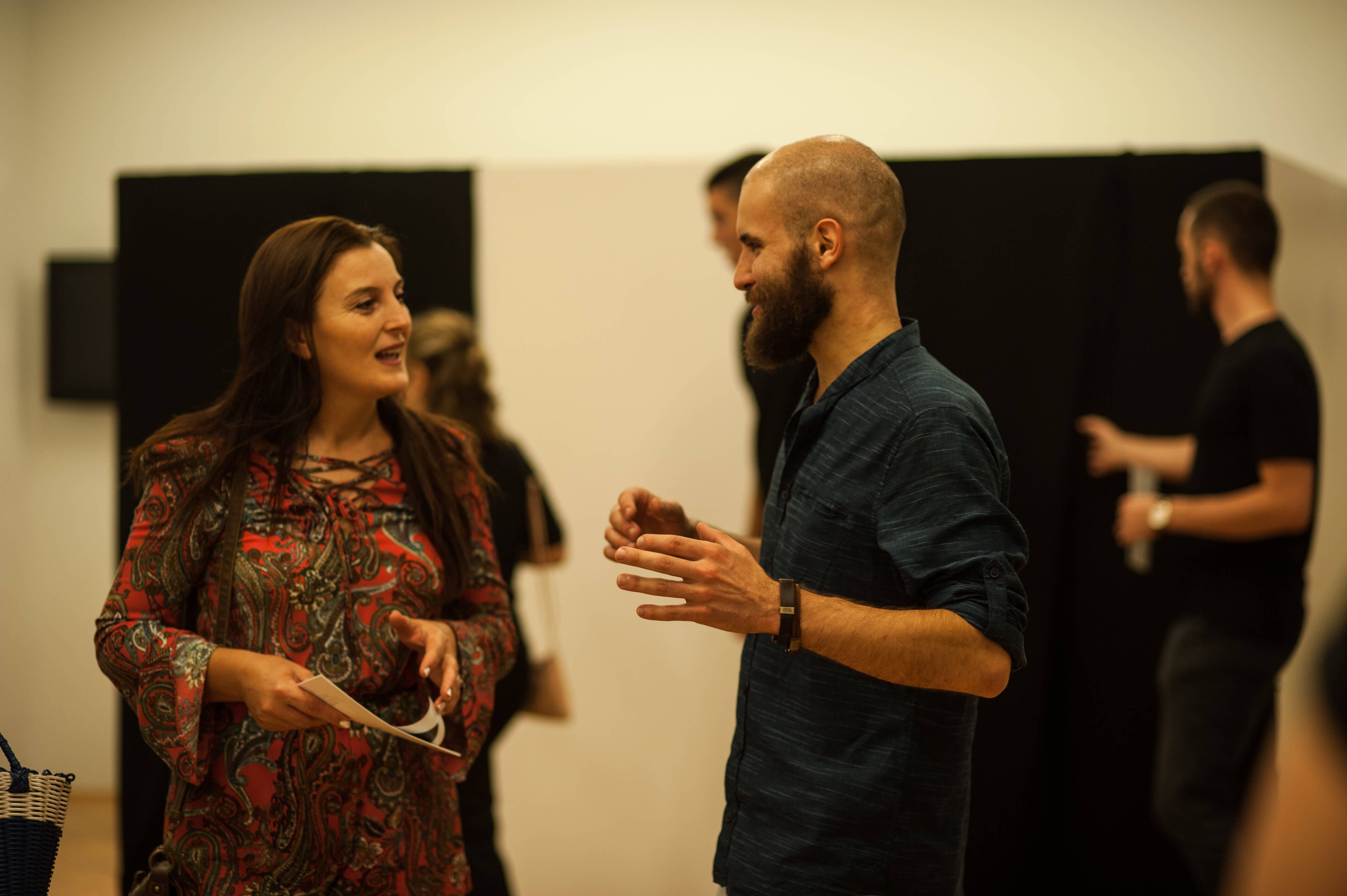 Miloš Radunović is born in 1993 in Zrenjanin, Serbia and he finished basic and specialist studies on the Painting programme at the Faculty of Fine Arts in Cetinje in 2018. He participated in student group exhibitions of the Faculty of Fine Arts in 2016, 2017 and 2018, and he currently lives and works in Podgorica. Miloš is also famous for his "100 Drawings for 100 Trees" action, in which his drawings are being sold for 5 EUR, while the half of every transaction is dedicated to a plantation of a single tree.
Igor Husag is born in 1993 in Subotica, Serbia and he graduated at the Faculty of Visual Arts of the Mediterranean University in Podgorica. During his basic studies, he spent a year at the Academy of Fine Arts in Zagreb, attending the classes. Since 2017 he lives and works in Asia, where he is also attending Master Design Studies Programme at the Shanghai Jiao Tong University.
Read more news about lifestyle in Montenegro at TMN's dedicated page.