02 July 2019 - Public institution Museums and Galleries of Budva organized an independent exhibition of the academic painter from Budva - Vaso Nikčević which will be opened at the Memorial House of Stefan Mitrov Ljubiša on Wednesday, July 3, 2019, reports RTV Budva.
Vaso Nikčević (1964, Nikšić) graduated from painting at the Faculty of Fine Arts in Belgrade, in the class of Professor Živojin Turinski. Through solo exhibitions, he presented his work in numerous eminent galleries in Montenegro, the region, and abroad in cities such as Paris and Boston. Also, he participated in numerous joint exhibitions in the country and abroad. He received prestigious awards in Belgrade, 1991, the first prize "Petar Lubarda", and in Podgorica in 1996, the Painting Award of the Association of Artists of Montenegro "Milunović, Stijović, Lubarda".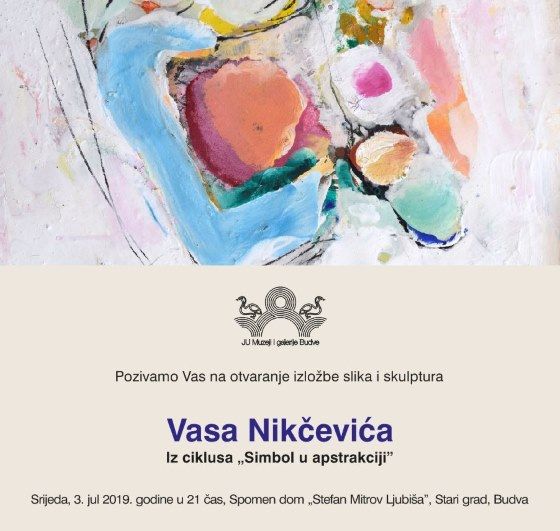 At the exhibition at the Memorial House of Stefan Mitrov Ljubiša, Nikčević will present the work that he created in the last two years within the cycle "Symbol in Abstraction," for which art historian Nataša Nikčević says that it is "a complex register of the very existence itself, but also cryptically suggested subscriptions about the World, the Universe, the Becoming. The dramaturgy of the painting, its space, its existence has the fundamental constitutive meanings".
On the two-dimensional surfaces of the canvas, the projection and the metaphor of the artist's self, some core and the unity of active power are traced in the visual layer, where the gestural historical forms can be noted, that connotate the Bible's becoming of the world, conflicts, creation, transcending time as a metaphysical category and as a distant echo of sublime play of Nature. Some of these archetypal historical forms are repeated: a circle - a symbol of integrity, perfection, core (symbol of being, essence), rights, diagonals (symbols of movement, passage), crescent moon (symbol of the astral) - the artist uses symbols of the world.
In addition to the latest works from the cycle "Symbol in Abstraction", this exhibition is special because it represents Nikčević's first solo exhibition featuring his works on paper - smaller formats, as well as two sculptures, made in combined technique, and two larger paintings on fibreboard.
The opening of the exhibition is scheduled for 9 pm, and the exhibition will be open until July 25, 2019.
Read more about cultural events in Montenegro at TMN's dedicated page.