September 17, 2019 - Milica N. Popovic chose the village of Klinci on the Lustica peninsula as her little paradise, where she often escapes from the historic center of Florence. She has been a conservationist and restorer of medieval manuscripts and books for 26 years in Italy. She eexpresses her essence through dance, which she has been practicing as a licensed dance therapist in recent years.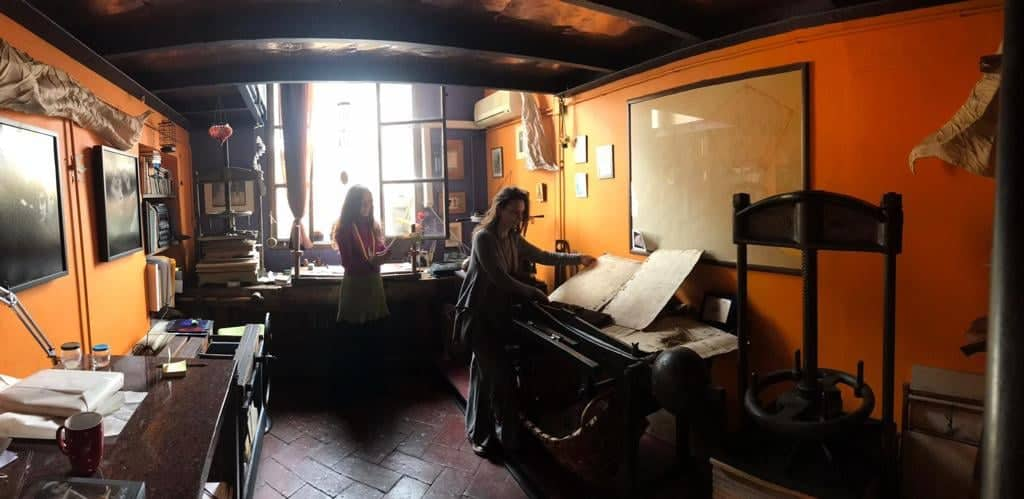 Milica and her associate at the L'Incunabolo atelier, Private archives
With a slight smile on her lips, Milica N. Popovic at first glance gives the impression of a person who is committed to the creation. She is an educated technologist, conservator and restorer of medieval books by profession, and the chosen spiritual path led her to become a dance therapist. And, as she says, she wants to share her knowledge with the world being a licensed dance therapist under the Maria Fux method for three years.
From her hometown of Belgrade in the early 1990s, Milica first moved to Germany and then to Italy. Belgrade friends initiated her professional journey, discovering her school of medieval bookbinding in Florence and she was delighted to realize that the path opening up for her is an opportunity to connect her desire for creation with the knowledge she gained as a technologist at the University of Belgrade. In addition to the highly successful Florence laboratory, Milica also boasts teaching work as a restoration lecturer at the Academia Brera in Milan.
"From the beginning, I recognized that restoring books was something that would combine my handcraft and my creativity. The cubes have slowly started to fold, and it has been over 20 years since my atelier-lab L'incunabolo in Florence. I am grateful to have the opportunity to work on beautiful things, on beautiful material, for many years. I was working on 30 volumes of Galileo Galilee and his associates, scientists of that era, and that, I can say, was the initiation of my professional journey. I started from a higher point, it was tough to go through that baptism of fire, but I managed. That later opened the door for me to do everything that I am doing today," Milica says gratefully.
The material of the Historical Archives in Kotor and numerous other archival collections in Boka Kotorska is in a very unenviable condition. Asked if she thinks that she a professional mission might have brought her to Luštica, Milica replies:
"I would wholeheartedly wish that I could be of help also here in Boka if I could contribute to the preservation of the heritage. I'm available - use me if you like. That's what I said to my hometown. I am in the mood to help you with all the instruments I have received throughout the years of my professional engagement."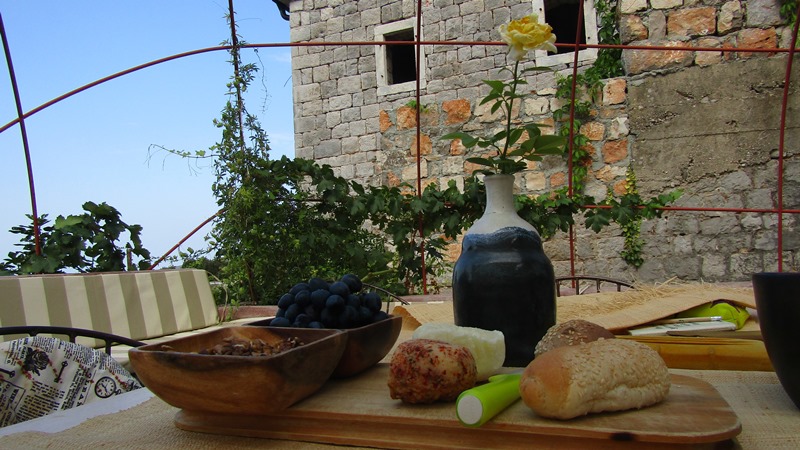 Detail from Milica's Garden in Klinci, Luštica, Photo by Antonela Stjepcevic
What attracted Milica to Lustica?
"Luštica is a magical place. Here I have found a deep connection with nature, with all that I miss in some way in the city where I live. I live in Florence in a beautiful place, Ponte Alle Grazie in the city center, but the contact I have with nature at Lustica is compelling indeed."
Milica owes her connection with Lustica to a friend who sent her an email in the early 2000s with photos of beautiful pink rocks and emerald sea. Milica could not resist, so she came with a friend from Italy. They decided to buy an old stone house and went looking for it. The first attempt failed, the owner changed his mind, but Milica is grateful to him today. If it had not been so, she would not have placed her dreams under the roof where she now enjoys every detail that has interpolated knowingly into the simple architecture of the 18th century's house.
"On the ground floor, where there is a modern kitchen today, there were cows, upstairs there was a family, and in the attic they kept hay. I bought that house, which stood there for almost 15 years, after which I decided to renovate it. And now this is my paradise on earth. This is where I can truly come into contact with myself, with the silence that is within and around me, and with everything that lives around me."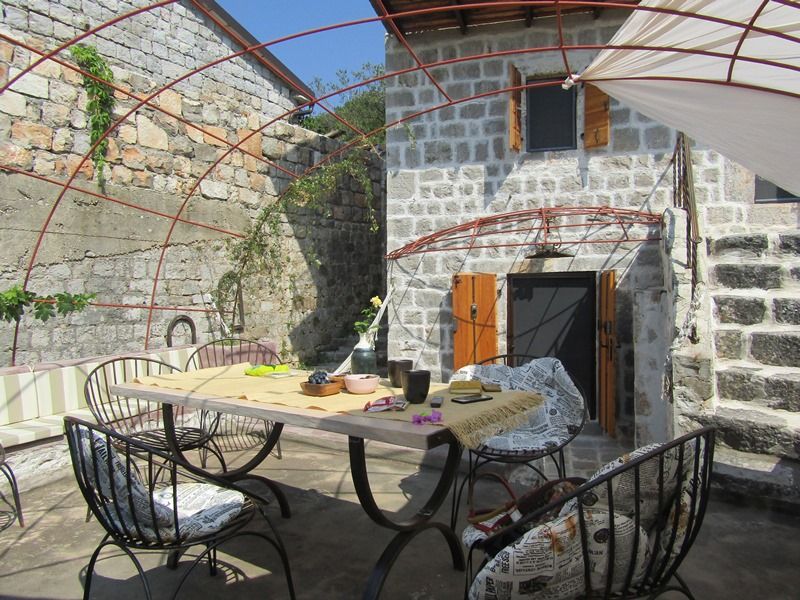 Milica's House, Klinci, Lustica, Photo by Antonela Stjepcevic
In every detail, Milica preserved the harmony of the space she chose for her place of peace and rest. She did her best not to disturb the nature and the anthropogenic elements of the cultural landscape that attracted her precisely with its harmony. "I tried not to disrupt the spirit of this house, but I restored its life by repairing it, refining it with specific details. Structurally, the house remained stone, using metal and wood, which are my favorite elements. None of the preserved original architecture has been altered, and I can say that the house is very harmonious, at least that's how I feel."
Like the bees that have built a large hive in the window of Milica's window, as the wind drives the sheets on a metal structure that makes shade on the terrace overlooking the entrance to Boka Bay, as the smell of mint tea from the garden spreads through the air, so Milica, 15 years ago embraced the dance technique, which, through movement, connects us with ourselves and everything that surrounds us.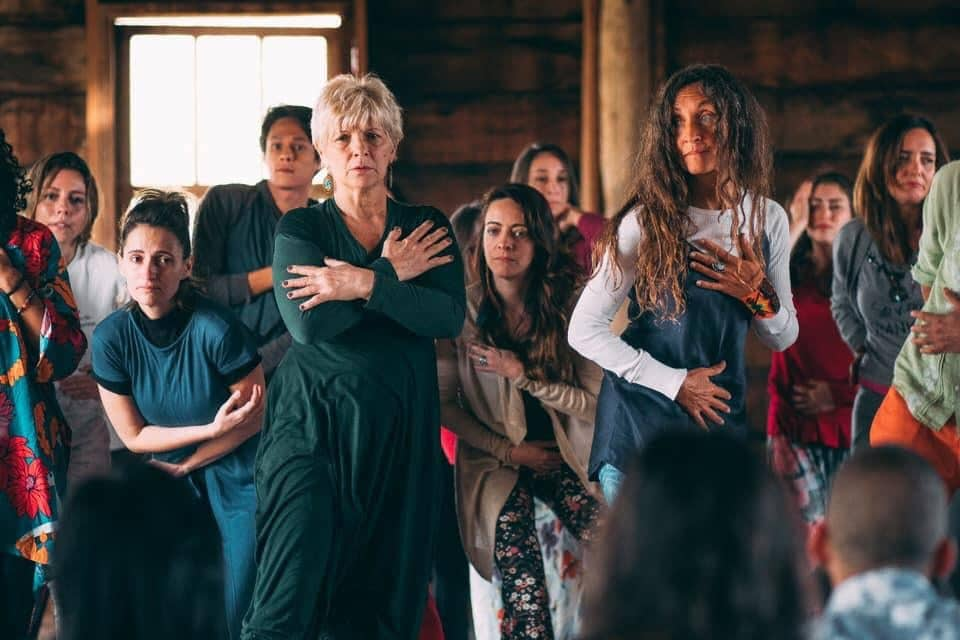 Danzaterapia, Maria Flux Method, Copyright: Private Collection
"It's a dance therapy method that came from Maria Fux, a 97-year-old dancer from Buenos Aires, who dances less and less physically but dances to another dimension. The first encounter with Mary and her method led me to realize that I had a completely absurd idea of ​​what dance was. It was the dance I felt I had in myself that Maria transformed into a method, which is a form of personal transformation through dance, which is an authentic movement. Our body is naturally predisposed to action. Over time, through different life experiences, we accumulate in the body, which enters the body's memory, always communicates with us and our environment. Sometimes we forget that everything is moving, that nature itself is in constant motion. So the suppressed experiences in us crystallize, leading us towards forgetting to use certain parts of the body, which occasionally goes into what we call disease. This method reminds us that dance is accessible to everyone, that everyone around us dances, that it has its movement and rhythm. We, in symbiosis with all this, find our authentic way of expression. For me, dance was one of the saviors that gave me a sense of life in a delicate moment when I no longer felt my body. It's over 15 years since I stopped dancing for a second."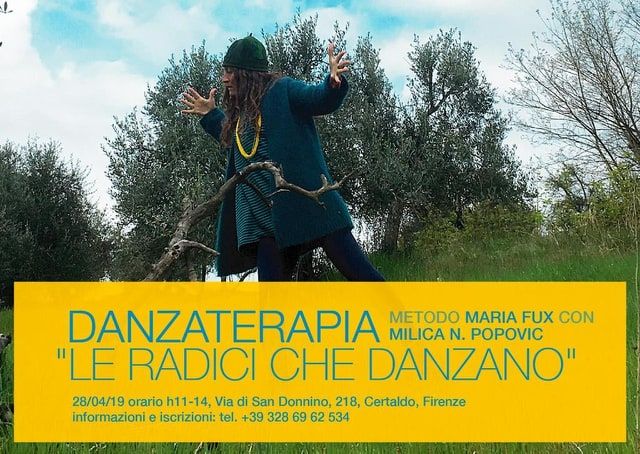 Danzaterapia- Milica N. Popovic
Milica considers dance one of the most critical instruments that allow her to express what her personality and her essence are. Initially, she had no idea that she would find herself engaged as a dance therapist; she wanted to deal with her own body and soul through dance. Her teacher Pio Campo, who she focused on after
Maria Fux
initiated her to practice this method, noticed that Milica had come to a stage where she could share the art of authentic dance with others. She graduated three years ago and is now a licensed dance therapist. Milica takes it as his mission to help as many people as possible in their journey to a happier and healthier life.
The specificity of this dance method, which is dance therapy, lies in the fact that each of us can dance and even people who are bed-bound. One finger movement is sufficient, Milica explains, to express the whole of ourselves through this movement. She has extensive experience in working with the elderly, the blind and the visually impaired, and other woolly groups of people who all benefit from genuine contact with themselves.
Milica hopes that in the years to come she will be able to spread awareness about dance therapy in Boka, and in Belgrade, she has already succeeded. "Wherever I find myself, wherever I am physically staying, I want to share my insights with all those who wish to receive this experience. Just as everything in nature dances, so can any man, even one who is unable to express it physically. It is enough for the blink of an eye, the movement of one finger, to show all the beauty of the dance we have in ourselves."