November 19, 2018- "If in some cases you are forced to choose only one vegetable for a lifetime, it should definitely be raštan" - every grandmother will tell you at any family farm along the Dinaric Mountain range. Raštan, or raštika (Crambe Maritima, lat.), is rich in various nutrients and even substances for the fight against cancerous cells, was the basis of the diet of generations of people along Dalmatia, Herzegovina and
all over Montenegro
. Apart from nutrition, it is characterized by the fact that it grows throughout the year. However, it is best in winter, every grandmother from Savudria in Istria to Ulcinj in the south of Montenegro will tell you. Probably also grandmothers in Albania.
Raštan is Known As Natural Medicine from Ancient Times
It has been in use throughout the Mediterranean since the earliest times. This is evidenced by the depictions on the background paintings and frescoes in the pyramids. It is often found in the depictions of the Greek god Zevs, because, of its extraordinary nutritional value, it was considered his gift to mankind.
Raštan contains substances that activate the creation of enzymes in the liver and thus helps neutralize cancer cells. It is interesting to note that Sulforaphane is formed only when baking or chewing fresh raštan leaves at places where crops are cut. Because of this it is recommended that the plant is cut off ten minutes before cooking or eating a fresh herb. Sulforaphane from this plant offers protection for those genetically predisposed to getting colon cancer. These are the results of research conducted at Rutgers University and published in the online magazine Carcinogenesis. Studies show that people who consume large amounts of raštan and other plants from the same family in their diet are far less likely to suffer from a number of cancerous diseases such as lung, bladder, prostate, colon, breast and ovarian cancer.
Raštan, or black cabbage, as they call it in Boka Bay, grew up in all the hillsides of Boka. It is growing also today. Somewhat grow wild, sacrificing the owners, who, if not sold for construction, then abandoned their farms. It is planted everywhere in the gardens, because even today, at this time of year, the scent of raštan from numerous households spreads. It's available at fresh food markets, even supermarkets. The best option is to visit some
farm
and ask for this vegetable. But, you need to know some tricks developed for centuries to come up with this hard, resistive and rewarding plant whose nutritional value is growing during thermal processing.
Raštan is rich in flavonoids called maempferol. Studies show that women have a 40% lower risk of ovarian cancer if they bring in larger amounts of maempferol. In addition to raštan, this substance is found in green tea, broths, broccoli, spinach and blueberries.
Raštan Needs to Be Prepared Well for Cooking
It would be ideal to eat raštan 3 to 5 times a week. Before harvesting, it is necessary to clean the wooden parts of the sheet. If the leaves are used for the preparation of "japrak", raštan packs filled with sautéed meat mixed with rice, the form of the leaf should be preserved, so hard parts cleaning should be done carefully.
Cleaned leaves should be squeezed into small pieces and soaked in cold water to release excess bitterness and soften, which will significantly shorten the cooking time. The same effect will be achieved if you put it in the freezer when you cut it. Only in the last generation raštan could be softened in this way.
Raštan could be prepared in a different way. In Montenegro it is the most popular way of preparing it is with potato and dried meat. Raštan "loves" smoked pork, sausages and bacon. The meat needs to be boiled before to release the excess salt, then put it in cold water together with raštan, whole white potatoes, a little pepper and olive oil. If you are cooking in a pot, it should be cooked about 45min to an hour. It takes about an hour and a half up to two hours to prepare in a regular pot. Like all cabbage, it loses the structure and "withers" during the process. So cook it in as little water as it will accept a large portion of the nutrients from raštan.
Raštan in "Boka's Plate" by Mašo Čekić
Well known journalist and gastro nomad Mašo Miško Čekić, who we can thank for saving a great number of traditional dishes of our grandparents, offers many ways to prepare raštan. The most classic, with dry meat, Mašo says our grandmas prepare with the addition of "white", common cabbage.
Ingredients:
1.5 kg of dried meat (bacon, sausage, dry pork rib, smoked sheep meat)
1 kg of raštan
Smaller head of white cabbage
75 dag of potatoes
Salt (if needed)
Put the dry meat in cold water overnight, wash it well and boil it. Then put the meat in new water. Take out the cooked meat, remove from bones and leave it on warm. Strain the boiling water in which the meat is cooked, if necessary. Use water to cook the raštan - cut it into wider strips and the "white" cabbage in larger pieces. After twenty minutes add the potatoes to split into quarters and boil until the potatoes soften. Then put the meat back and leave to boil together with the vegetables. Your only task left is to enjoy the meal, and you will, for sure.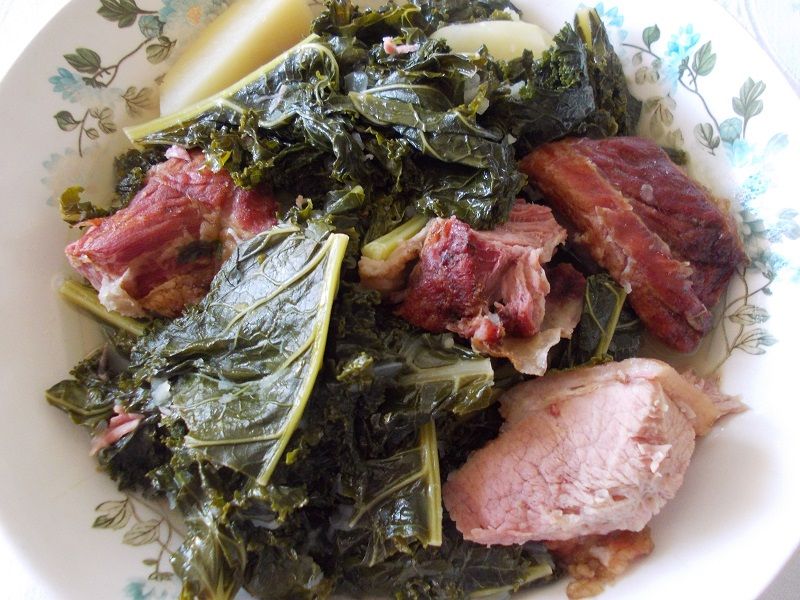 Raštan Was Madonna's Choice When Visiting Montenegro?
There is the story that when Madonna visited Montenegro, who is known for her healthy lifestyle and very controlled diet, preferred raštan. Raštan is rich in vitamins A, C, all B vitamins, except B12, but also magnesium, cellulose, calcium, copper, carotenoids. The combination of vitamins, minerals and other nutrients placed this vegetable in the position of a super-star of healthy food. Whether Madonna's story is true, we cannot know for sure, but this story has become a part of the great nutritional value of raštan.