Since the original church was of modest dimensions and the cult of martyr Tryphun was growing stronger, the citizens of Kotor came together to build a new church. The construction started in 1124, and after 42 years, it saw the participation of several bishops, abbots, city clergy and Byzantine governors for Dalmatia and Duklim, and was finally dedicated to the bishop of Malon in 1166. Due to many earthquakes, the Cathedral was significantly damaged, and the reconstructions changed the original appearance.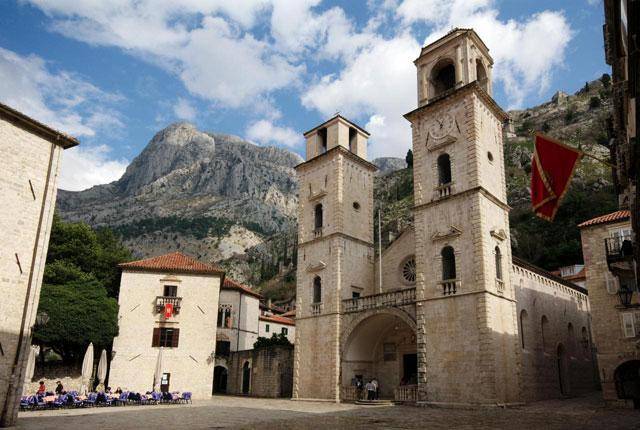 @TO Kotor
Today, the size and antiquity of the cathedral make it one of the most monumental cathedrals of the eastern Adriatic coast. It is located in one of the main Kotor squares where the social life of the medieval Kotor commune took place and where the assembly of all citizens convened in 1136. The three-necked basilica was built under the influence of the Lombard Romanesque with the primacy of Byzantine architecture, which was transferred to the eastern Adriatic coast under the Apulia peninsula.
There are two bell towers on the west facade. After the original bell towers and facades were destroyed during the earthquake, the new bells were built together with the main portals, rosette, terrace and porch. Inside, the Cathedral is rich with frescoes that represent the most monumental fresco-paintings in the Boka Bay.
Today the Cathedral is one of the biggest attractions in the Old Town of Kotor and is an attraction no visitor to the town misses.