14 July 2019 - The manifestation Jazz Under the Full Moon became a tradition in Gornja Lastva, where for several years visitors enjoy the beauty of this music genre in the magical landscape of Vrmac.
This year's concert will be held on Tuesday, July 16th at 10 pm, when Šule Jovović Jazz Band and Vladimir Krnetić will perform. Krnetić plays trumpet in the RTS Big Band. The event organizer is Cultural Homeland Association Napredak Gornja Lastva, and entrance to the concert is free.
A free bus transportation service from Tivat to Gornja Lastva is prepared by the organisers, and the bus departs at 09.30 pm from the bus station located at the centre of Tivat.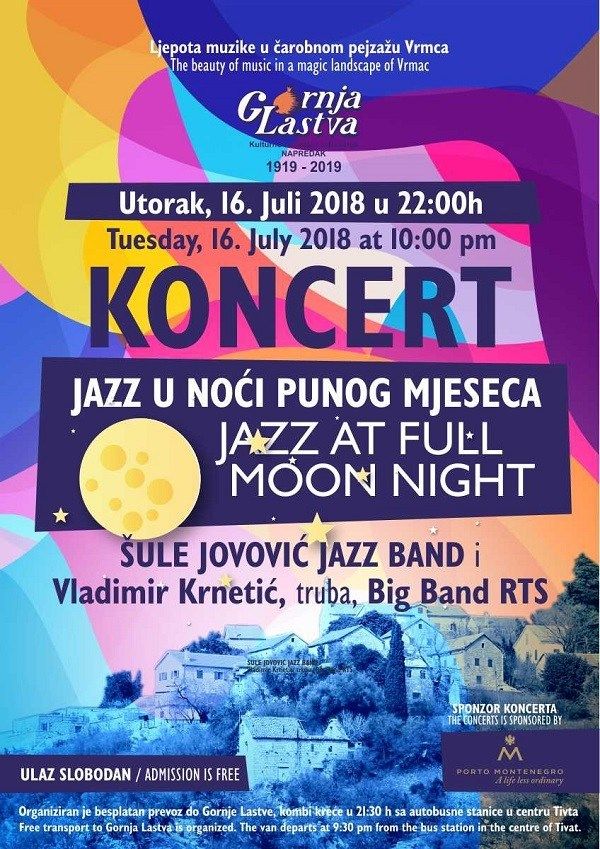 "Come and enjoy the beauty of music in a magic landscape of Vrmac," says the invitation by the organisers. The sponsor of the concert is Porto Montenegro.
Gornja Lastva is a small place with a Mediterranean charm, located in the Bay of Kotor on the Vrmac hill that separates the Tivat and Kotor parts of the bay. It is located 300 meters above sea level and is 3 kilometres away from the Adriatic main road. Gornja Lastva spreads over the sunny slope of Vrmac hill overlooking the Tivat bay and further, via the Luštica peninsula, the open sea.
The concert Jazz Under the Full Moon was held for the first time in 2014 as part of the Days of Landscape, a campaign within the project Heritage – Development Trigger in which Cultural Homeland Association Napredak Gornja Lastva was one of the partners. The Days of Landscape are a series of cultural and educational events that aim to promote the cultural landscapes, especially the landscape of the Vrmac hill, giving it the role of a stage in nature, and drawing attention to its natural, architectural, ecological and aesthetic values and the importance of their preservation.
Find more information about the manifestation at the Facebook page of the event.