10 June 2019 - The Director of the Public Enterprise for Coastal Zone Management of Montenegro, Predrag Jelušić, presented a total of 29 Blue Flags to various swimming areas (beaches) and one to Marina Bar, which is the only marina in Montenegro that has this prestigious ecological feature, reports National Tourism Organization of Montenegro.
The iconic Blue Flag is one of the world's most recognised voluntary eco-labels awarded to beaches, marinas, and sustainable boating tourism operators. In order to qualify for the Blue Flag, a series of stringent environmental, educational, safety, and accessibility criteria must be met and maintained.
The Blue Flag program has been implemented in Montenegro since 2003 when NGO "EKOM" became an associate member of the Foundation for Environmental Education and thus acquired the right to be the National Operator for Montenegro. PE for Coastal Zone Management immediately recognized the importance of the Blue Flag and from the very beginning became the general sponsor and supporter of the Program, which is one of the most important activities related to the responsible management of the coast and beaches.
The Blue Flag is awarded for the current season based on the results from the previous season, which are assessed by the National Commission consisting of the representatives of the relevant Ministry of Sustainable Development and Tourism, the Public Enterprise for Coastal Zone Management, the Red Cross of Montenegro, the Port Management, and the environmental NGOs. At the beginning of each year, they review the statements and reports of beach tenants and analyse the fulfilment of 32 criteria in the area of ​​safety and services on beaches, quality of seawater and environmental activities, regardless of the number of years spent in the Program.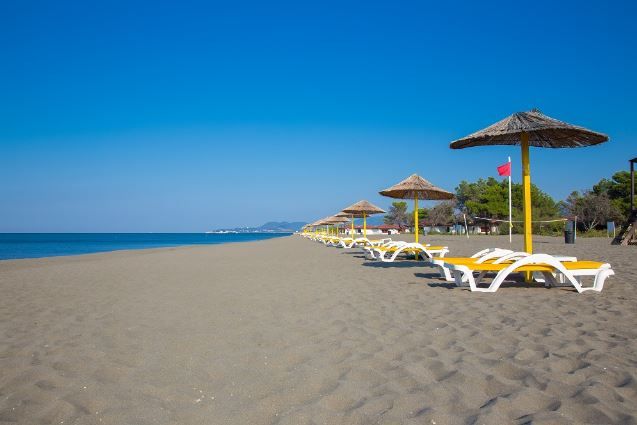 Based on the proposal of the National Commission, each year the international jury awards certain swimming areas (beaches) with the Blue Flag. The jury gathers and makes the decisions in Copenhagen each year at the end of May. Members of the international jury are representatives of renowned institutions such as the World Tourism Organization (WTO), the Foundation for Environmental Education (FEE), the International Rescue Organization (IRC), the UN Environment Program, The International Council of Marine Industry Associations (ICOMIA) and others.
Blue Flag Awarding is based on meeting the criteria in four basic areas: ecological education and information, water quality, ecological management and safety and service. For beaches, from 2017, it is necessary to comply with 33 criteria, out of which 28 are imperative and 5 are recommended. Some of the necessary criteria are: ecological and educational activities, highlighted map of the beach with marked different contents, compliance with requirements and standards regarding frequency of sampling of sea water, fulfilling requirements and standards in terms of microbiological, physical and chemical parameters of sea water, sanitary facilities with controlled drainage, emergency response plans etc.
Read more about exploring Montenegro at TMN's dedicated page.