18 March 2019 - The Masquerade Ball Finale on the occasion of 50th Mimosa Festival was held on March 17 in Herceg Novi, for the first time in the hotel "Park" in Bijela. For a good atmosphere and proper entertainment, the fun and energetic Indira Forza was in charge, who said that it is nice to be present at the jubilee Mimosa Festival and that it is always nice to spend time in Herceg Novi and Montenegro.
"You can feel the buzz, everyone is in costumes and masks. It is beautiful, we are all excited and what else do I have to do except make best party in the world," said Indira, a former soloist of the Colonia group.
The popular Croatian singer expressed her satisfaction that she was a guest of Herceg Novi during the masquerade ball because she likes to wear costumes and masks in beautiful colors and noted that she is happy that her business allows her this joy.
"Well, did not you notice, I am actually wearing the costumes and masks all the time? My job allows this game, I am always in costumes. It is characteristic of me that when you come to my concert, the dancers and I are always in costumes, and that is what I am really happy about," Indira said through a laugh and called her costume "Lady on the trampoline".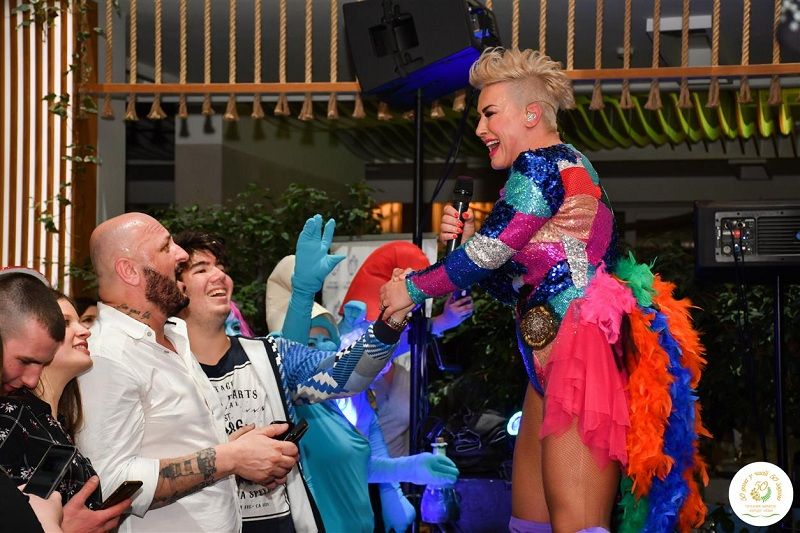 She recalled her performances and socializing with her colleagues in Herceg Novi, who had left her in good memory. According to her, the love between her and the people in Montenegro is reciprocal and lasts for many years and will continue. She is proud to be singing her old hits and new songs from the album "Valkira" with the same glow. She thanked the audience for giving her the wings.
Park Hotel owner Čedo Popović said that he wanted to host the Mimosa Festival's Masquerade Ball and that this was an extraordinary event that should be maximally supported.
"My wish is that the first masquerade ball will be held next year in a new hotel in Kumbor," Popović said.
He also added that the tourist season begins with them in about 15-20 days, and the announcements for this year are excellent and the capacities are filled.
At the 50th Mimosa Festival, a total of five masquerade balls were held, of which four were for adults and one for children. All of them were successfully organized and well attended, said the director of the Public Institution of Culture "Herceg Fest" Gordana Porobić Krcunović.