16 March 2019 - Starting at the city center, through City taverns and Cafe "Beograd, all the way to Škver, the atmosphere was conducted by a custom small cars race and the second race "Karotrc" for the 50th Mimosa Festival. This event attracted audiences of all generations, as well as the participants. Smiles and applause were present during the entire event, while two-seat and three-seat cars raced down the hill. The 700-meter long race track was successfully finished from many participants coming from Herceg Novi, Kotor, Tivat, Budva, Šibenik, Belgrade, Banja Luka, and Trebinje.
Herceg Novi's Deputy Mayor, Miloš Konjević, and the oldest member of the non-governmental organization "Maškare", Damir Bakica, opened the race.
"This is a phenomenal event that deserves to be traditional within the Mimosa Festival, and every year it is organized on an even higher level," said the Deputy Mayor Miloš Konjević, satisfied with the number of participants and spectators and enthusiasm about the atmosphere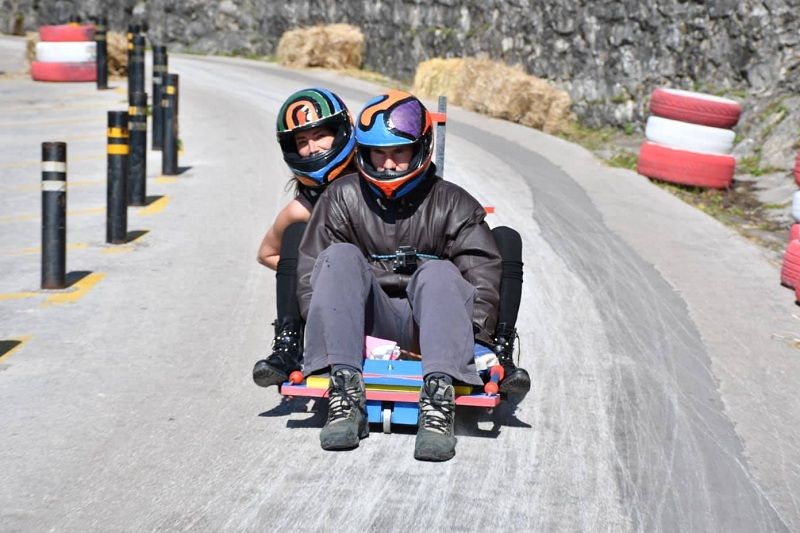 "I used to drive as a kid, when I was seven to eight years old. I made a pause until I was 30 and last year I drove again," Konjevic said, adding that the race is a true example of the content of the Mimosa Festival that needs to be cherished, which returns old customs and games.
He thanked the non-governmental organization "Maškare" and Ivan Peulić, who brought this idea to Herceg Novi and Mimosa Festival. He said that "Karotrc" is a great intro to the finale of the 50th Mimosa Festival, which will be a spectacle. As he announced, the festival ends next weekend by carnival parade of 18 groups, traditional burning of carnival and a big concert by Ceca Ražnatović in Igalo.
Members of the "Maškare" non-governmental organization, who are the initiators of this sport and entertainment event, took care of the good organization of the second race.
"Our initiative has started since the moment when we are at Rijeka's carnival, where we heard that something similar is being organized, so we came up with an idea to do it in a somewhat different way," concluded Ivan Peulić from NGO "Maškare".