15 February 2019 - Prime Minister Duško Marković, together with heads of the Public Works Directorate Rešad Nuhodžić and the Ski Resorts of Montenegro Miloš Popović, will put into operation the 6-seater cable car at the new Kolašin 1600 Sky Resort in Bjelasica.
The new ski resort contains, at this point, a restaurant with administrative facilities, an ambulance and the complete accompanying equipment, 6-seater cable car 1,567 m long, with the capacity of 2600 skiers per hour and two ski lanes totaling 4.5 km. For the needs of the ski resort, new road, electrical engineering and hydrotechnical infrastructure were built.
A total investment of 77 million EUR is planned for the tourist complex of four hotels along the Kolasin 1600 Ski Resort.
The valorisation of Bjelasica and Komovi implies the creation of a prestigious tourist destination with 224 km of highest quality ski trails, 52 ski lifts, 52 hotels and 23 boarding houses (condos, apartments, etc.).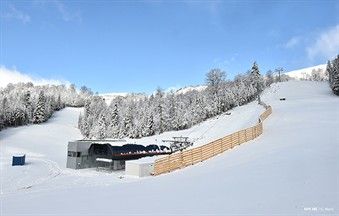 The ceremony hosted by the Ski Resorts of Montenegro will start at 12 PM.
The participants will be addressed by Minister of Sustainable Development and Tourism Pavle Radulović, and heads of the Public Works Directorate and Ski Resorts of Montenegro.
The Prime Minister will make a statement to the public.
The best skier of the former Yugoslavia Bojan Križaj will open the revenge race at 13.00.