31 January 2019 - During the first seven days of the Jubilee 50th Mimosa Festival, the ancient fortresses of Herceg Novi, run by Public Cultural Institution Herceg Fest, will be open to visitors. From February 1 to 7, Kanli Kula Fortress and Forte Mare will be open every day from 10 am to 4 pm, and the entrance is free!
The Municipality of Herceg Novi, through the National Commission for UNESCO, has nominated Forte Mare Fortress for inscription on the World Heritage List. The candidacy was sent within the already existing nomination "Venetian fortifications of the 16th and 17th centuries." Last year, the candidacy passed the relevant institutions and entered the list as a transnational nomination of Montenegro, Italy and Croatia.
Forte Mare Fortress (The Sea Fortress) is located on the coast. It was built between the 14th and 17th century, restored in 1833 and from 1952 was reconstructed in the summer cinema. The fortress was built on solid rock, above the promenade, and within the walls, there is a passage from the seashore to the top of the fortress. On the upper side, there is "SEA GATE ( Porta di Mare) with preserved fortification elements of Bosnian period. Forte Mare certainly among the most beautiful examples of fortification architecture and quite realistic assumptions are that there was a nucleus of the Old Town.
Kanli Kula Fortress (Bloody Tower), a monumental fortress in the Old Town, was built by the Turks after 1539. It was built on the site and foundations of an earlier fortress. In the present size, the work of the Turkish builders has preserved, in the most part, the authentic architecture of that time. Raised at an altitude of 85m, on the north side of the city, and with its position and ramparts, the complex fortification system of the Old Town is rounded up. Dimensions of the fortress 60x70m, with corner towers of coarse domestic stone, make a monumental impression. Some parts of the western wall belong to the period of early use of firearms. The Turks gave it a final appearance, while the Venetians made certain repairs and attachments after significant damage, especially in 1687, when the Herceg Novi was conquered after a two-year Turkish rule.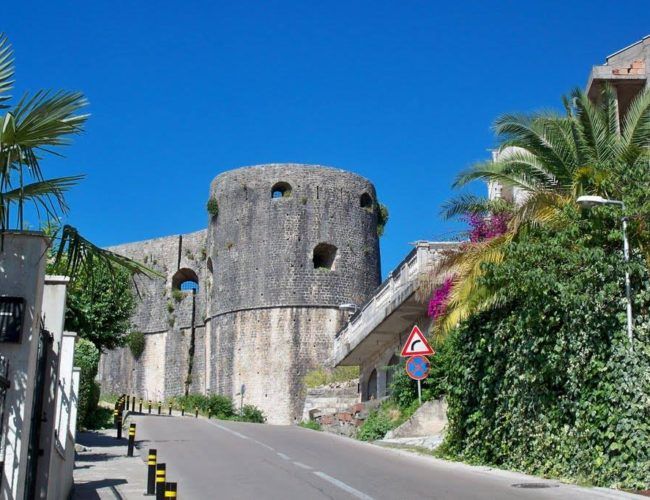 When it comes to Kanli Kula Fortress, this building is awaiting the rehabilitation of the landslide of a wider area, as this is only the first step in a major project of rehabilitation of the fortress itself. According to the tender of the Government of Montenegro - Directorate of Public Works, the site will be repaired by the Institute for Construction DOO from Podgorica.