November 25, 2018 - Falling in love with Boka Bay is not unusual. To not fall in love with Lustica is impossible! Nature here is playful, offering gentle views of the Mediterranean, and the man gave her hands, building idyllic cultural landscapes of small stone villages, defining the agrarian surface with dry-stone walls of beautiful harmony, creating the churches as signals in the natural highlands to view the villages and olive groves.
The peninsula of Lustica, due to its fertile soil and exceptionally suitable microclimate, has been inhabited since the earliest times. This is evidenced by archaeological finds, which experts have dated in the Bronze Age. The largest number of churches date back to the Middle Ages.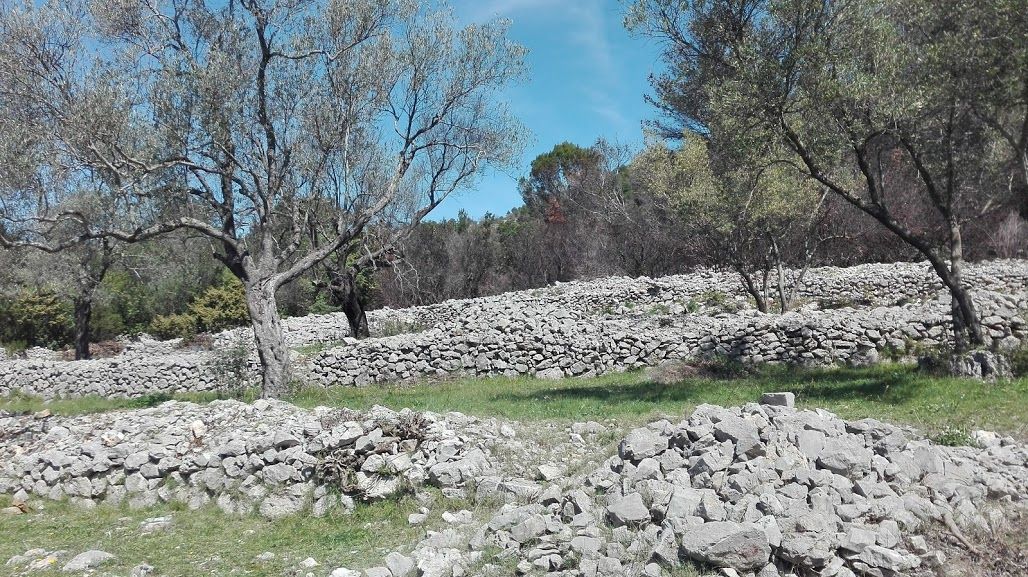 The main agricultural crop is still olives. Half of all Montenegrin olive groves are located in Lustica. There was a law enforced here that no young man could marry without having previously planted 40 young olive trees. The bark of the soil allowed fewer vegetable crops, places for grains had to be found. All other space was used for growing olives and citrus fruits. The stone was always abundant, so they built dry houses, tombstones, drywall constructions for making limestone-klačine, small-sized, dry-stone buildings on agrarian surfaces. And harmonious villages, with standard amenities - mills for olive oil, gumna- threshing floors, and later on, houses of culture.
Although Lustica is famous for the Lustica Bay project today, by which the part of the peninsula is being transformed into a fashionable resort with golf courses, a marina and other accompanying luxurious amenities, the other part of the peninsula preserves its lifestyle and slowly reveals valuable potential for the development of agritourism, religious tourism, gastronomic tourism, hiking and biking. The old and new Lustica are looking for a meeting place, which is a valuable opportunity for the development of the area if it finds potential in the inherited values of material and immaterial heritage.
Lustica is renowned for its cold distilled olive oil, cheese in oil with tastes of high intensity, smoked ham and brandy maginjača made from fruits of a locally wild grown shrub.
Due to its rich inheritance, this peninsula is often called the small Mount Athos. For centuries, people lived here in harmony, which is proved in the existence of 19 orthodox and 2 Catholic churches on the land.
The 1st thing you don't want to miss in Lustica
Rose is considered to be one of the oldest places in Boka. In the bygone era, it used to be known as a Greek colony called Ponto Rosa but was demolished by the Saracens in 867. This tiny port was also mentioned in the Constantine Porfirogenit journals of 841, as a haven from the winds Jugo (S) and Bura (NW). Rose was also an important port used during the Venitian period.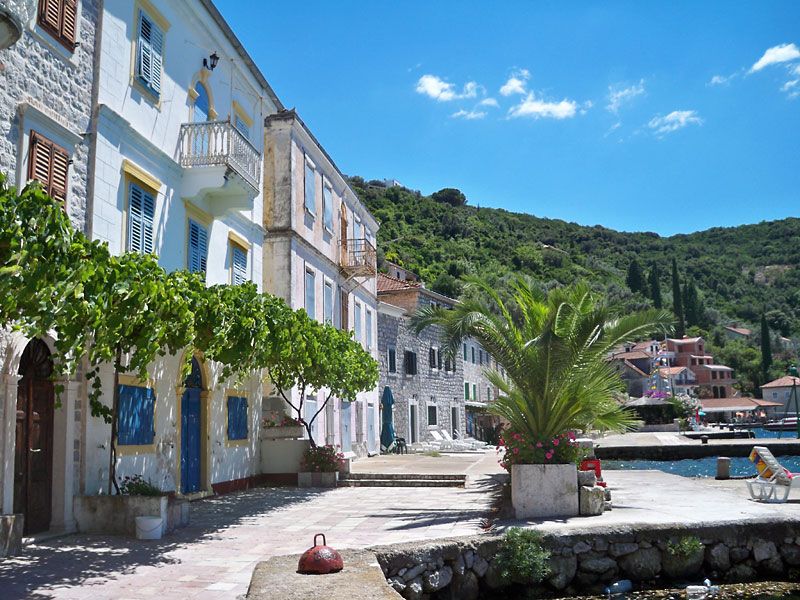 The harmony of the typical Mediterranean architecture of this small town was disturbed recently by construction within the village and in its surrounding, but once you get to this medieval town's micro promenade, you will be filled with nothing but the glory of nature and respect - the small fishermen boats, the smell of fresh fish, the song of the seagulls. There is even a great offer of private accommodation, as well as some restaurants offering seafood delicacies. The sound of the local dialect, somehow different from other parts of Boka Bay, will be good company while you wait for the ship connection to the municipality center. If you didn't know, part of the Luštica belongs to the Herceg Novi Municipality. So, Rose is still a vital traffic point, although recently only for citizens of Luštica and their guests. Many more visitors come year after year, making Luštica one of the most popular Montenegrin areas for those looking for untouched nature, welcoming hosts, fresh air and organic food.
The 2nd thing you don't want to miss in Lustica
Just a few kilometres from Rose, surrounded by acres of olive trees, pomegranate trees and woods of laurel, there is a village called Klinci. A hidden gem, and recently completely abandoned, rural tourism is slowly but surely developing. Three-hundred-year-old family estates are slowly being restored, but one stands out -
Klinci Village Resort
. The estate has kept its original shape, just how it was made by ancestors. This resort is one of the places on Luštica where you can experience and learn about the old rural way of life. All guests are served delicious traditional dishes from organic food and wine - everything is produced, prepared and served there in a traditional manner.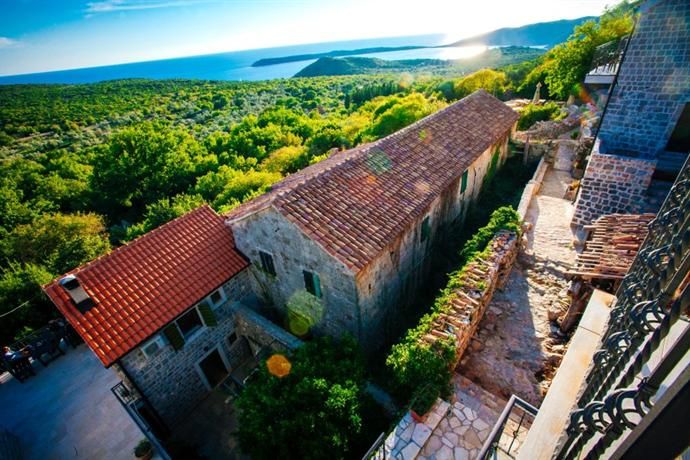 The 3rd thing you don't want to miss in Lustica
From one village to another, almost all roads over Luštica go through olive groves, following the old routes between dry stone walls for centuries. From Klinci to Tići, or to Zabrđe, it is only a few kilometres. So, if you are interested in the old way of producing olive oil, there's no reason not to visit both villages and meet the Moric and Stojkovic families.
Situated in the village of Tići,
farm Moric
produces organic olive oil and so far is the only Montenegrin producer with that quality mark. The Moric family offers a tour in the olive groves, the new modern lines for processing olives, as well as the old mill with an olive oil tasting and other local products. In addition to enjoying the discovery of Luštica's gastronomy, householders offer a tour of the Luštica peninsula with ATV vehicles - quads, as well as bike and walking tours.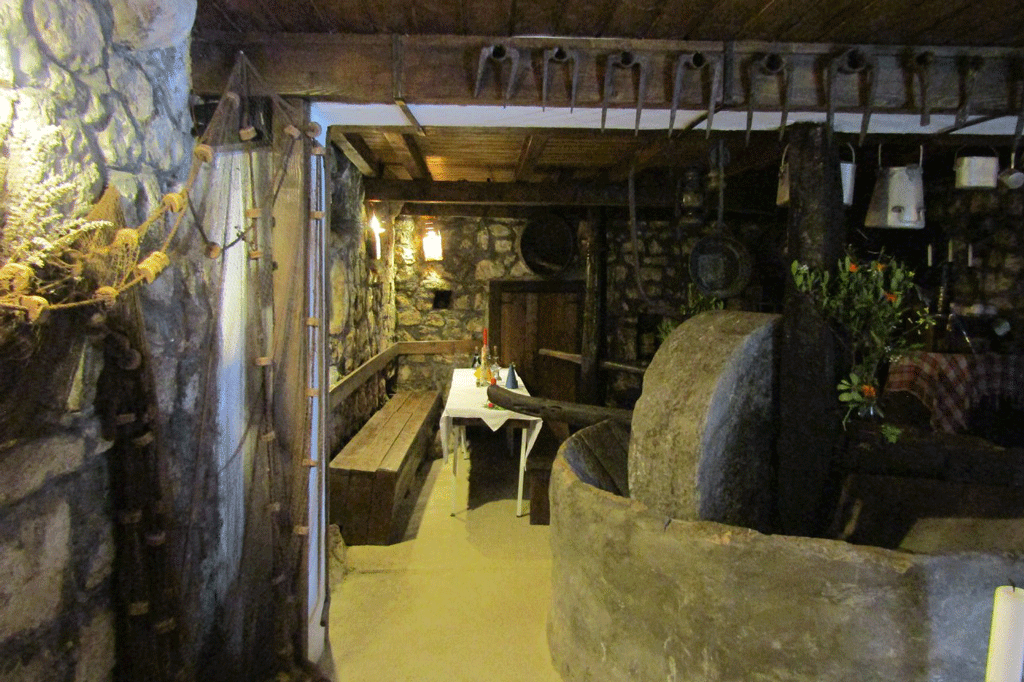 The Stojkovic family's "Old Mill" farm in Zabrđe is located at an altitude of 250 meters and offers a magnificent view over the olive groves and hills of Luštica on one side, and the Herceg Novi Riviera on the other. In addition to tasting olive oil, as well as homemade cheese in olive oil and prosciutto, Zabrđe could also be a good opportunity to meet local traditions and experience the way of life in this area for centuries.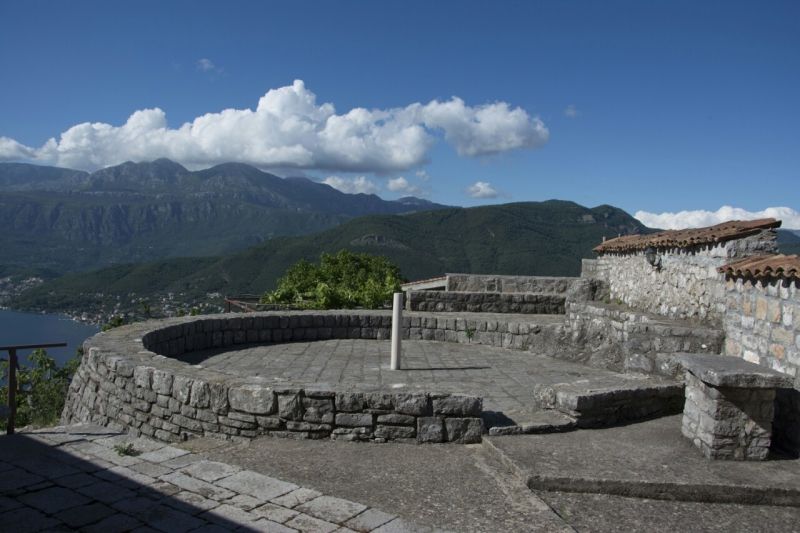 The 4th thing you don't want to miss in Lustica
Žanjic and Mirište, at the very entrance to Boka Bay, are known as one of the most popular excursion spots on the Montenegrin coast, perfect for those who want to spend their holidays in the wonderful silence of centuries-old pine and olive trees in the summer as well as winter.
Žanjic is famous for its large pebbles beach and crystal clear water, lately framed with several restaurants offering local and international dishes, as well as various active holiday options. Few restaurants, such as Porto Adriatic and Ribarsko selo, work all year long, so any nice day could be a reason to visit Žanjic and discover its hidden beauty. The Art Media hotel is for those looking for the most layered experience, such as enjoying various cultural events, thematic and custom-made tours.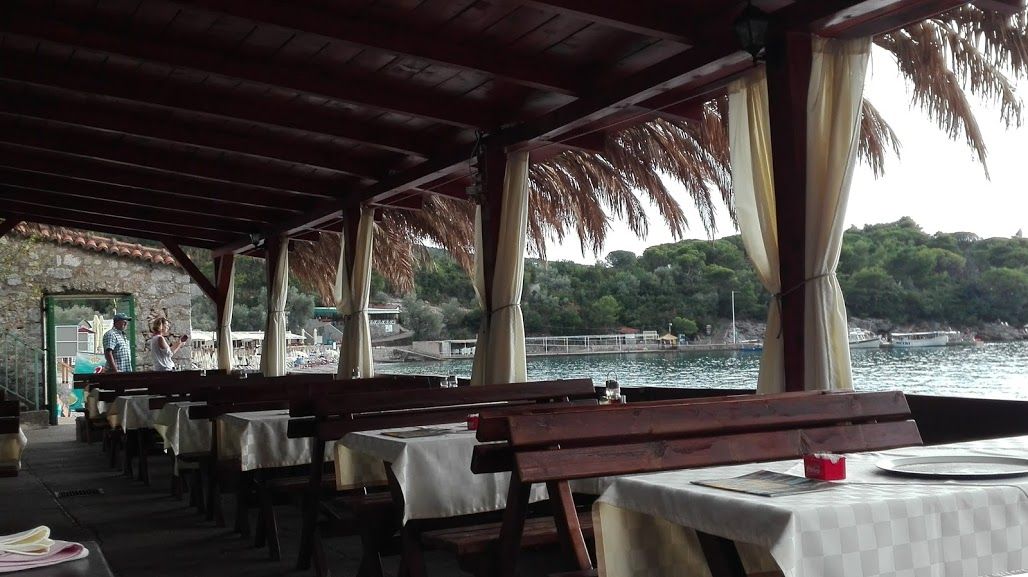 Mirište Bay is just next to Žanjic, divided by the Cape of Ograda with the Bronze Age settlement at the top. Mirište cames from "miriti" which means "to make peace". It has been said that this calm port for centuries was a meeting point for those willing to overcome their conflicts, especially among fishermen. Working only during the summer months, restaurant Mirište stands as one of the most popular fish restaurants along the Montenegrin coast.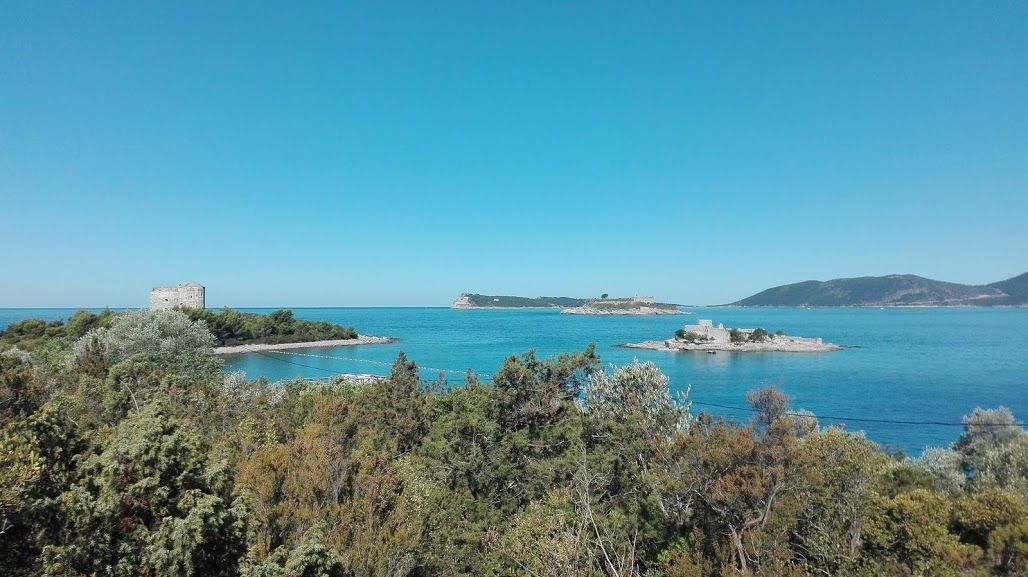 The 5th thing you don't want to miss in Lustica
The Fortress Arza and the surrounding area deserve to be presented apart of Mirišta Bay. At the end of the south-western part of the peninsula of Luštica, fortress Arza rests on the foundations of an ancient fortress, some fragments of amphorae and large vessels of which have been preserved. The triangle: the fort at the tip of the peninsula Oštro (which lies to the west entrance to Boka Bay and part of Croatia) - Fort Mamula- Arza Tower, a strategic entrance to the Bay was completely closed. Today, Arza stands and waits for better times to come. Fort Mamula is being transformed into a boutique hotel, while Oštro Fort is about to become the Museum of the Austro-Hungarian Navy, glorifying the architectural art of the fortification built to support both marine and terrestrial forces of the Great Empire, controlling Boka Bay in two periods - from 1797-1806 and from 1814-1918.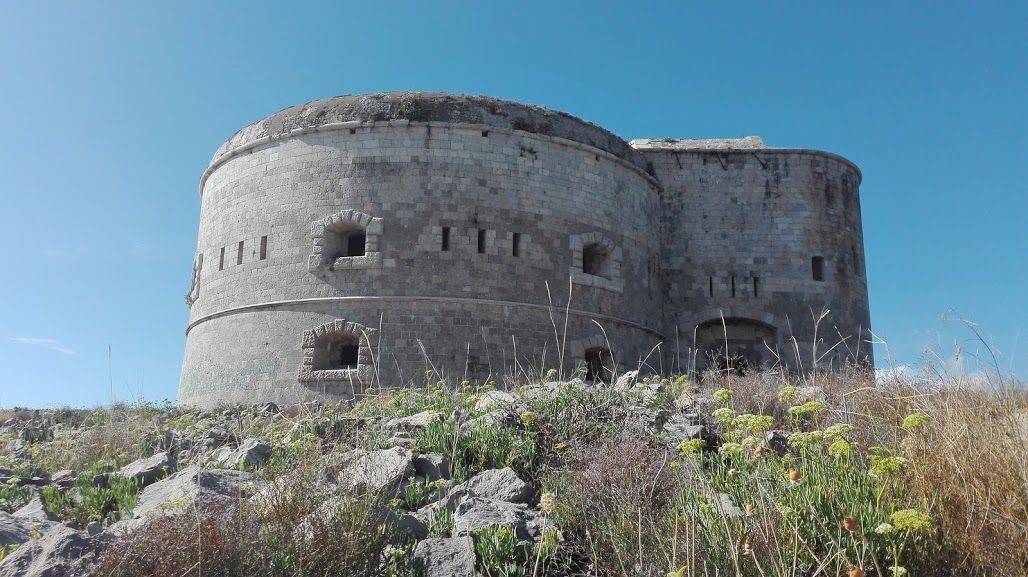 Mirišta Bay ends under the fortress Arza with a few hundred metres long wild pebble beach, which locals call "Fools Beach" because of very high temperatures and almost no shade during the summer months. But, since it is a wild beach, no one will mind if you're carrying a parasol.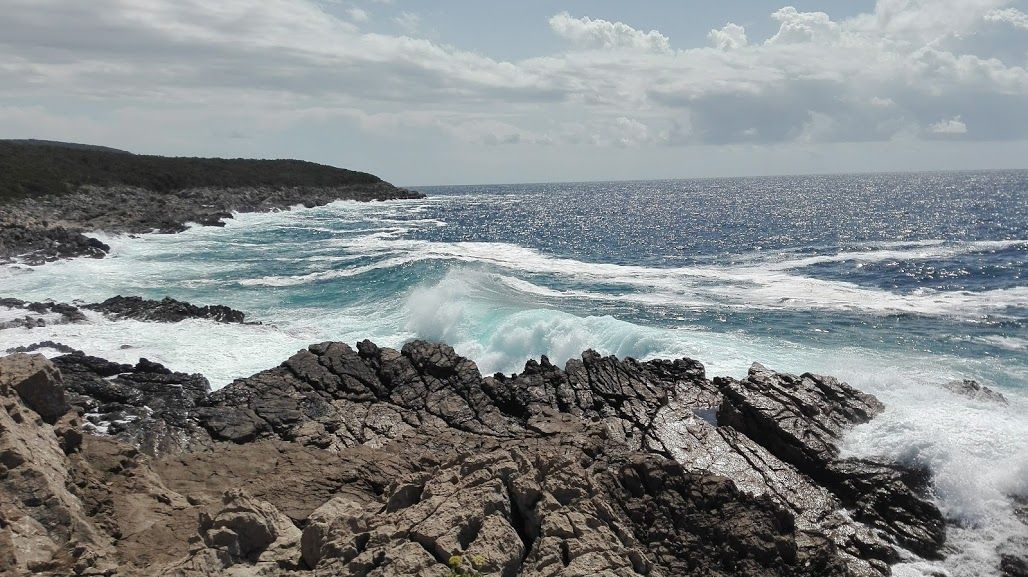 It is hard to say whether this wonderful part of the Luštica landscape is more beautiful in summer, or in winter. Standing there alone under a grey winter sky, Arza calls you to come closer, to fill your solitude and at the same time give her liberty. If it is windy, and it's the southern wind, then the sea could give you a great show of waves stroking over the rough rocks at the open-sea side of the fortress.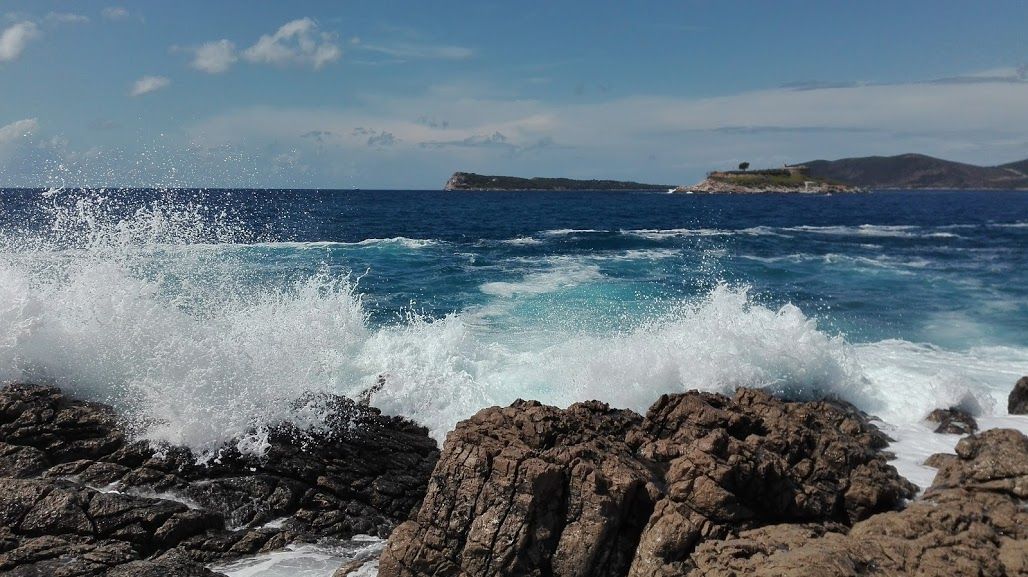 In front of the Fools' Beach there's small island Žanjic, also known as Mala Gospa, with the small church of St.Vavedenje. The kind minister Goran will tell you the long and interesting story of the island dedicated to the Virgin Mary.