31 October 2018 - Many world countries have long assessed and understood the numerous advantages of bicycles as a means of transport and an active holiday. Under the great influence of European trends of improving sustainable transport, cycling activities begin to grow not only in Podgorica as the Capital, but throughout Montenegro.
Montenegro's amazing mountain landscapes and clear blue sea welcome all cycling fans in one of Europe's most thrilling cycling destinations. This is a place where cyclists can enjoy the most testing and exciting moments on a bike, but they can also feel a true sense of freedom as well. If you enjoy mountain trails, coastlines with the most amazing beaches, icy-cold rivers, fascinating sites and picturesque sceneries to explore, then you're probably going to like cycling through the country.
So, what can you expect while cycling through Montenegro?
Gorgeous scenery over the Bay of Kotor and beyond!
While cycling through Montenegro, you can definitely enjoying its spectacular nature. Complete relaxation, rest and acquiring new energy awaits all those who seek to get to the most amazing viewpoints in the country. Great fun, adrenaline spikes, competitive excitement are just some of the thrills you might get to experience while exploring thousands of kilometres of hiking and biking trails.
Welcoming family-run hotels and delicious traditional dishes
Family-run hidden gems still exist in Montenegro, it's up to you to just choose! Historic bed-and-breakfasts that have maintained their traditional vibe are common in Montenegro. In traditional hotels, rooms are usually peaceful and minimal, budget-friendly and followed by a morning chit-chat with personable hosts. You definitely do not want to miss any of the tastes of Montenegrin cuisine from the coast to the north! The tastes of the Mediterranean give you the holy trinity - fish, wine and olive oil accompanied by local wines. However, Northern Montenegro introduces you to the cuisine of highlanders, served on wooden trays: meat and potatoes under the sač, cheese, kačamak (Montenegrin polenta with cream cheese, cheese, potatoes) and prosciutto. This is all perfectly followed by homemade brandy – rakija.
Feeling the thrill of life on a bike
When the weather conditions are at their best, everything in Montenegro is crystal clear and bright – the air, the water, and the spirit and breath of the sea and the mountains. There are many places from which you can see breath-taking panoramas, amazing works of art in nature in five national parks, the pearls of the Bay of Kotor, coastal medieval cities, Cetinje the city – museum; visits to old wineries in Crmnica or staying in eco-villages – it is easy to get smitten with so many choices.
Steep mountain bike trails
If you challenge yourself to cycle on some of Montenegrin mountain trails, like Lovćen and Durmitor, be prepared for a challenge. Mountainous terrain comes with lots of climbs and scenic nature. Still, when you reach the mountain's viewpoints while sweaty and with your teeth clenched, it will feel like you're on top of the whole world. And, despite the pain and the fatigue, you will still smile and feel alive!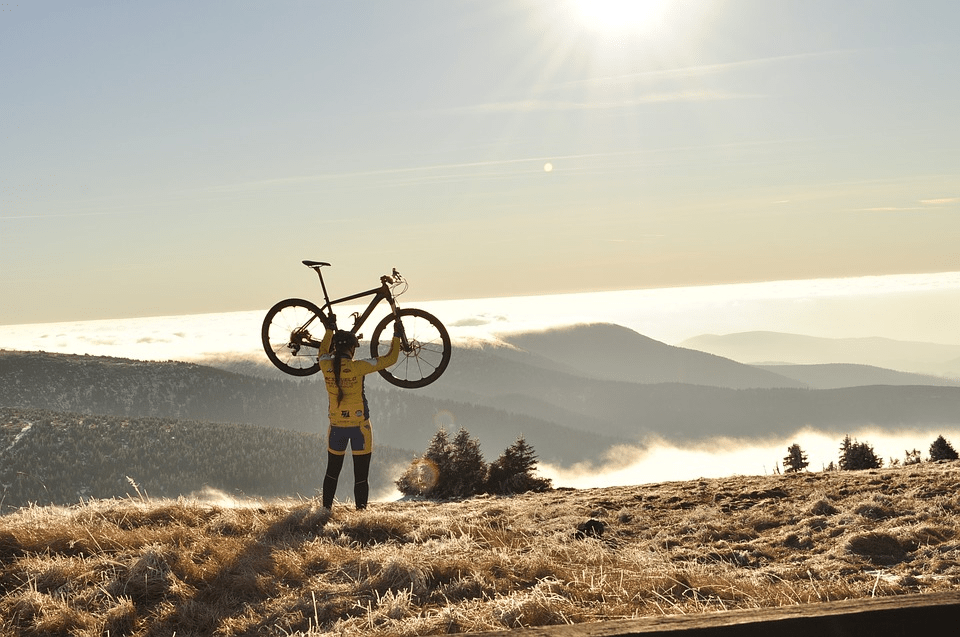 Narrow roads with traffic
To be honest, narrow lanes throughout Montenegro represent a huge problem for cyclists. When considering road cycling, the infrastructure for travellers on bikes is almost non-existent, and car drivers are not attentive enough. While riding on two wheels, you should definitely stay alert and keep your eyes wide open. The road surface in the country is mostly bad, and the lack of quality bike parking is a huge issue as well. The most common bike parking option throughout Montenegro is still the low-standing single wheel securing spirals.
Feel like renting a bike?
If you are looking to rent a bike, you need a document proving your identity: passport or driving license, in order to make the contract of lease of sports equipment. You should probably research rental companies and contact them before your arrival. Some rental companies ask for a cash deposit for each type of Sports Equipment. When returning the bicycle, if you have met all the terms of the lease and the operating rules, the deposit is fully refunded to you. The rental period of the Sports Equipment is usually counted in hours. The lessee bears full financial responsibility for the equipment.
Looking for the thrill of a campsite?
There is generally a large number of campsites throughout Montenegro, so you should be able to find one without much effort. If you feel like camping, you will find out that camping is really not an expensive option for your stay. However, not many campsites get improved over time, so do not have high expectations. It is also quite popular to ask for permission to put a camp on the local property. Still, you might get in a situation where they will charge you, or, if you get lucky, the locals can get very interested in your stories, and might invite you for a pleasant drink, delicious meal or even ask you to stay indoors.