May 23, 2018 - Yesterday, the ferryboat "Dubrovnik" by the Croatian company "Jadrolinija" arrived in Bar from Rijeka, which, for the second consecutive year, according to the contract between this company and the state company AD "Barska plovidba", will be scheduled to cruise on the route Bar-Bari-Bar until the end of the year.
On this occasion, a ceremony was held on board, with the Croatian Ambassador in Montenegro, Veselko Grubišić and the president of the Bar Municipality, Zoran Srzentić, along with the representative from the maritime company from Bar. "This line was established in 1965, and up to the present day, two and a half million passengers were transported, 450,000 cars and about 100,000 trucks and trawlers. We have transported across the Adriatic to Montenegro for half a century and the most successful business years were 1995, 2006, 2007 and 2008," said the director of "Bar Cruising" Tihomir Mirković.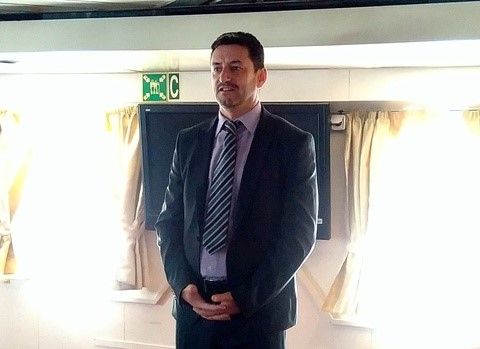 Mirković PHOTO: Radomir Petrić
He said that a bargee from Bar follows the market of used ships on a daily basis to find an adequate replacement for the former ferryboats which were called "St. Stefan", adding that the line was held in cooperation with the "friendly company Jadrolinija" whose management and crew of "Dubrovnik" was thanked for their quality cooperation, with the message that the door of "Bar Cruising" is wide open for anything we can do to help them". A member of the Jadrolinija administration, Ante Vranješ, thanked Bar Cruising for a warm welcome, stating that the cooperation of the two companies could be expanded.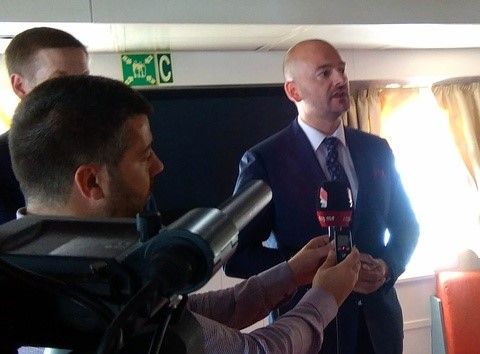 Vranješ PHOTO: Radomir Petrić
He estimated that the negotiations for continued cooperation in 2018 were hard."This will be an even more successful season than the previous one, there will be more and more tourists, and new spaces will open for cooperation between the two tourist regions, the Montenegrin coast and Dubrovnik County," said Vranješ. By the end of June, "Dubrovnik" will connect Bar and Bari once a week, during July and August twice, and after the summer, until November 30th once a week. "Dubrovnik", with a capacity of 1,100 passengers, achieved 44 trips last year and transported about 23,500 passengers and about 4,000 vehicles.
Text by Radomir Petric, on May 23rd, 2018, read more at Vijesti