This international regatta is of both competitive and touristic character and gathers around 20 Krstaš and several Optimist and Laser 4.7 sailing boats. Children will also compete in a race this year, which is a novelty of the upcoming edition. The regatta expects a total of 50 sailboats and 150 sailors and participants will sail around the most exciting parts of the bay including Ponta Seljanova - Our Lady of Grace - St. Marko - the passage Ralo - Strait of Verige - Perast Island with the finish at Ponti Seljanova.
The regatta will sail according to the ISAF 2017-2020 cruise class, and what is especially exciting this year is that the Regatta is open to all sailing boats - meaning all types of vessels are invited to follow the regatta and have a good time. Another interesting addition to the regatta is the race of small model boats which will also be held.
The organization announced small boats that will transport all interested parties, both locals and tourists, from the city's Riva to watch the race from the sea. The Tivat regatta can be seen almost entirely which attracts many photo-reporters every year, especially in Verige which offers a view of the entire bay.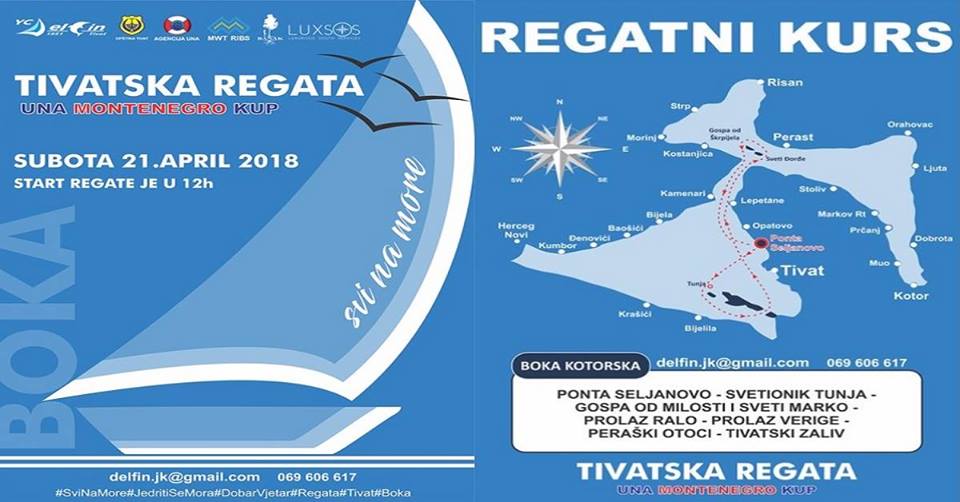 "UNA Montenegro" will reward the winner with an Off-Road Safari Adventure! Trophies will also be awarded for the top three in all categories. After the announcement of the results, the festival traditionally continues with dinner, followed by a concert of the local band "Jagnje". Finally, the celebration moves to JK "Delfin" where the sounds of DJ Chavalier will welcome participants and visitors.
Sailing Club "Delfin" invites all interested parties to apply at the club, and by e-mail, This email address is being protected from spambots. You need JavaScript enabled to view it. by 10:30 am on April 21st.
"As citizens of Tivat and sailors, most of whose activities are based on the sea, the biggest fortune our city has, we believe that we must work on the promotion of all Tivat has to offer. That's why this regatta opens the door for sailors, citizens, and tourists who would like to join and contribute to the overall picture of a city that loves the sea and lives with it," concluded Ivan Lučić, a member of the JK "Delfin" organizing committee. Lučić added that the goal is to symbolically mark this day as the beginning of the sailing season each year and, as he said, "everybody at sea".