24 January 2019 - On January 25, basketball team Budućnost Voli (Montenegro) will play the Round 20 game against Herbalife Gran Canaria (Spain). The match will take place at the Sports Centre Morača in Podgorica.
Norris Cole has been sensational for Budućnost, using his one-on-one skills to score both from deep and attacking the basket and he finds the open man around the rims. Gran Canaria relies on veteran playmaker Albert Oliver to control the game tempo. Oliver must use his basketball IQ and experience to slow Cole in what promises to be a fun-to-watch matchup.
The Spanish representatives won the first interim duel in Las Palmas 95:85, and so far in the competition, they have six victories.
The regional champion, Budućnost Voli has one triumph less, and the club has won the last two matches at home. Budućnost recorded victories against the Baskonia (99:84), CSKA Moscow (93:92), Barcelona (67:64), Darussafaka (75:74) and Real (73:60).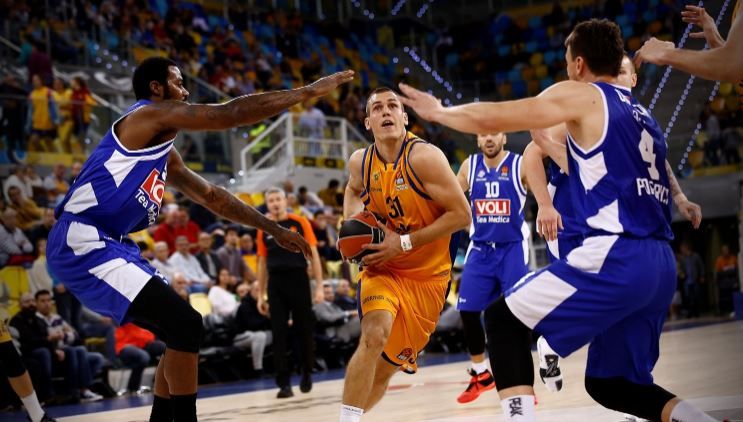 Still, the club recorded defeats in front of their fans against Olimpia Milano (82:71), Maccabi (78:68), Panathinaikos (72:67), Žalgiris (72:60) and Fenerbahce (89:65). Budućnost was also defeated by Anadolu Efes (106: 68) and Darussafaka (71:63) in Istanbul, Khimki in the Moscow region (85:69), Olympiacos in Athens (90:72), Real in Madrid (89:55), Bayern in Munich (93:88), Olimpia Milano in Milan (111: 94) and Maccabi in Tel Aviv (81:76).
Coach of the club Jasmin Repeša said that Gran Canaria is a great team, which has been at the top of the ACB league for years.
"If we want to win, we have to attack Gran Canaria with strong defence. Gran Canaria is a team that exasperates a very fast game, with a lot of transition, three-point shots and offensive jump balls. The focus in defence must be at an extremely high level from the first to the last minute. We have shown that we are able to play at a good defensive level against Real," Repeša said for News Agency MINA.
The defense has been Gran Canaria's main problem all season long. Gran Canaria allows a competition-high 87.2 points on average on 57.3% two-point shooting and 39.5% from downtown. Improving those numbers is mandatory for the Spanish powerhouse. With so many injured players in its backcourt, Albert Oliver and Xavi Rabaseda will play a critical role, as well as versatile forward Oriol Pauli, who will see playing time at point guard.
The center of Budućnost Voli Filip Barović said that Budućnost is waiting for Gran Canaria in good shape. "We have won four of the last five games. And even at the match that we lost, we played great and led the score until the last quarter. We have to enter the game as against Real Madrid and keep control throughout the match," Barović said for MINA Agency.
Budućnost has allowed 83.7 points on average this season, but only 67.0 in its last two of games. That improved defensive mentality has allowed Budućnost to be much more competitive. Keeping Goga Bitadze out of foul trouble will be critical for the hosts, who will look to run the offense through Cole and an inspired Coty Clarke, who registered career highs in rebounds (12) and PIR (25) against Madrid last week.
The duel at the Sports Centre Morača (Podgorica) starts at 7 pm.
Source: MINA Agency, Euroleague Official Website