22 July, 2018 - The popular summer games for all generations are coming to Montenegro again as part of their international tour. After eight successful seasons, 289 events and nearly a million kilometers traveled, the "City Games" enter their ninth season as an exceptional international project.
The popularity of the game is recognized through information about 30 different locations in different countries and the number of 150 registered teams. The City Games tour will be watched by 50,000 spectators in sports courts. City Games last year were broadcast with as many as 9 television stations and watched by 10 million viewers on television.
Kotor will be honored this year with the challenge to open the City Games competition for Montenegro. This sports-entertainment spectacle, the successor of the widely known Games without Borders, will be held on July 24th at the outdoor swimming pool Kotor starting at 7:30 PM. After the games in Kotor, Montenegrin City Games qualifications move to Budva (July 26th) and Herceg Novi (July 28th). The winning teams from Kotor, Budva and Herceg Novi will play in the finals in Podgorica on July 31st. The challenging games await brave teams of six members, of which there must be at least two representatives of the gentler pole.
"The winning team in Montenegro gets the right to perform at the big international finals in 2020 in Luxembourg. The goal of a completely new format of the competition is to spread throughout Europe, making the City Games project, in popularity, comparable to formerly popular games without borders. In Luxembourg, Montenegro will be one of 16 European teams that will compete for the championship. Six television shows will be broadcasting in Luxembourg in a variety of scenes and upgraded games will guarantee an unforgettable experience," explained the initiator and project director Miroslav Krzyk.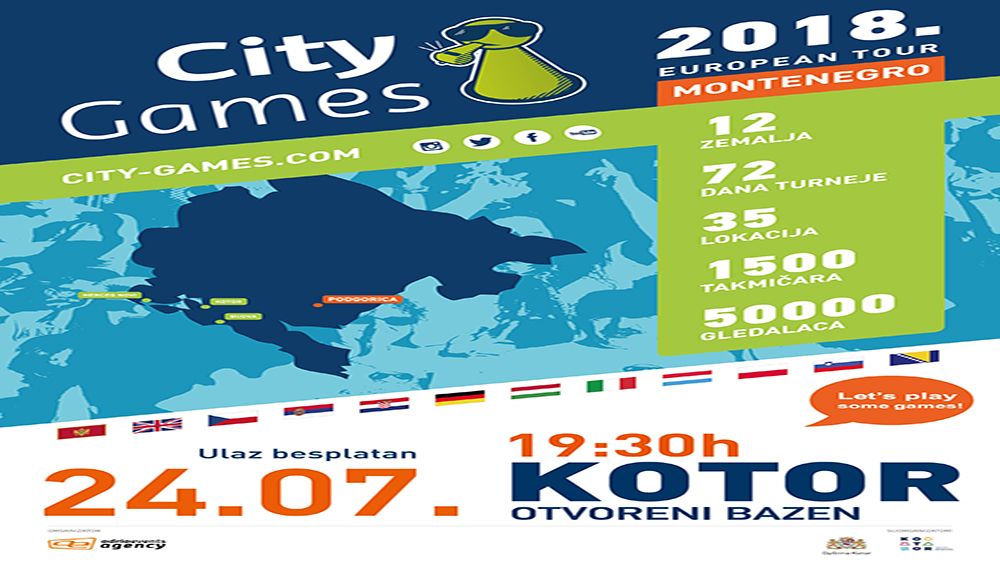 With recreational sports enthusiasts, well-known athletes are also known, so on the terrain of the City Games, double Olympic medal winner Alessio Sartorio from Italy, one of the best water polo players in the world Vladimir Gojković, world champion in kickboxing Dimitri Gjorgiev, champion of Croatia in CrossFit Martin Rončević, Croatia's kickboxing champion Nato Cvitan, Slovenian gymnast Rok Klavor and many others.
"We invite athletes, but also recreators and lovers of good entertainment to apply and represent their city at the games. With some skill and teamwork, they may also end up in the finals, thus there is a chance to represent their country. Be sure to come and cheer for your team and help them on their way to victory!" Krzyk concluded.