21 January 2019 - An Unprecedented list of priority infrastructure projects, supplemented by projects in the field of digital infrastructure, was approved at the last session of the Government of Montenegro. Among the priority projects worth hundreds of millions of euros, several are linked to Herceg Novi. As reported by Montenegrin daily newspapers "Dnevne novine", "the implementation of these projects requires either the completion of planned or project documentation or solving possible property-legal issues".
The most valuable project is the construction of the coastal "version" of the Adriatic-Ionian highway along the Montenegrin coast. This project will include seven segments, i.e. the development of bypasses in coastal municipalities within the country. The bypass around Herceg Novi, i.e. the section from the border on Debeli brijeg to Bijela, should be 17 kilometres long (8 kilometres of the bypass and 9 kilometres of Herceg Novi-Bijela road). The estimated construction value is 193,2 million EUR. According to the Methodology for the selection and prioritization of infrastructure projects, the project is rated with a score of 2C, which means that the project either has flaws in spatial planning documents or unresolved property-legal issues.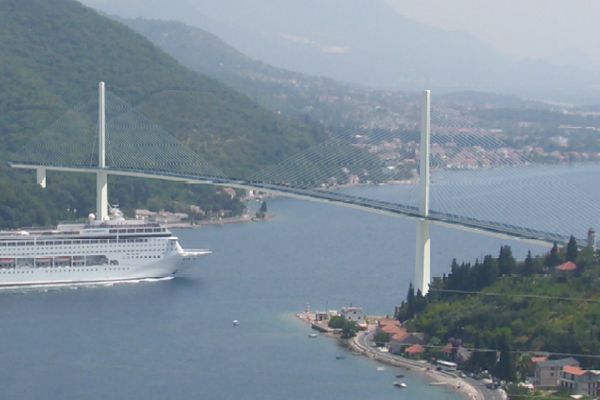 The construction of a bridge over the Bay of Kotor, with viaducts and access roads, was estimated at 67,9 million EUR.
The "Verige" Bridge is planned at the site of Cape St. Nedjelja/Cape Opatovo and is an integral part of the highway along the Montenegrin Coast. The total length of the bridge amounts to 981 metres, of which the span between the main supports is 450 metres. The main bridge structure will be built as a "Cable Stayed System". The length of the access roads to the bridge from both sides amounts to totally 1800 m. A 200 metres long viaduct is planned on the access road towards Tivat. The construction of the "Verige" Bridge will make the road from Tivat to Herceg Novi considerably shorter, improve the traffic conditions and the complete tourist offer of Montenegro.
This project is assessed by Methodology as 1b, which means that it is a project for which the preparation of technical documentation is in progress, which precedes the tender procedure, i.e. a project that lacks certain final consents/permits.
Within the framework of the Waste Management projects, the estimated value of construction of the Sanitary Landfill Duboki do was projected at 7.4 million EUR.