May 28, 2018 - Different pre-election coalitions around DPS won absolute power in Podgorica, Bijelo Polje, Pljevlja, Danilovgrad, Žabljak and Savnik, most of which improved results from the last local elections. In Bar, Kolašin and Golubovci, where DPS went out to the polls by themselves, they would most likely rule by committing a post-election coalition with its traditional allies.
Rožaje, where the party of Milo Djukanovic also came out with an independent list, is the only municipality in which DPS will be in opposition, while in Plav it is still uncertain, i.e. it is more realistic that it rules there together with the Social Democrats. The Bosnian Party can autonomously rule in Rožaje. DPS deputy Milos Nikolic said that DPS had achieved excellent results in several municipalities and assessed the hopes of the opposition to win the elections in Podgorica as irrational. The opposition at the state-level lost its ruling status in Kolasin after only one mandate. The Democrats of Aleksa Becić won 24 seats in five northern municipalities, and in coalition with URA-Dritan Abazovic's Civic Movement, 40 in five towns including Podgorica, where they will be the second most powerful party in the town's parliament. Overall, they emerge as the strongest opposition force from these local elections. Bečić stated that the election day passed in an anti-democratic ambience and that he has the impression that we are in Cambodia or Somalia, not in the EU candidate country. "We had a sequel to the action films from Cetinje on the streets of Podgorica," said Bečić.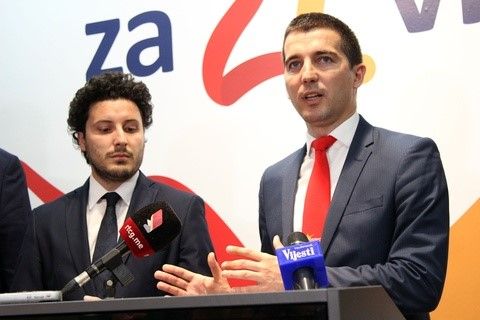 PHOTO: Filip Roganović
He said that in Podgorica there had been the biggest abstinence in the last few election processes. "The constant election processes caused the abstention, and DPS wants to keep Montenegro in an extraordinary state. We had plenty of information that this time there was more pressure on employees in state administration, local government and private companies who are owned by DPS financiers and their partners," said Bečić. According to him, voters for one part of the opposition abstained as well. "We cannot be satisfied with the total result achieved by the opposition. There is a great deal of regret," said Bečić. He thinks the outcome would be different if the other opposition parties did a tenth of what they did. He also added that it was a question for others why some lost points on purpose, and why some led a negative campaign. "We did what was up to us," said Bečić. Abazovic said that electoral victories were brought by criminals supported by the Democratic Party of Socialists rather than by electoral programs and that Montenegrin citizens must be aware of this. He says he is proud of the result and that the coalition "Podgorica for the 21st Century" has won the battle with political competition, but lost the battle with crime. Abazovic said that it was time for a new generation of politicians and pointed out that they managed to impose new topics in the campaign. "I'm sorry that the colleagues from the opposition did not succeed in attracting more voters and achieving better results," concluded Abazovic. The Democratic Front Party, which in some towns came out on separate lists, won a total of 58 mandates, which is a drop compared to the results from earlier local elections. Social Democrats by Ivan Brajovic received the highest number of votes in Plav and won ten mandates, and in the towns where they participated independently they won a total of 27 mandates.
"Citizens made wise decisions, recognized the importance of local elections and gave confidence to serious, experienced, wise and consistent people. What we wanted and dreamed of when we set up our party - that we will have members in every local environment - today no one has them except DPS or SD. That's a big success. At every poll, we have achieved great results," Brajovic pointed out. The Real Montenegro by Marko MIlacic entered Danilovgrad, Pljevlja and Bar parliaments, and United by Goran Danilovic will have members in the Bijelo polje assembly. According to CEMI projections, the coalition between the Civic Alliance SDP-Demos Ranko Krivokapić and MIodrag Lekić did not enter Podgorica parliament, but from that coalition, as CDT claims, that it is not yet definite until all voices are counted. The coalition will not have a mandate in Golubovci, SDP won 12 mandates in six towns where they participated independently, and Demos did not enter Bar parliament, where they performed independently.
Text by Mihailo Jovovic, on May 28th, 2018, read more at Vijesti