April 1, 2020 - In Montenegro, a total of 1,048 people has been tested, 123 have been positive for COVID-19, while 6,375 have been under health surveillance. In the last 24 hours, 14 new cases were confirmed.
COVID-19 Cases by municipalities are:
Podgorica: 50
Sad: 34
Bar: 10
Ulcinj: 9
Andrijevica: 7
Budva: 4
Herceg Novi: 4
Tivat: 2
Danilovgrad: 1
Bijelo Polje: 1
Nikšić: 1
Dr. Boban Mugosa, the director of the Institute of Public Health, said that all 11 coronavirus cases reported this morning are connected with previous cases – 10 in Podgorica and 1 in Niksic.
From three new cases reported this afternoon, the Institute says that the source of contagion is well known in two, whereas research is underway for the third case. Newly confirmed COVID-19 patients are coming from Podgorica, Tuzi, and Ulcinj.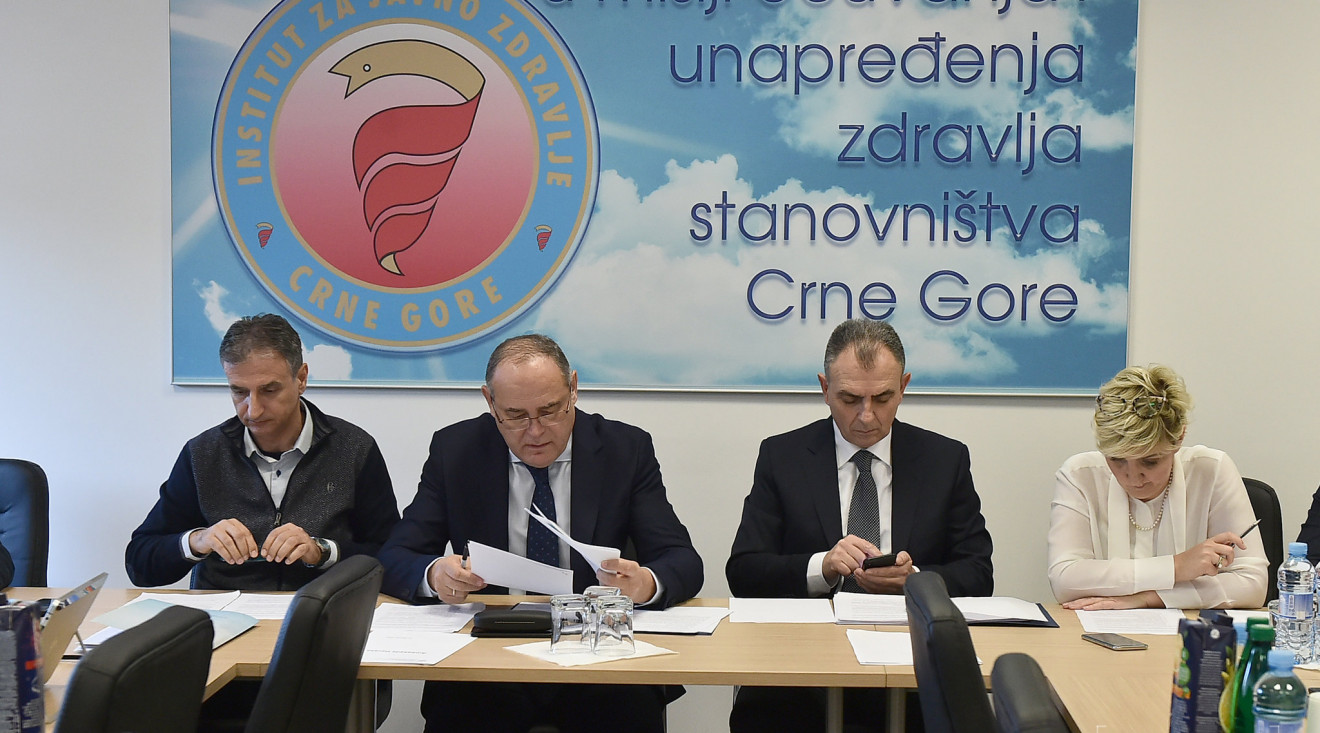 National Coordinational Body Press Conference at 9 am, April 1, 2020 , Copyright: Press Centre
At the 9 am briefing, Dr. Mugosa confirmed that there were two official COVID-19 related deaths, although one of the deceased had a chronic illness before he was infected. Asked about the number of infected children, he said there were two positive COVID-19 cases between 0-9 years old, and 12 patients aged 10-19.
Minister of Health Kenan Hrapovic emphasized today that we are entering a more serious phase with perhaps even more severe consequences.
All measures aimed to protect public health
, Hrapovic pointed out urging all citizens to cooperate to successfully overcome the crisis.
The director Jevto Erakovic says that currently, 20 patients are at the Clinical Centre of Montenegro (KCCG), while 14 patients are housed at the Infectious Diseases Ward. He adds that they all are stable. Six patients are placed at the intensive care unit of the Internal Medicine Ward, while two patients are hooked to respirators. He expresses gratitude to all health care professionals for great results, professionalism, and hard work in wholly changed conditions.
Ranko Lazovic, the head of the Medical Crisis Headquarters, explained today that Montenegrin healthcare facilities currently have a sufficient number of beds for potential coronavirus patients: Pljevlja - 30, Niksic - 52, Brezovik Hospital - 60, Bar- 100, Berane - 84, Podgorica - 174 beds. Three temporary hospitals are also being prepared. Montenegro currently has 106 respirators, most of which are at the KCCG – 66, Lazovic points out. Another five that the state bought are supposed to arrive tomorrow, he adds. Lazovic says that 80% of patients are treated at home, all in cooperation with doctors.
Failure to act upon measures will be sanctioned
Any person who infringes any measure imposed by the National Coordination Body will be charged for violating Article 287 of the law. For the first violation without severe consequences, a fine of one-year imprisonment is imposed.
If more severe consequences occurred, the law prescribes imprisonment of up to eight years. In the case of death, the punishment is 12 years of prison.
Prosecutor's Office reminds that persons who infringe imposed measures are deprived of liberty and sent to investigative detention for up to 30 days.
Such cases are settled urgently, except in case of isolation infringement. In that case, perpetrators are sent to quarantine and are faced with criminal charges.
Stoltenberg on Montenegro's request for help in the fight against COVID-19
Asked if the Alliance would consider Montenegro's request for assistance in the fight against coronavirus, Secretary-General of NATO, Mr. Jens Stoltenberg, said that NATO had already provided some of its capacities.
"We'll discuss this in tomorrow's meeting of ministers of foreign affairs. I expect we will reach some agreement on how we can help more," Stoltenberg said.
Employers obliged to pay full salary to employees in quarantine or isolation
Employers working during the COVID-19 epidemic are required to pay full salary to the employee who is in quarantine or isolation, Inspection Affairs Administration says.
On the other hand, if employers are not working due to Government's bans, they are obliged to pay 70% of the salary to their employees in quarantine or self-isolation.
The same rule applies to parents who don't work because they have children under 11.
Entrepreneurs and trade unions asking for measures to mitigate consequences of COVID-19 pandemic
Entrepreneurs, trade unions, and economists have sent to the Government proposal for measures to minimize impacts of the coronavirus pandemic. They requested subsidies on the salaries, 50% cut on VAT, delay of a settlement of bills, ban on cutting the electricity and reduction in electricity bills…
President of the Entrepreneurs Association, Ms. Edita Dautović, said that micro, small and medium enterprises and crafting shops were the most endangered category of companies.
"We propose the most urgent measures to financial support for companies depending on their size, number of employees and the manner of operation, as well as subsidies on salaries during the epidemic," Ms. Dautović wrote in her letter addressed to PM Duško Marković.
The Association suggested a 50% cut of VAT and the rest of the debt to be repaid in installments for the next 12 months. Representatives asked for the delay in payment of taxes and ban on the compulsory settlement of claims during the epidemic.
The majority of companies will be forced to shut down, Ms. Dautović said.
Out of 5,35 thousand commerce facilities in Podgorica, only 10% are working. Out of 1,3 thousand of crafting facilities, none is working. Hospitality facilities aren't working.
Union of Free Trade Unions in their letter of notice to PM Marković asked for non-recurring financial assistance for the users of disability, proportionate, and family pensions.
"Bills for communal services to be delayed for at least three months, and cutting off electricity, water or telecommunication grid to be banned for at least three months, or for as long as there's danger from virus spread."
The Government shall oblige employers to extend fixed-term contracts, which are due to expire in the time of epidemic for at least three months.
Union of Free Trade Unions suggests that Government and NCB find a model and engage social partners in the process of planning and implementation of those measures. "Set plans for earmarking funds from the budget for social benefits in a forthcoming period; introduce strict penalty measures for those who tend to use this emergency and make a profit."
Kasalica: Fresh money to be pumped in economic flows
Economic analyst, Ms. Mila Kasalica, said that fresh funds should be injected in financial flows.
"Directly in business entities. As long as there are no official dismissals, we are still on the good side of the recovery. If micro and small enterprises collapse, that will be great damage to our economic system. If at the end of this year, our GDP doesn't plunge, we will be in a sustainable system situation and able to bring the economy back to its force gradually. Additionally, the country shall continue to provide support for the most vulnerable groups," Ms. Kasalica said.