The Municipality of Herceg Novi and the Ministry of the Interior have signed an agreement to use financing from the Protection and Rescue Fund, approved as part of a competition among municipal services, public institutions, businesses and non-governmental organisations. The agreement was signed by Interior Minister Mevludin Nuhodžić and Deputy Mayor of the Municipality Danijela Đurović, with Aleksandar Škobalj of the Herceg Novi Protection and Rescue Service also in attendance.
Minister Nuhodžić emphasised that the allocation of financing from the Fund confirms the determination of the Ministry of the Interior to work in synergy with all stakeholders in the system to improve capacities and working procedures in aspects of large-scale disasters and other incidents. Implementation of the projects for which financing has been committed will mean an improved rescue and protection system, as well as better delivery of preventive measures and operational activities, stated the Minister.
"I believe that through your work you will contribute to the strengthening of the protection and rescue system, and will be an additional incentive for other entities to work on building this important and demanding system actively," said Minister Nuhodžić, addressing this year's winners.
For Herceg Novi, the project that has been approved will be of huge significance as it will contribute to better protection for those in danger in hard to reach areas, stated Deputy Mayor Danijela Đurović. She added that the new equipment to be bought would be of great help to the Municipal Protection and Rescue Service, and that the local authority was grateful to have been recognised by the Ministry and the Fund Commission.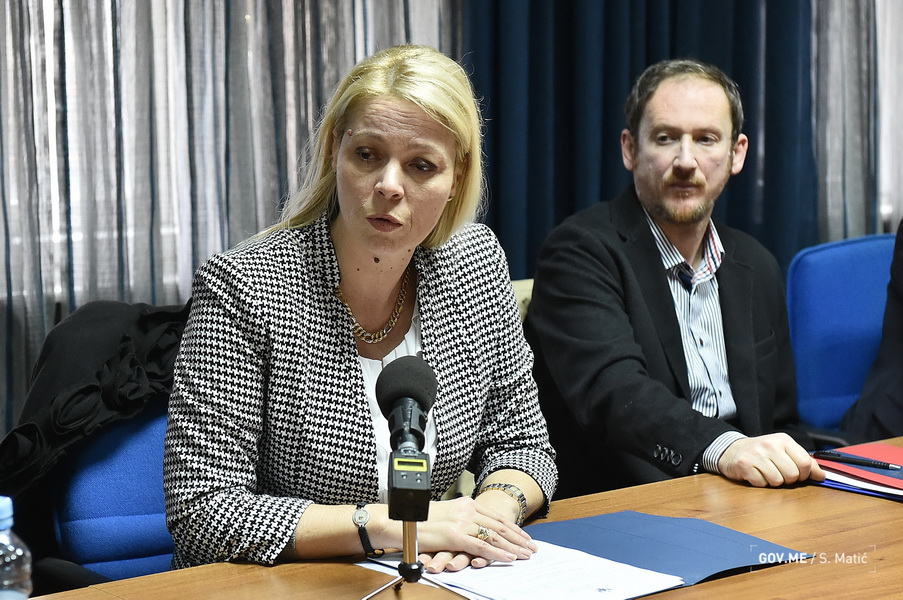 Danijela Đurović
Đurović took advantage of the meeting with Minister Nuhodžić to send a message on the need to improve security in and around Herceg Novi, bearing in mind that the municipality borders the European Union, and as such is of particular interest to those aiming to cross the border illegally. Referring to the recent killing of a border police officer on duty, she stressed the importance of increasing security at the national border, and expressed the hope that the competent authorities would prosecute those responsible as soon as possible. Đurović requested the Ministry to initiate a procedure to amend the criminal code so that anyone charged of the murder of a police officer be handed the strictest possible sentence.
The Commission for the Allocation of Financing from the Protection and Rescue Fund, within a public competition, has provided funding totalling over 99,090 euros for projects to procure protection and rescue equipment and improve resources, and for financing projects encouraging educational, research and development studies, for programmes, projects and other activities.
This year's beneficiaries are: NGO Association of Youth with Disabilities Montenegro, Bedrock Podgorica, Berana Municipality, Žabljak Municipality, Bijelo Polje Municipality, Nikšić Municipality, Herceg Novi Municipality, Non-governmental Association Union of Scouts Montenegro - Podgorica, Institute for Public Health Montenegro, Cetinje Students Association, NGO Gorica and Nature Lovers Association.