In just over two years of the current local authority in Herceg Novi, dozens of sections of local roads have been repaired and updated, mainly in residential areas surrounding the town.
Improvements to the pedestrian and traffic infrastructure are needed in every area, and the intention of the Herceg Novi Municipality to tackle each problem has been underpinned by a pledge to invest around a million euros in the development of infrastructure in Topla.
Topla will soon become a major construction site, confirms Deputy Mayor of Herceg Novi Miloš Konjević. Some of the projects to be implemented include:
The section of road T5 from Voli to Ramarex, for which the project has been completed;
For the section of road I4 from Mojdeški Bridge to Stanišića Dubrava, technical specifications, have been issued and work is ongoing on project development.
Construction is underway on pavements on the section of Njegoševa Street from Mimoza Restaurant to Kukoljac Villa;
Preliminary designs for the renovation of existing pavement on Mića Vavića Street (between the crossroads with Njegoševa Street and the car park for Topla I residential area) have been completed. Work on improvements to this particularly busy 140-meter section of the pedestrian walkway will cost 20k euros.
Plans are underway to construct a road from Topla III to Modra Ploča, on the currently tarmacked section, with a projected cost of around 30k euros. This area has already had street lighting installed, on the section near the former Chinese restaurant;
At the playground near Dašo Pavičić Primary School, final work remains concerning installing seating, lighting and storage spaces. This work is to cost 60k euros, and there are also plans within the local government to improve the playground at Topla II, which will cost around 5k euros.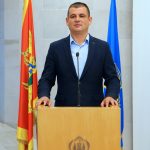 M. Konjević
Directly by the kindergarten and primary school, work on protective fencing has been completed. Updating of existing, and construction of new fencing, will be carried out at Milašinović Bridge;
Repairs are envisaged to the road around the school, as well as the construction of a retaining wall. The estimated cost of this work stands at 60k euros;
Work on updating pedestrian infrastructure will follow on the section from the Novljanka Building to the Pet Danica Walkway;
There are also plans to improve the Walkway from the Jazz Cafe Bar to Kantula Restaurant, which will be followed by the replacement of old kiosks with new street installations;
As Konjević points out, all the projects above are in line with local authority plans to improve public infrastructure in each area.
It is indeed a substantial amount of work, and each of the projects represents an important change to the appearance of the town. This is recognised by the local population who are providing their support and assistance in implementing the projects, concludes the Deputy Mayor of Herceg Novi.