July 06, 2018 - On July 3, in the presence of numerous artists and art lovers, the art exhibition "Why are There No Great Male Artists" opened under the organization of the National Museum of Montenegro and the British Council. The exhibition is taking place in the town of Cetinje, in the Montenegrin Art Galley "Miodrag Dado Đurić" and it will last until August 28, 2018.
This exhibition features works of the most famous contemporary British and Montenegrin artists including Abigail Lane, Adrijana Gvozdenović, Anka Burić, Anthea Hamilton, Brigita Antoni, Camilla Løw, Celia Hempton, Clare Strand, Elizabeth Price, Gillian Wearing, Gordana Kuč, Helen Chadwick, Irena Lagator Pejović, Jelena Tomašević, Laura Aldridge, Lenka Đorojević, Lubaina Himid, Madame Yevonde, Rachel Whiteread, Sarah Lucas and Tracey Emin. The concept and the idea behind the name came by curator Natalija Vujošević, who pointed out, through her ironic narrative points, that the female artists and their presentation are unequal in the world of art.
Minister of Culture of Montenegro Aleksandar Bogadanović, British Ambassador to Montenegro Alison Kemp, Director of the British Council Vanja Madžgalj and Director of the National Museum of Montenegro Anastazija Miranović addressed the participants and visitors at the opening in their introductory speeches.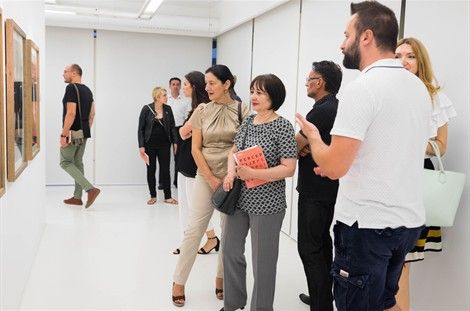 "This exhibition is particularly important because even after the freedom was claimed in certain taboo zones for most female artists, barriers are still present and visible. This concept is a true form of continuous fight and with this concept, curator Natalija Vujošević introduced a significant dose of intrigue in the time in which artistic actions increasingly struggle to provoke those creative ecstasies that must exist between art and social reality," noted Bogdanović, while adding that exhibitions of this type continues the trend of the artistic research of the Gallery "Miodrag Dado Đurić", which further confirms aliveness of the art scene on the cultural map of the Cetinje city in Montenegro.
Ambassador Kemp added that Montenegrin artists are proof of the country's extraordinary creative potential. This exhibition is an excellent example of how cooperation with the region can produce great results and present the greatest names of contemporary art.
"Perceptions occupy regional attention, and this exhibition has gathered powerful and feminine creative energies wishing to present the same open questions of women artists, women of today in all possible and impossible challenges and barriers of modern society. I hope that this exhibition will be another powerful impetus for the continuation of successful cooperation between the National Museum of Montenegro and the British Council and the Embassy of Great Britain in Montenegro in the context of improving and intensifying mutual relations," concluded Director of the National Museum of Montenegro Anastazija Miranović.