February 8, 2019 - We are introducing you Kristina Skanata, a specialist in media and public relations, a passionate traveller and a great fan of Boka Bay. She began her career as a journalist at Budva Television and has been part of the Porto Montenegro PR team for six years. Kristina's creativity is at work, in her recognisable style of dress, entertainment, and decision to indulge in real adventures by travelling to distant and exotic destinations.
TMN: You started your career as a TV journalist. For six years now, you've worked in the PR department of Porto Montenegro. Can you compare the two roles and explain your decision to move away from TV? Do you miss being behind the screen from time to time?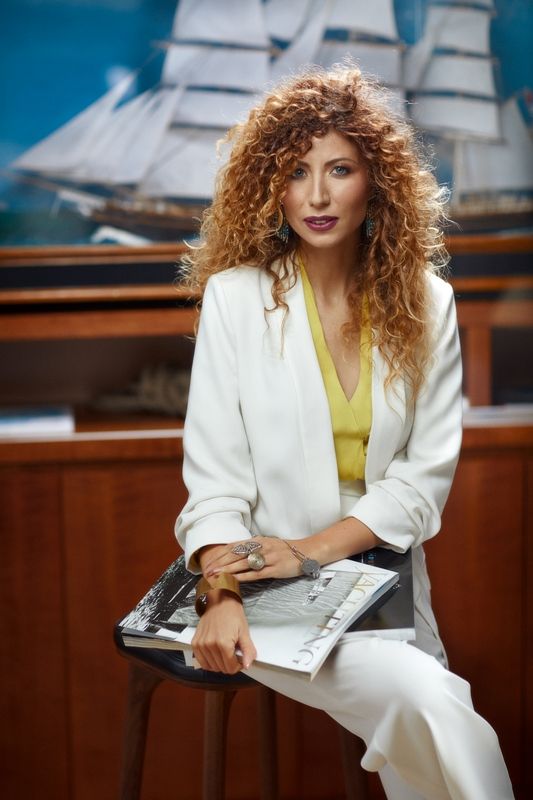 Kristina Skanata, photo by ZOAN Photography
Kristina Skanata: Public relations are an exciting, intense and unpredictable industry - it is a fusion of communication skills and creativity, visionary ability and cause-and-effect relationships. A typical day covers press releases, copywriting, giving speeches, composing creative media campaigns, conducting interviews, producing press clipping reports, as well as working on Corporate Social Responsibility projects. We also have a strong focus on events, which we design and execute to form the lifestyle experience at our superyacht marina village. "Truth well told" is my PR motto, and it works pretty well in all spheres of public relations, especially in a PR crisis. My passions are copywriting and luxury travel videos - that's what I miss most from my previous role in television. It is for this reason that I approach creative photo and video projects for Porto Montenegro with great enthusiasm.
TMN: Your job is very creative. How important is it to be a team player when you are part of a big company? How do you find working in an international environment? Does it impact your everyday life?
Kristina Skanata: The international professional experience gained through growing up in Tivat is a benefit to all of the locals working on the Porto Montenegro project. I enjoy all of the rituals of everyday life - cycling to work my favourite (of course, with my heels in the bicycle basket), and enjoying a coffee and croissant while reading the daily newspaper on the waterfront. I love the hustle of the office - we work intensely and proactively on all aspects of marketing and PR. Amongst the creative "chaos", we have to make time for whistle-stop tutorials on film premieres, fashion collections and good books, and my personal favourite, the so-called daily sugar fix, from the local pastry shop. All of this creates a good foundation for brainstorming, team synergy, motivating one another and creating an environment fit for professional and personal development – it all forms part of a very "ordinary" working day in Porto Montenegro.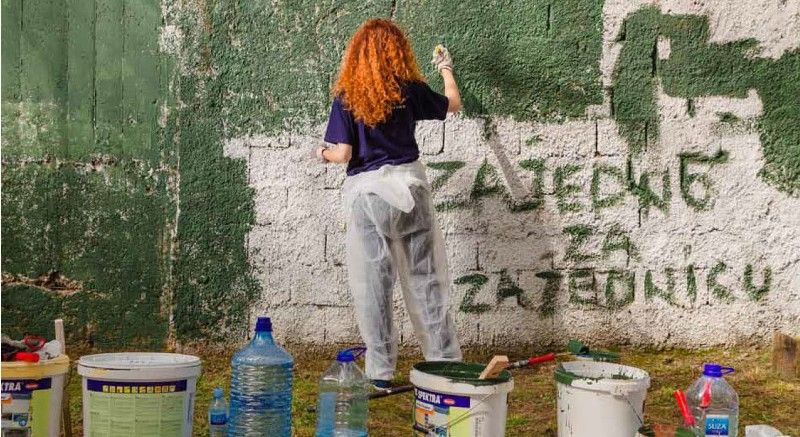 "Uplifting the Community" project, Kristina Skanata
TMN: You always have to come up with new ideas to meet your corporate and public needs. It's this creativity that gave birth to your plan for the
"Uplifting the Community"
project. How easy or hard is it to determine which campaigns will work best?
Kristina Skanata: Porto Montenegro is undoubtedly the local leader and innovator when it comes to philanthropy - so far, over 3 million Euros have been invested in the local community. Part of this investments has been acquired through donations and sponsorships of cultural, sports, health and educational institutions, the other part being a more immaterial donation in the form of supporting education and creation of cultural capital.
A project that enjoyed my particular attention was the "Uplifting the Community" initiatives, where Porto Montenegro employees received a paid free day to participate in activities to support the local community. I am most enthusiastic when working on projects relating to the renovation of schools, their grounds, parks and sports facilities, which bring long-term benefits to the local population and incentivise all affected to work towards creating a better everyday life of all citizens.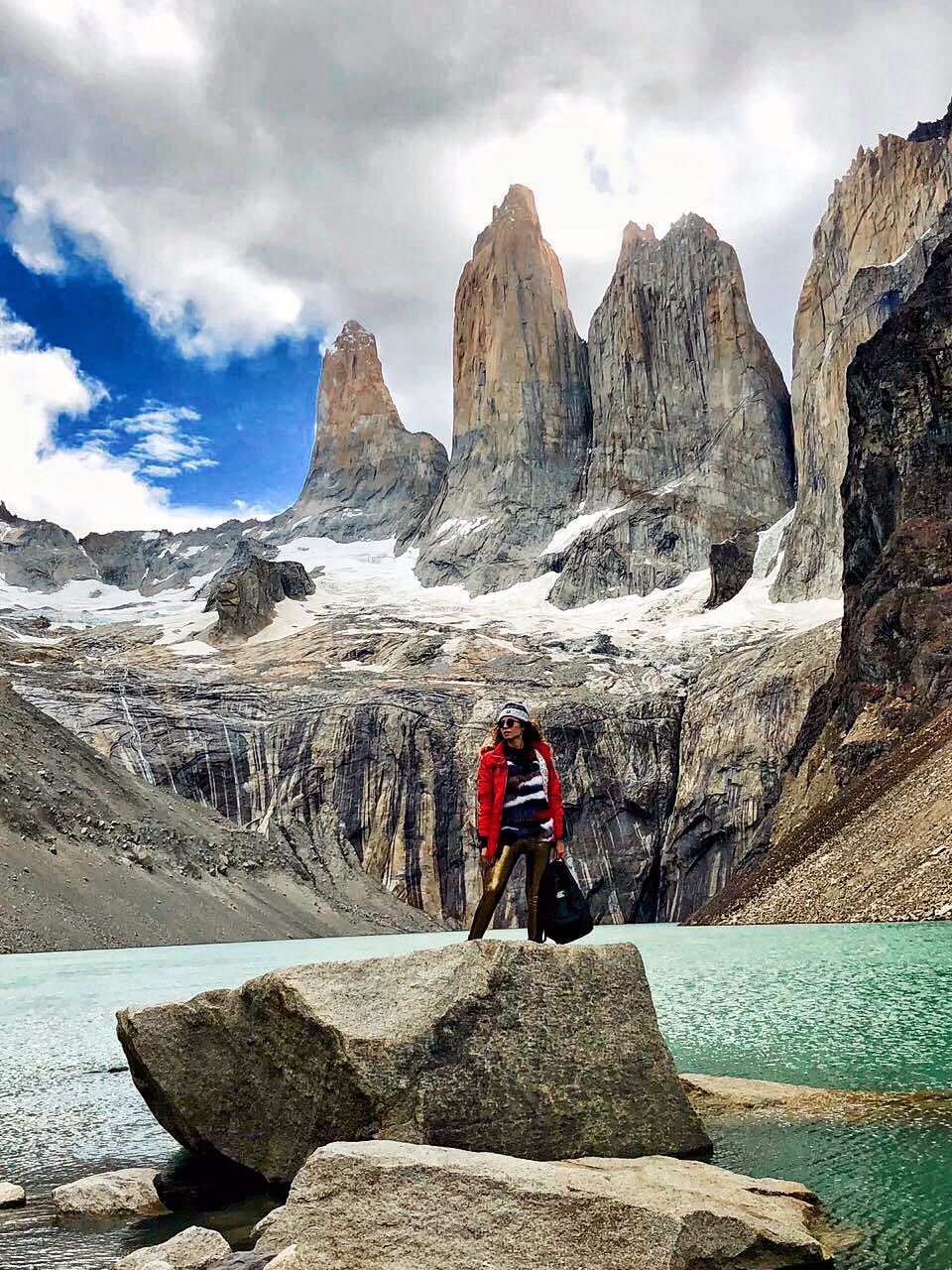 Kristina Skanata, Torres Del Paine, Patagonia, private photo collection
TMN: Outside working hours, you get to enjoy your free time. What are your usual weekend plans? Do you attend shows/manifestations?
Kristina Skanata: The Mediterranean village of Gornja Lastva, perched on a hill overlooking the Tivat Riviera, is a lovely spot to get headspace. The Verige Strait offers perfect views of Perast and two charming islands: Our Lady of the Rocks and St George. For a social time, I tend to choose a relaxed tavern environment with friends - "Bokeski Gusti" in Prcanj is one of my favourites. I love urban lounge-jazz, so you can probably guess that Casper in Budva is one of my summertime hideouts. On weekends, I'm most likely to "escape" to Ada Bojana. For the best evening out with great entertainment, I recommend a performance at the Mediterranean Theatre, Purgatorije, during the Tivat Festival.
TMN: As a student, you drew inspiration for your creative work from the natural and cultural heritage of the Boka Bay. Is it the same when it comes to working?
Kristina Skanata: For years,
international media publications
have featured articles on Porto Montenegro and the Bay of Kotor, as written by the most respected travel journalists, from Conde Nast Traveler, RobbReport, Tattler and Boat International. It's always a pleasure to convey the "rhythm" of the destination, from the perspective of National PR Manager of Porto Montenegro, as well as a local girl portraying the 'Boka' way of life. To give journalists a rustic understanding of the region, I like to relay the maritime biographies of Ivo Vizin, Jacinta Kunjic, and Penelope from Boka, as well as retell local legends like that of the Three Sorelles. Both the Boka Bay and PR are my way of life - I take great pleasure in their synergy.
TMN: Do you find that Porto Montenegro is becoming an integral part of the Tivat Community?
Kristina Skanata: The years of development of the Porto Montenegro village have seen the transformation of Tivat, maximising the town's potential, and elevating its traditions and nautical heritage - the fusion of the city with the PM project creates innovation and a "City of the Future" atmosphere, which Tivat indeed is becoming. Many locals from Tivat and the wider Boka region, amongst them, myself, now have the opportunity to work in an international environment, with exposure to luxury brands and different industries, as well as the chance to open private businesses in a stable economy that complements the Porto Montenegro project and tourism influx.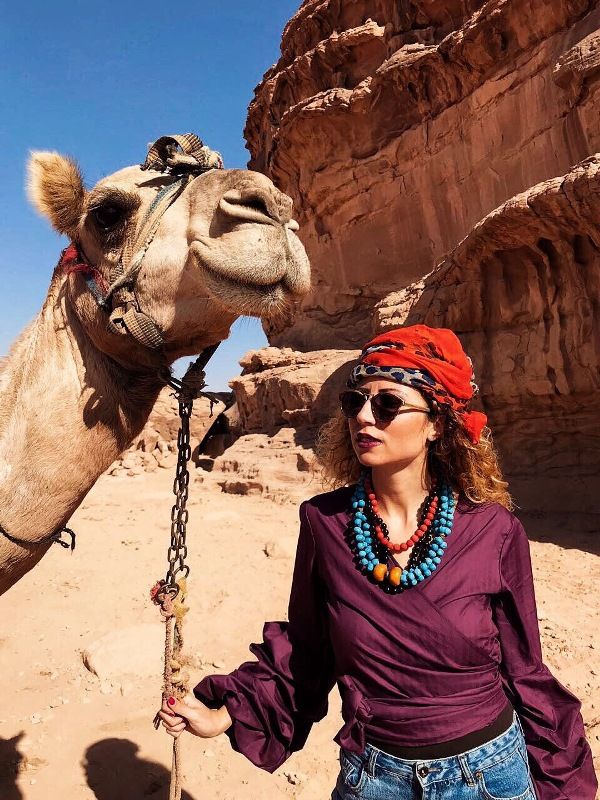 Kristina Skanata, Wadi Rum Desert, Jordan, private photo collection
TMN: You're passionate about travel. But are you a traveller, or a tourist?
Kristina Skanata: I strongly support my theory that the best life stories are "sealed" within your passport cover – and crafted in the deserts, rainforests and when faced with miracles of human civilisation. I am not a tourist, but a traveller - I like to meet local people and experience their typical rituals of everyday life. I spent half a day at a Cambodian school where some of the children saw a camera for the first time. My landlord, Manuel, from Havana, guided me to a tobacco factory and taught me how to tell a real Cuban cigarette from a fake; in Petra, the nomads led me to hidden fortifications that you would never find in a tourist brochure.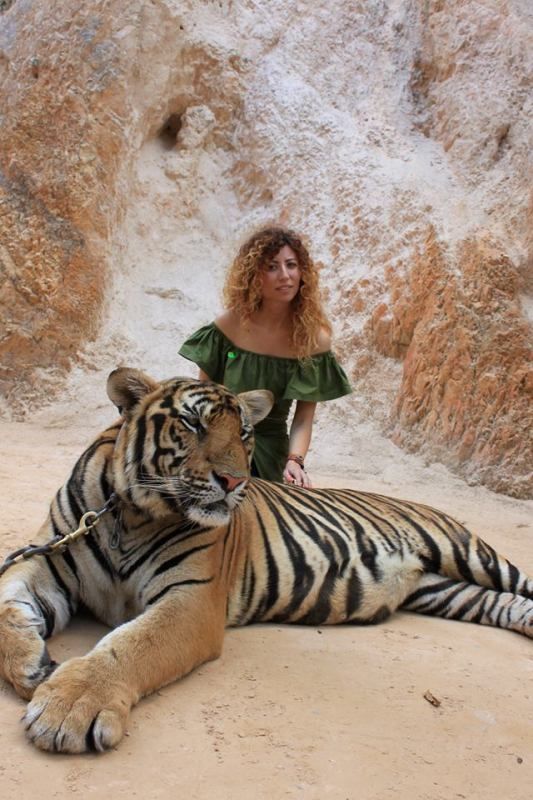 Kristina Skanata, Thailand, private photo collection
Such stories epitomise the essence of what is often the most beautiful, and sometimes risky, life experiences. From moments of great courage and madness whilst stood next to a tiger in Thailand, I also dared venture into one of the most dangerous favelas in Rio de Janeiro with my friends - a place that even the Brazilian postmen tend to avoid – where the nearby clashes of local gangs could be heard from only a few metres.
Kristina Skanata, Venice, Italy, private photo collection
Aside from the above, I'll always choose to return to New York! Just enough to become reacquainted with the concrete jungle, sayings like "have a nice day", bright yellow taxis and friendly drivers, Starbucks coffee (which somewhat subjectively never tastes the same outside of New York), the fast-paced lifestyle, all-glass skyscrapers and smiling doormen in their uniforms… a place where I reenact scenes from episodes of Friends and Serendipity and connect with Sex & City. The famous shops and "artistic" part of the city, Greenwich Village and Soho are known for their European architecture, small brick houses, the artists that inhabited them, and the richness of identity, subculture, colours and design.