June 26, 2019 - Do you quench your thirst with a beer in the summer? Meet Craft Brewery Fabrika from Risan and its owner, Vladimir Pokrajac, who has successfully run this story with his friend and partner, Krsto Ćuković.
"Craft beer has affected Montenegro as well as the rest of the region in the last couple of years. It has, in some ways, become a trend and a lifestyle. The way to make craft beer is an old, original way, known even from Egypt. They fed the slaves, so they did not die of hunger and thirst. Here, craft beer has begun to live with us. For about six years, we have been making beer for ourselves and friends, and two years ago, we started to produce for commercial purposes. Last year, we also organized the first craft beer fair in Kotor," explains Vladimir Pokrajac.
• How did you come up with the idea of producing craft beer?
My partner, Krsto Ćuković, first started the story. He was in a position to observe the production process somewhere in the Netherlands or Belgium. He tried this beer and liked it because it was quite different from the industrial beer. It was richer and you couldn't drink too much. Then he decided to try to make his beer. Thank God there are tutorials on YouTube where he could learn to make a beer. He then assembled the essential equipment for brewing beer at home. The first beer was probably okay, but I did not like the first sip.
We are all used to a beer, which is quite neutral.
Even after the third or fourth cup, I started to like it. For a couple of years, we've been making beer for our own needs. Two and a half years ago, after our beer got personality; we decided to start selling it. Initially, it was very complicated. In Montenegro, they could not procure raw materials, could not register the firm. After a little trouble, we came up with contacts, organized imports, so it was a lot easier now. In the meantime, there are also plenty of new craft beers in Montenegro, we have teamed up, and now it works much better.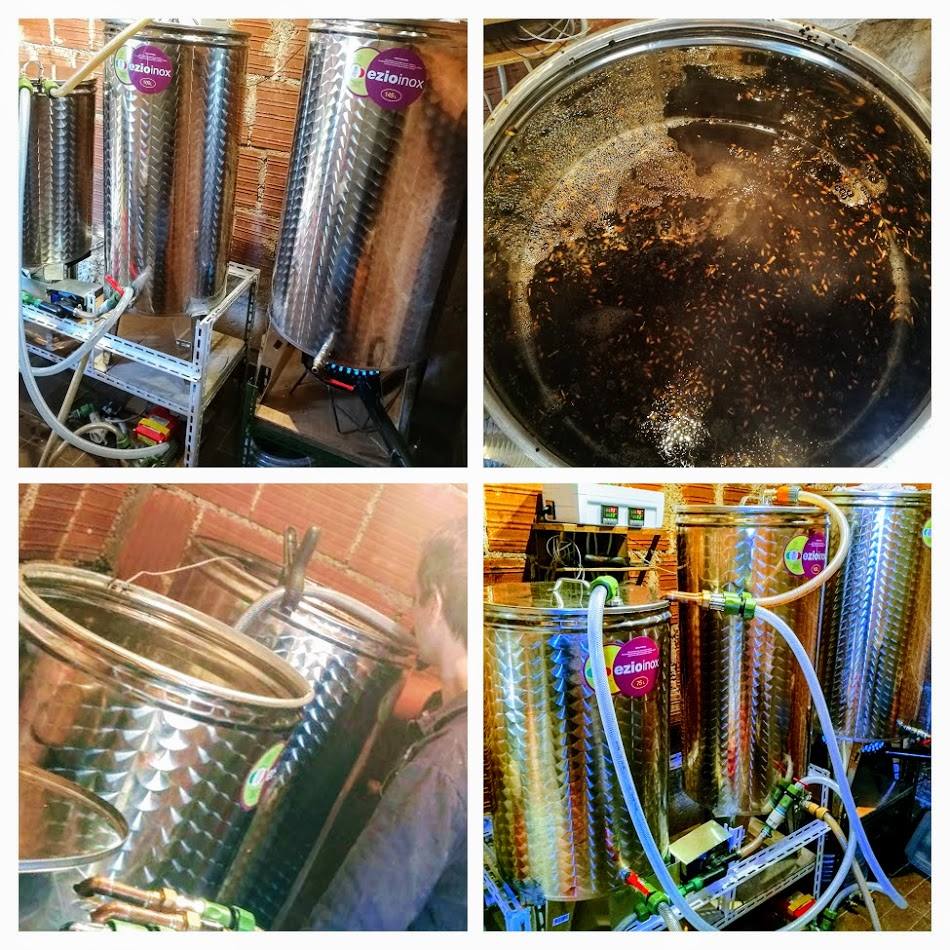 Craft Brewery Fabrika, Risan, Copyright: Fabrika FB page
• What is the craft beer process like?
The four necessary ingredients of the beer are malted barley, hops, water, and yeast. The raw grain material already processed in the factory we specifically get from Vermann, Germany. In our small factory, we continue to smash it to get rid of it for its primary color and taste. At a specific temperature, the barley will be processed for the next hour, and then moved to the cooking pot. We cook it for about an hour now with the addition of hops. The beer is then cooled to about 20 degrees Celsius so that we can add the yeast. Depending on the type of beer, it is then fermented for 10 to 15 days. There is a secondary fermentation in bottles, which lasts another ten days.
Craft
Brewery Fabrika
from Risan currently produces about 1000 liters of beer per month. We are expecting a new production facility from Italy, which will increase production to about 4000 liters per month.
• Cooperatives among local caterers do not seem to miss it. Have you also tried to meet the preferences of different consumers? The most famous Koza is just one of the beers you produce.
Everything started from the gastropub Black Sheep from Tivat. They heard about us somewhere; I do not know where, because then we did not even advertise. It is they who began to think about whether we have the logic to go about making beer more seriously than before. We saw that we had a market. That's what made us agree to get more grinding equipment. And in that sense our beer is now downright crafty because the machine is also our working hands, we have not bought it so far. I want to thank the Black Sheep because it was thanks to them that the wider audience was in a position to try our beer. And they liked them. Afterward, we found a lot of interested caterers in Kotor. Last year was solid, but this year there is a difference. Our beer is offered at over 20 cafes and restaurants in the city. We are delighted with how our business is developing.
• We said that Cheese is the most popular, but not the only beer from the assortment of the Kraft Breweries factory in Risan. What else do you have on offer?
The Goat is an Indian Pale Ale, a beer distinguished by bitterness and with more additional hops, and has a slightly citrus flavor. All of our beers are unfiltered and without preservatives, which is very good. So, no headache even if you had a few beers. You drink a little water, and you're ready for a new day. We have four more labels: Portun is a milky stout. It is a black beer that has a mild chocolate and coffee flavor. We have a red beer with herbs, lightly cooked. We also have American Pale Ale, which was made with a special kind of hop, a mild citrus beer. Boka is so-called Summer ale, a summer beer that can be drunk in larger quantities.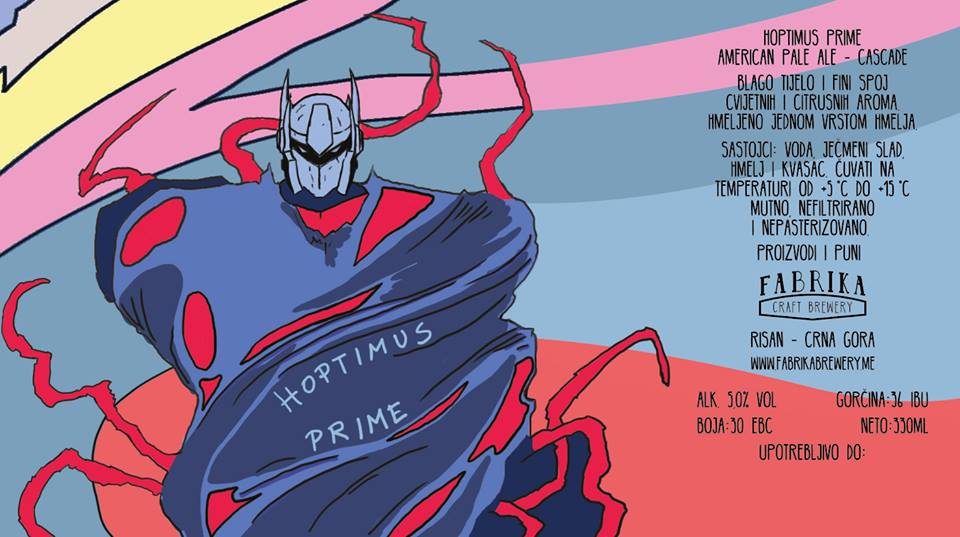 Kraft Brewery Fabrika's Design Signes well known designer, Vuk Bojanić
• You have been very attentive to branding your products, engaging local creators to help you. You have succeeded in presenting Bokelian products ultimately.
Our fellow citizen from Risan did the design of the label, currently living in Podgorica, Vuk Bojanić. He is a very talented designer, a fan of the strip, which can be seen on our labels. Trying to stay as much as possible in Boka, we gave one beer the name Boka. We also launched a non-governmental organization, called Citra, who with our Fabrika last summer organized the first Kraft beer fair in Kotor. Now we have an NGO that gathers all the Kraft beers in Montenegro. We have regular meetings; we help each other; we agree on what and how to work together to promote our beer. We can boast that our country produces excellent Kraft beer, we have good quality brewers in Niksic, Podgorica, Budva, Herceg Novi.
• In addition to establishing cooperation with caterers in Kotor and around Boka, this summer you will present your products in the small "Hoste" cafe in the Old Town of Kotor. In addition to your beer, you also want to offer other home-made products, primarily wine and brandy?
The original idea, when we decided to start a cafe, was to present our beer here. But then we realized that we could also promote other products from Boka Bay- brandy, wine, even gastro products that we can come across. This little cafe has already lived, and people already experience it as an authentic place in Kotor, where it is worth to go and feel the local culture through the food, drink, and atmosphere by locals gathering here.