November 26, 2020 - The originator of the Uberi.me gardening cooperative, Dr. Nebojsa Crnogorac, says that we do not own land but only serve it for a while as guardians.
Dr. Nebojsa Crnogorac became the owner of a plow of land in Lazine near Danilovgrad in 2007, thanks to a gift from a friend. He recently sampled part of that field (2,000 square meters) and offered his friends garden plots. Thus began the story of the gardening cooperative 'Uberi.me'.
"We have gathered a team of eight interested people who will get 50m2 of terrain each. We have planned to invite two more, but it is important to us that they are suitable people for work, socializing and constitute a stable team. There is still a lot of time until the beginning of the field works in spring. Any agreement is possible, and only goodwill and positive energy are necessary. A year is enough for all of us to see how this works and whether it makes sense to continue everything. I hope that those who are interested will continue to be enchanted by the opportunity to work together to grow plenty of vegetables and create a good mood," says Dr. Crnogorac, a specialist in thoracic surgery and oncology.
So far, the land has not been used for vegetables. It is necessary to carry out an analysis first, on which the choice of seedlings will depend. The issues of watering, the fight against weeds and plant parasites, protection, and improvement of the soil also remain to be resolved. Each user will plant crops of their choice, and Dr. Crnogorac has an affinity for cherry tomatoes, hot peppers, zucchini, eggplant, and Hokkaido pumpkins, squash, and Halloween pumpkins.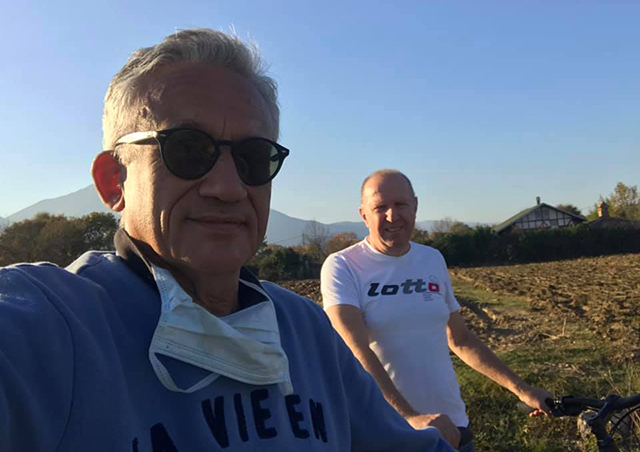 Crnogorac and Radunovic, Source: PCNEN
Slobodan Radunović, the first to support the idea of ​​Uberi.me, is engaged in agriculture as a hobby. For several years he has been independently producing as much as 80% of food for the needs of his family. When Crnogorac mentioned the project to him, he felt the need to support it and participate directly.
"Uberi.me is important because it came from a doctor. If top doctors are determined to take off their white coats, wear work overalls and work diligently, then that is a sufficient indicator for all of us. There are also engineers, actors, journalists in the group. These are all people who have achieved professionally, who use their free time for making friends, exchanging experiences, and mutual support. Being in the sun and clean air, and at the same time hanging out and producing quality food, is a real blessing for the cooperative members," says Radunović.
Although he was born and raised on the outskirts of a big city (Belgrade), Dr. Crnogorac has always been attracted by the open green-brown horizon of the plain. He says that we do not own the land but only serve it for a while as its guardians. "Planting a useful plant, helping it to grow, ripen, and fruit is a special pleasure, and that is exactly the goal of vegetable growing, for which we indulge in this activity," he says.