Solana shut down, 1.3 million Euros' worth imported.
14 July, 2020 - A combination of state negligence and deals with the boss of Eurofond have destroyed a promising industry. From being a significant producer and exporter, Montenegro has become dependent on salt imports and is the only Mediterranean country that does not produce its own.
According to the Statistics Office Monstat, Montenegro last year imported 1.3 million Euros of edible salt from as many as 29 countries and four continents.
Now closed and demolished, the Ulcinj Saltworks used to produce up to five times more salt than that consumed in the whole of Montenegro.
Eurofond interested purely in Solana land
Solana was state-owned until 2003, when, after voucher privatization, the largest owner became Eurofond, owned by businessman Veselin Barović, investing about 800,000 euros. Barović gradually increased his ownership in the company through various recapitalizations over the following years.
Solana manages 14 million square metres of state land in the hinterland of Long Beach (Velika Plaža), which the management of Eurofond wanted to turn into construction land for the building of apartments and hotels, and also to bring it under the ownership of the company.
Solana filed for bankruptcy in 2005 with a debt of 13 thousand Euros, the year in which its book value increased from 22.6 to 31.2 million. DPS votes in the Assembly changed the named purpose in the spatial plan and Solana became construction land, however the implementation of the plan was prevented by the NGO sector and representatives of various embassies.
Meanwhile, those in charge of Solana's bankruptcy administration attempted to sell the land as construction land, first for 250 million, with the price later dropping to 160 million.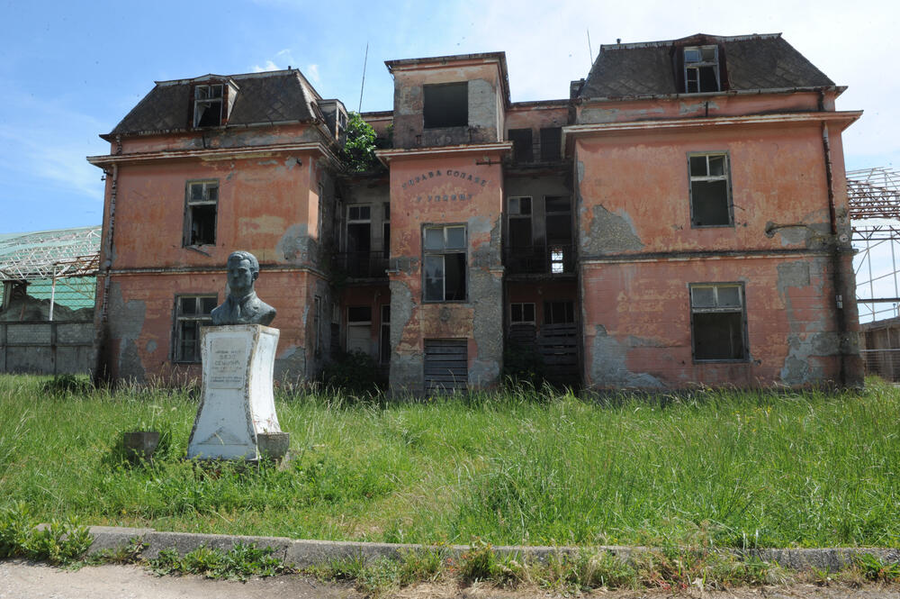 Eurofond only interested in turning millions of square metres of land over to construction: Former Solana Administration building, photo: Solana Administration building
If the plan had come about, most of the money would have ended up in the pockets of individuals connected to Eurofond, explaining the lack of interest in salt production.
The last salt was harvested in 2013, after which the pumping of sea water into the saltworks stopped, leading to environmental problems. National Parks took over the management of Solana as a protected area in 2015, allowing seawater to be pumped into the salt pans, but not salt production.
At one time, 70 percent of the salt was exported.
Former manager of Solana Saša Mitrović recalls that they produced an average of 10 to 15 thousand tons of salt.
"Montenegro's needs for edible salt were at the level of three to three and a half thousand tons, approximately 30 percent of our annual production. The rest, some 70 percent, went to the markets of the countries of the region and Europe," stated Mitrović to Vijesti, adding that there was also more than enough salt for the roads.
"If Solana was 'alive', we wouldn't need a gram of imported salt," Mitrovic points out.
But, while Ulcinj's Solana was still producing, salt of a much lower quality was also imported from various places in Montenegro. And yet Ulcinj salt was of the highest quality, as evidenced by numerous accolades won by the now-defunct factory at many competitions in Montenegro and beyond.
Leading Ulcinj ecologist Dželal Hodžić says that for years no one has been considering quality, only price.
"However, wider Yugoslavia knew and appreciated the Ulcinj product as the healthiest and highest quality in the country, because in the southern Adriatic the concentration of salt in the seawater was the highest and purest. The fact that the housewives from Gevgelija to Triglav used our salt for the winter speaks volumes, because their produce spoiled after only a few months using other products," recalls Hodžić.
Imports mostly from Germany and Egypt
According to Monstat, last year Montenegro imported the majority of its edible salt from Germany and Egypt, a total of 256,076 and 235,594 Euros respectively, and the least from Sweden and Russia, 48 and 83 Euros respectively.
We also imported 128,389 Euros' worth from Albania, 181,758 from Austria, 108,092 from Bosnia and Herzegovina, 401 from Bulgaria, 453 from China, 42,354 from Croatia, 225 from the Czech Republic,1,940 Euros' worth from France, 12,308 from Greece, 17,413 from Hungary, 1,990 from India, 9,627 from Israel, 10,396 from Italy, 392 from Latvia, 590 from Malaysia, 25,513 from Pakistan, 2,755 from Poland, 165,231 from Serbia, 5,312 from Slovenia, 1,675 from Spain, 28,402 from Tunisia, 72,593 from Turkey, 222 from North Macedonia, 764 from the UK and 986 Euros' worth from the USA.
Although the norms for edible salt have now been tightened due to its allegedly harmful effect on the human body, Mitrović claims that even that would not jeopardize, or even affect the profitability of Solana's business.
"The saltworks has, and can still produce, a wide range of products - from table and road salt, through sophisticated items for the pharmaceutical and chemical industries, and even to the animal husbandry business. I remember, seven or eight years ago, we sold huge quantities of salt, truck loads, to the then Mesopromet - for tanning leather," recalls Mitrović.
The only country in the Mediterranean without its own salt
Ornithologist Darko Saveljić, who has been protecting birds at Solana for 20 years, but also studying the work of salt pans in the region that work on the principle of biodiversity sustainability, said earlier that Montenegro is the only country in the Mediterranean that does not have its own salt production.
"Sea salt from Ulcinj's Solana is made from the purest water of the Adriatic Sea and is produced from the sun and wind. It contains 97 percent sodium chloride, and the rest is magnesium, zinc, bromine - all the supplements that we buy in pharmacies. It is a healing salt. Montenegro now imports salt from Egypt and China that can be very dangerous. Slovenia has branded salt as a product, although their salt from the Adriatic Sea comes from unclean water and is of far lower quality," said Saveljić at the time.
Ulcinj saltworks "Bajo Sekulić" is still in bankruptcy, with Eurofond and related companies owning a majority share, around 75%, while the management of the National Parks expires next month. The dispute over land ownership, between Eurofond and the state, continues.
Continuing production is a prerequisite for the survival of nature.
Hodžić says Solana is not for sale because it is a national asset, like lakes and rivers.
"Continuation of salt production is a prerequisite for the survival of nature in this area, for birds to remain and in breeding-quality lagoons for white fish and crabs. In addition, if we start production, we also have high-quality peloid (medicinal salt mud), which we still have in unlimited quantities, and some hoteliers import it for eight euros per kilogramme," states Hodžić.
He claims that it is difficult to maintain the land as it is without production.
"We may end up in a situation where our saltworks turns into a swamp and becomes a source of infection and malaria," warns the ecologist.
He points out that he himself does not know whether production would be profitable, but that experienced financial and commercial experts would be charged with that task. As a parallel, he cited the example of a Slovenian saltworks near Piran.
"It was state-owned and operated with a deficit for several years. The state helped the company from a special fund all the time, while the managers devised a way of survival. Today, the factory sells salt in packs of 100 grams, as well as various souvenirs and has tens of thousands of tourists. They got back on their feet and make hundreds of thousands of Euros, and we all know very well that our saltworks has five times more potential than this," claims Hodžić.
Producing one kilo of salt costs two cents. Mitrović says that Solana can operate profitably without any problems.
"The maths is clear - the price of salt with all the costs on an annual basis, including the harvest, cannot exceed two cents per kilogramme. So, if we sell it for roads - we earn 100 percent, and if it is for human consumption - the profit is many times higher," explains Mitrović, mentioning that a 25-kilogramme package of table salt has a retail cost of 2.5 Euros, and per kilo 30-40 cents.
He adds that in Solana, the biggest cost has always been the salaries of workers.
"If Solana had 70 workers as was the case when it closed, we would need to sell 500 tons per month from a harvest of 10 to 15 thousand tons, which means 50 thousand Euros if the average selling price is 10 cents. About 35 thousand Euros would go on employee salaries, while the rest would be used to cover other costs," claims Mitrović.
He highlights that Solana, even when it had 450 employees and produced 20 thousand tons of salt 20 or more years ago, operated with a profit because it had a wider domestic market.
"The then Director of the company, while we were in the community with Serbia, said publicly that while the Ulcinj saltworks maintains production, the country (FRY) does not have to worry about edible salt," says Mitrović.
Montenegro now imports salt from Serbia, which is not a producer but only repackages imported salt.