November 19, 2019 - Organized by the Creative Center Tivat, a dance therapy workshop "Flow through the unknown," using the Maria Fux method, will be held on Saturday, November 23 from 3 pm to 6 pm at the Josip Markovic Cultural Center in Donja Lastva, Tivat. After the last month's presentation, licensed dance therapist Milica N. Popović is coming back to meet the great interest of the participants to discover more on this method, which rests on the realization that authentic dance lives in all of us. We need to recognize and wake it up to live more in tune with ourselves and the world around us.
"
Marija Fux's method
is based on the possibility of change, which provides a way out of the vicious circle of uneasiness and problems, through the gradual abandonment of rigidity, fear, and instability, regardless of one's psychophysical and social status," explains
Milica N. Popovic
. Milica, born in Belgrade, who has lived in Florence for two and a half decades, has been dancing for 15 years using this method. For the last three years, having earned the trust of her teachers, she has enjoyed the opportunity to share her dance with those interested wherever she is.
"The human body is naturally destined to move. Our skin, muscle, and bone structure are constantly inviting to dance, having a great capacity for expression and communication. When illness, trauma, depression, or loss of interest in the environment, a distance from the authenticity of our being, introduces us into the foggy spaces in which we do not feel enough alone, dance therapy through free movement can bring us dimensions of pleasure and balance. It enables us to express our abilities and reaffirm our identity," Milica points out.
"Over many years of endeavoring to understand, refine and deepen body language through personal transformation, I have traveled to many geographical places, communicated with people of different generations, and felt diverse human states conditioned by different cultural backgrounds, environmental reasons, and social starting points. Along the way, I tried to understand the common root that binds every human being to his or her ability to remove the external and internal barriers of any kind. It is undoubtedly a process and an endless journey. Still, I feel that it is grounded in secret and shared the desire of a person from any cultural circle to return to the "house of love," in which dance therapy gently and unobtrusively shows us the direction. I can say that for many years, I have been feeling like I am walking the world of a decorated body. I would love for you to experience that experience as well," Milica says, referring to Saturday's workshop.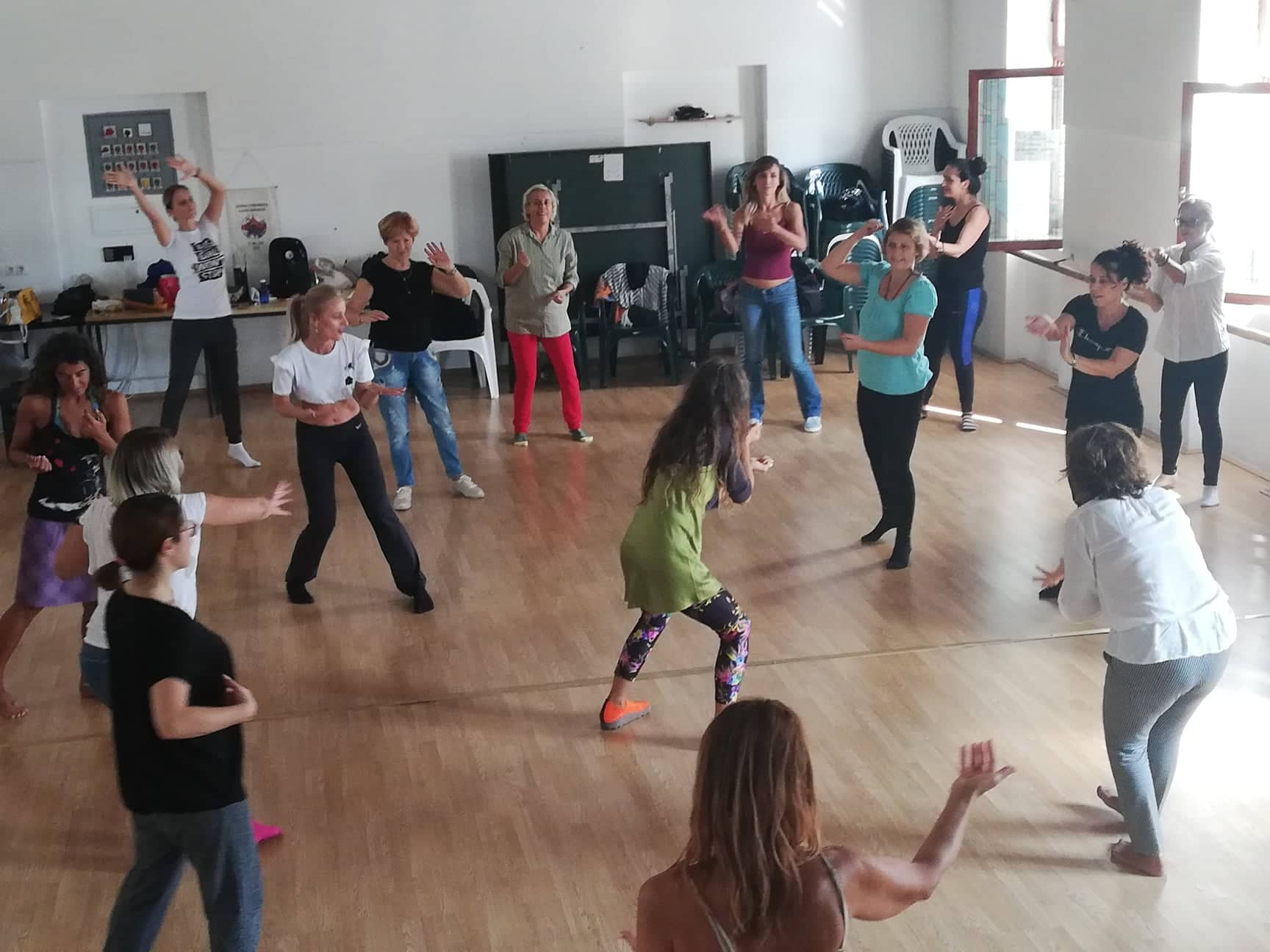 Dance Workshop with Milica N. Popović, October 2019, Donja Lastva, Photo by Antonela Stjepcevic
Natasa Prorocic is one of the students who had the opportunity to dance with Milica in October and explains why she decides to continue exploring herself through dance therapy using the Marie Fux method.
"I would say that we are living in a challenging time, which brings with it many different possibilities, but also many challenges. The pace of life is much faster, and therefore much more stressful. Therefore, it is up to us to find a way to balance ourselves in the chaos around us. We have to find some of our inner peace, in a way that is close to us. Today, there is a wide range of techniques that work to bring back ourselves. And dance therapy is one of those techniques, whose presentation I had the opportunity to attend and to meet a wonderful person like Milica Popovic, who introduced us to this method," says Natasa.
She speaks of his personal experience:
"I have to admit that before the dance therapy presentation, I didn't know what to expect. At the very beginning, I was in a spasm, like most of us who participated. It took me a while to relax and indulge. But when I allowed myself to indulge, it was as if I had been drawn into another dimension, different from our every day, which was very liberating. I have entered a natural state that is lost somewhere over time, but is actually deep inside us and is just waiting to be awakened. Personally, it seems to me that dance therapy has begun to imbue that primal, intuitive, strong female energy."
The presentation of dance therapy by the Marie Fux method, by which Milica honored the citizens of Tivat, lasted an hour. The dance workshop, which is announced for Saturday, will take a full three hours. Natasha looks forward to this because although the hour seemed long, she wanted the dance to continue to last as long as possible.
"I think the radio show, which will be held on November 23, will be more intense and will be able to provide us with more than what this method provides. An hour is short. I think the announced three hours is the optimal time to relax and enter that second state of consciousness and work through this method on our subconscious. I liked that we would hang out for three hours on this occasion, and I look forward to meeting you on Saturday," concludes Natasa Prorotic, one of about 20 students who have already had the opportunity to dance with Milica.
Registration for a dance therapy workshop is required. For more information and registration, interested can contact the organizer, Creative Center Tivat, by e-mail:
This email address is being protected from spambots. You need JavaScript enabled to view it.
or by phone 069 713 315.