09 August 2019 - Mc2Gallery presents Murano Art Week, featuring some of the best and most important glass artists from Murano, Italy.
Murano Art Week, an exhibition of artwork in Murano glass, will be open from 10 to 17 August at the gallery site at Luštica bay, Mc2 gallery. During the seven days, visitors will be presented with some of the greatest masters in Murano glass history, which is famous and prized for its quality for over 1000 years.
"As Italians, we are proud to exhibit these works of art, whose characteristics are famous all over the world. The most important is the Maestro Pino Signoretto, considered the "Michelangelo of the glass", who died in 2017, who had collaborations and projects with Salvador Dali, Jeff Koons, Marc Quinn, Emilio Vedova, Dale Chihuly and many others", said the invitation from the gallery's PR office.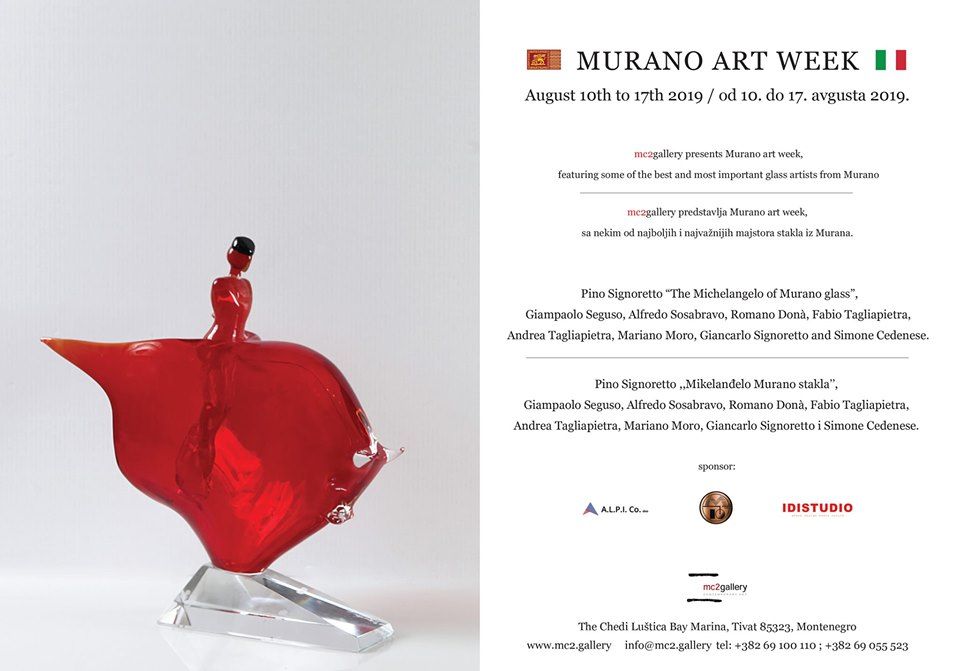 Master Giampaolo Seguso, an important family from Murano, will also be exhibited at the show. Their works are a collection of the Moma in New York and the Victoria and Albert Museum in London. Many other Masters will also be showcased at the exhibition, such as Romano Dona, Giancarlo Signoretto who collaborated with artists such as DADO, Bradley, Licata, Leismuller and Marc Estel, then the Cuban master Alfredo Sosabravo, Fabio and Andrea Tagliapietra, and also Simone Cenedese.
The sponsors of the exhibition are the companies A.L.P.I. Co. and IDISTUDIO (Italian Design of Interiors).
MC2Gallery opened in 2009 in Milan by an idea of Claudio Composti (Art Director) and Vincenzo Maccarone, Collector and Owner of MC2Gallery. In 2018 the gallery changed the headquarters to Luštica Bay, Montenegro, but it is still present in Milan. The gallery name is from the Einstein theory E=MC2, in other words, the synergy with whom we create and share the Culture.
Read more about lifestyle in Montenegro at TMN's dedicated page.