18 April 2019 - KotorArt Don Branko´s Music Days are continuing to emphasize the significance of ecology after last year's festival when sustainable development and environmental protection were key themes. This year's activities will already begin in April. The goal is to raise awareness, primarily of young people, about nature and importance of its preservation.
The activities will begin by marking Earth Day on April 22 with a program entitled "Our ecological song" in cooperation with the company "Školjke Boke" (English: Shells of Boka), led by ecologist and breeder, Nevres Đerić.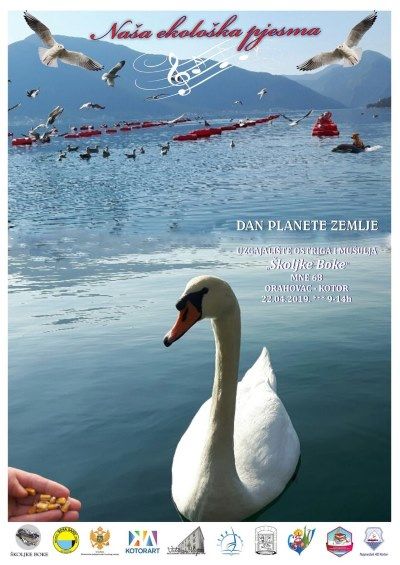 In addition to the action of cleaning the coast from the bridge of the river Ljuta to the Orahovac water supply, a practice ecology lesson will be organized on composting activities at the eco plantation "Školjke Boka" in Orahovac, as well as a short lecture, presentation and tasting of organic sea products from the Montenegrin sea. The action is organized by the companies "Boka Gard" and "Školjke Boka", in cooperation with the Ministry of Agriculture and Rural Development, Gymnasium Kotor, Kotor Maritime School, Savo Ilić Primary School, Njegoš Primary School, Vida Matjan School for Primary and Secondary Music Education "And JSC Napredak.
This action is the first step of the ArtEco project, which will be organized from April to August, and involves three types of activities – "Learn! Activate! and Create!", which contribute to the adoption of positive values ​​necessary for the sustainable development of society. The Segment "Learn!" brings interactive ecology talks through environmental lessons, while the "Activate!" segment is based on the celebration of the days of the earth, wind and sun through actions to clean the coast. The second segment also includes cultural and ecological walks and getting acquainted with the natural and cultural heritage of Kotor and Bay of Kotor. Segment "Create!" involves art workshops in which young people, through artistic recycling of collected waste, create art installations and unusual musical instruments. They will also prepare the performance "The World is Music" which will be held on August 13th, to end this year's KotorArt Don Branko's Days of Music.
This is not the first time that KotorArt Don Branko's Days of Music connect the theme of ecology with art. Last year, at the opening ceremony of the festival on July 13, a premiered performance of Rambo Amadeus with the topic of ecology - "Pasija po Steli" was held, followed by concert lectures "ClimateKeys". In cooperation with the Institute of Marine Biology, a first underwater exhibition was realized in cooperation with the association "Diving World", and after the action of cleaning the shore, the program ended with the performance "Boka naša nasušna".
You can follow all the ArtEco project activities on the website www.kotorart.me, or the profiles of the festival on social networks.