December 31, 2018 - The craftsmanship of wooden boats in Montenegro will soon gain the status of an immaterial cultural asset. The beautiful news came that the Cultural Heritage Management Board of the Ministry of Culture finally accepted the initiative of the Caliphate Workshop Bokovac and its dedicated masters, Pero and Nenad Bokovac, to protect the art of crafting wooden boats. Establishing the protection of craftsmanship should open the door to the preservation of numerous examples of traditional wooden boats, some of them more than a hundred years old, but also to ensure that craftsmanship of old craftsmen is preserved for future generations.
The official acceptance of the protection initiative by the competent cultural institution is only a first step in the process, which implies the application of regulations for the protection and the determination of the cultural and historical value of the craftsmanship of wooden boats.
"This act is of great significance to us and our ten-year-long work and effort, which is, for the first time, in the right way valued. In our caliphate workshop, we persist, with love and many resignations, preserving and maintaining the ancient knowledge and skills of the old craftsmen, caliphates, and boaters. We are one of the few in Bar, Kotor, Tivat and Herceg Novi as well as out of the borders of Montenegro. Accepting the Initiative gives us a strong wind in the back to us and to all who deal with traditional shipbuilding. Official protection is not only a question of preserving beautiful traditions but also worthy of knowledge," commented the news portal www.jedro.me PR manager of the
Caliphate Workshop Bokovac
, Miroslavka Lala Bokovac.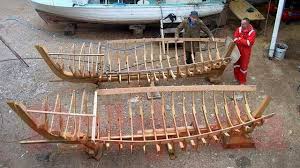 photo by Zoran Nikolic,
http://drvenebarke.blogspot.com
The long and hard work of Pero Bokovac and his son Nenad has recently been nationally recognised in economic terms, and the products of the Caliphate Workshop Bokovac have been awarded the status of a protected, Montenegrin product. Also, family Bokovac succeed in placing their products on the international market. In shipbuilding, they cooperate with domestic companies, Navar Shipyard, and Avel Yachting & North Sails from Tivat.
The Caliphate Workshop Bokovac is responsible for the popularisation of the "Arsenalka", the only authentic Montenegrin wooden boat built in the former Tivat's Arsenal, which they have saved from oblivion, devoting themselves to the creation of new wooden boats of this type. They also added a Latin sail, which contributed to both function and admiration.
In popularising the importance of preserving the knowledge required for the construction of traditional wooden boats, Caliphate Workshop Bokovac has the support of photographer Zoran Nikolic from Stoliv, who has been blogging on wooden vessels for many years and has been helping Bokelians to rebuild old boats for a long time. Help also comes from NGO Kamelija Stoliv, which has been organising a rowing wooden boats race called
Camellia Trophy
for six years now.