December 30, 2018 - Within the celebration of the Children's New Year at the Arms Square in Kotor, the central event "Waiting for Santa Claus" starts today at 4 pm. Activists of NGO Karampana and Kotor's artist Goran Moškov Gonzo have prepared an interactive program with a message – Let's Love, This is the Year of Love! As part of the event From Christmas to Christmas, follow the performances of the Kotor musicians in the program named "Kotor-City of Good Music." General sponsor of the event From Christmas to Christmas is Luštica Development company.
For the fourth consecutive year, Luštica Development supports the organization of the program "From Christmas to Christmas," which is taking place from December 23 to January 8, 2019. The company's particular emphasis is placed each year on the celebration of the Children's New Year on 30 December.
The program lasts all day, with a traditional Santa Claus visit to the maternity and nursery department at the General Hospital in Kotor at noon. A joyful parade will give gifts to the children who will not spend the New Year holidays in the warmth of their homes, or at the central event "Waiting for Santa Claus," which will take place at the Arms Square from 4 pm.
During the central celebration, the children will be able to watch the interactive children's play "Let's Love - This is the Year of Love." The organizer provides new year gifts to all the children who come to Kotor today.
In the continuation of the program from 8 pm begins the music program "Kotor, a City of Good Music," which will feature the Kotor's
Who See Klapa
, Niggor, and Jelena Kaženegra.
"Cooperation with NGO Karampana, one of the organizers of the program, is a special honor and the representatives of Luštica development company are always pleased to attend and support the rich New Year program of Kotor. We give the special attention to the Children's New Year, bringing the loudest joy, mumbling the most sincere smile the most credible way is to enter the upcoming calendar year with those who are our future," said Slavica Milić from Luštica Bay marketing team.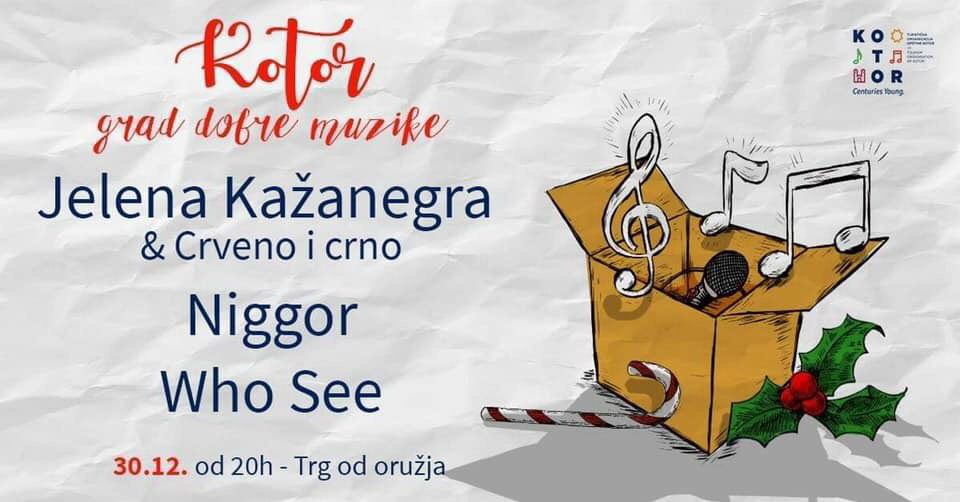 Over the last year, Kotor had a record number of concerts that featured some of the greatest names of the world, regional and local classical, jazz, pop and rock music, orchestras and smaller instrumental ensembles, choruses, and soloists. Thus Balkan recognizes Kotor as a city of good music, and proportional to the number of inhabitants and concerts is also the most prominent concert stage in the region.
Therefore, at the end of the year, the stage is reserved to the Kotor musicians whose work the regional audience has been watching for more than a decade. The public at the Arms Square will have a chance to hear a rich repertoire. The musicians have announced premier performances and numerous surprises.