17 November 2018 - In the organization of NLP Network, an informative lecture "Why is it good to know NLP?" Was held last night at the Cultural Center "Nikola Đurković" in Kotor. More than 50 people from various industries, from the private and public sector, entrepreneurs, sales staff, marketing, health, and education workers, showed an interest in learning this course. This methodology primarily focuses on methods of neuro-linguistic programming.
Participants were introduced to NLP methodology by Danko Ćetković and Aleksandra Anđelić, the founders of NLP Network, who also presented NLP education, as well as a special way of working, characterized by their trainers. The lecture was interactive, the participants presented their experiences, asked questions related to the application of this methodology in business or private life. The interest in this form of education shows that students recognize the importance of this kind of non-formal education.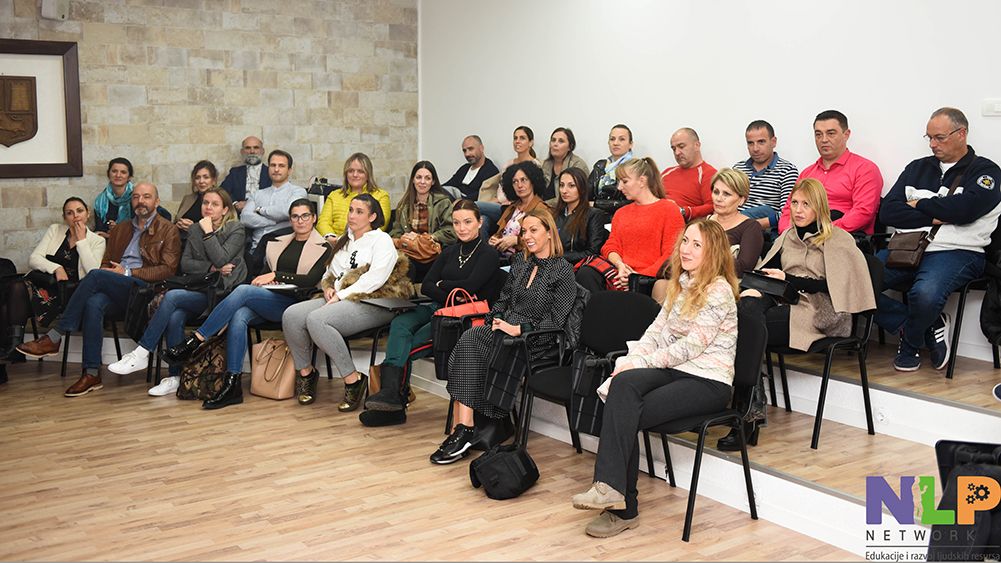 "On the one hand, more and more people have the need and desire to work on themselves, to learn new things, to improve their skills, but today's business environment, which is becoming increasingly demanding, requires it from us. The highest quality formal education is no longer required. All that matters is whether you are good or not in your job and the way how you build interpersonal relationships, how you communicate with your clients, colleagues, how you work in the team, how quickly you are adjusting to more and more frequent changes, how you amortize stressful situations, as well as how you plan and manage your work tasks, but also your career," as noted by the representatives of NLP Network.
"Also, we are all more and more seriously disturbed the balance between business and private life, and for that reason, we feel dissatisfaction, constant stress, worry, nervousness and so on. All of this, in the end, leads us to, in spite of the increased effort, to miss the desired results and not to realize all that we can for what we have potential. These are some of the reasons why it is necessary to work on improving the communication skills, flexibility, goal setting, as well as reconsidering their beliefs that can be supportive or even limiting to achieve the desired results, in which NLP can greatly help us with its methods," concluded members of NLP Network during their lecture about methods of neuro-linguistic programming.
Until now, NLP education was conducted only in Podgorica, however, due to the interest shown after the Info Lectures, for the first time in Kotor NLP Basic is being organized - a two-day training programme which will take place during December 8-9. Information and applications can be found here, and you can also follow NLP Network on their Facebook Page.