13 November 2018 - The concert of the Montenegrin Symphony Orchestra will be held on Thursday, November 15, at the Great Hall of the Culture Centre Tivat, starting at 8 PM, as part of the "November Days of Tivat 2018" event.
The Orchestra, which will be conducted by maestro Grigorij Krasko, and will perform "L'Arlesienne Suite" by Georges Bizet, "Waltz" and "Pas de deux" by Peter Ilyich Tchaikovsky, "Romanian Rhapsody" by George Enescu, "Adagio" and "Sabre Dance" by Aram Ilyich Khachaturian.
The entrance is free.
The Montenegrin Symphony Orchestra, as an institution of special social importance formed within the broadly established activity of the Music Centre of Montenegro, came to life in the year when Montenegro gained independence. Today, this ensemble, with all the important prerequisites, primarily in the aspects of material security and character of the internal organization, is basically similar to numerous professional institutions of this type in the world. The Montenegrin Symphony Orchestra has reached the level of a representative body of Montenegrin culture that puts Podgorica and Montenegro in the "rank" of numerous more developed cultural environments.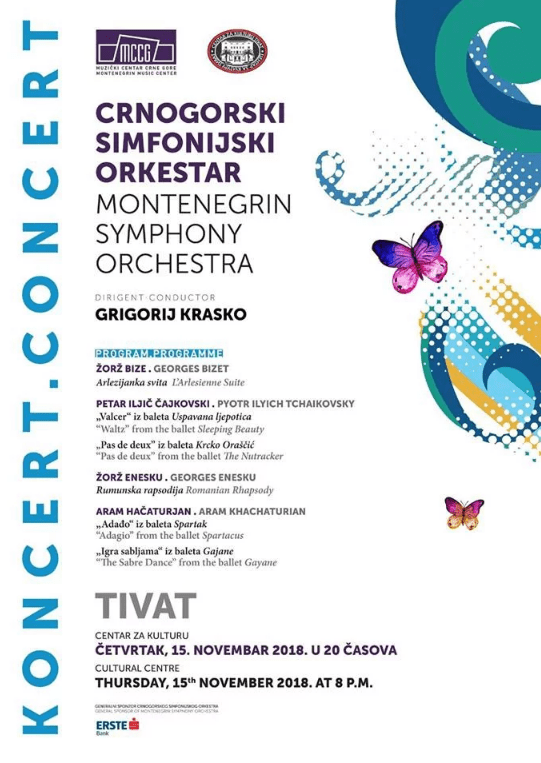 The first conductor of the Montenegrin Symphony Orchestra was young Russian artist Alexey Shatsky, who came to Montenegro from the position of one of the assistants of the legendary Vladimir Fedoseyev. During the first five seasons, along with numerous guest conductors, he laid the foundations on which Montenegrin young ensemble is developing today. The current head of the Montenegrin Symphony Orchestra is Grigory Krasko, an artist with a strong individuality and a huge experience, who has already made a remarkable contribution to the initial accomplishments and successes of Montenegrin ensemble as a concert-master and leader of the Montenegrin Strings Ensemble. The first performances of the MSO under his administration show the successful efforts of the orchestra to new performance challenges and professional standards.
Linking all who regard music as a necessity of everyday life has been and remains one of the strategic goals of the MSO. The Montenegrin Symphony Orchestra has gained a wide circle of friends and associates, among which the RTV of Montenegro, the Montenegrin National Theatre and Erste Bank, which has been the General Sponsor of the MSO for several years, are certainly distinguished.