August 10, 2020 - A conference entitled "Festivals in Times of Crisis", held as part of the KotorArt Don Branko's Music Days, will take place tonight, starting at 8pm, on Cinema Square in Kotor.
The organizers of the festival highlight that directors of several festivals from across Montenegro and the region will speak at the conference, including Ksenija Popović (Bar Chronicle, Bar), Ana Vukotić (FIAT, Podgorica), and Ivan Radojičić (Festival of Street Musicians, Nikšić), as well as Zoran Rakočević (Korifej, Kolašin), and Dora Ruždjak Podloski, Artistic Director of the Dubrovnik Summer Festival.
A representative of the Ministry of Culture, the Head of the Directorate for Cultural and Artistic Creativity, Dragica Milić, as well as the State Secretary of the Ministry for Sustainable Development and Tourism, Damir Davidović, will also speak at the conference. The host and moderator of this conference will be the Director of KotorArt Don Branko's Music Days, pianist Prof. Ratimir Martinović.
"Speakers will present their views on the topic and this year's plans with regard to the epidemiological situation, following which there will be a debate on the position, impact, significance, place and meaning of festivals in times of crisis. The debate will unpack current and future formats, the ways in which festivals communicate with their audience, as well as defining a new, and hopefully better - normal, also in terms of the life of the festival," a statement by KotorArt Don Branko's Music Days reads.
On Tuesday 11th August, at 930pm on Cinema Square, one of the first theatre performances in Montenegro since the beginning of the pandemic is planned, in cooperation with the Dubrovnik Summer Festival.
"An original project entitled 'Mara and Kata' by Saša Božić, Curator of the drama programme within the Dubrovnik festival, is about a duo of gossipmongers who criticize everyone with their specific humour, comic statements, original language and absurd revaluation of everyday wisdom. Nataša Dangubić and Doris Šarić Kukuljica have the audience in stitches, and never fail to make a joke at their own expense," the play's press release notes.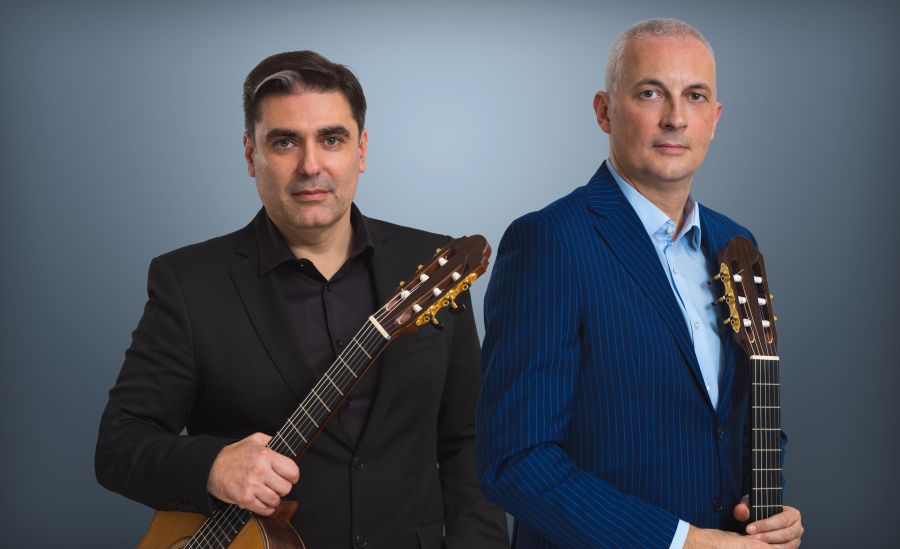 Dua Bulatović Nikčević to perform tomorrow (Photo: KotorArt)
On Wednesday, 12th August, also at 930pm on Cinema Square, there will be a performance by the famous Montenegrin guitar duo of Srdjan Bulatović and Darko Nikčević. The duo will, in addition to their classic, well-known repertoire, also present songs from their latest album called Peninsula.
All programmes, it is emphasized, will be held in front of a limited audience, respecting the measures of the NKT and the Institute of Public Health. The programmes are also broadcast directly online, through KotorArt's profiles and via Facebook and Youtube.
Source: RTCG