From the very beginning of the old trade route, which led from Kotor through the village of Špiljari to Montenegro, the path to the starting position of Via Ferrata in Kotor is separated. Knowing only that it is some climbing system, I looked for Kotor mountaineer Mitar Mića Jovanović to show me the way and help me present Via Ferrata to our audience. As preparation for the conversation, I had only photographs of social networks, showing the smiling faces of people who "hang" over the rocks above the Old town. "Nothing for the interview until I show you what I am talking about," Mića explained. I said OK. I wasn't so excited, but had to do what had to do. This story had to be written.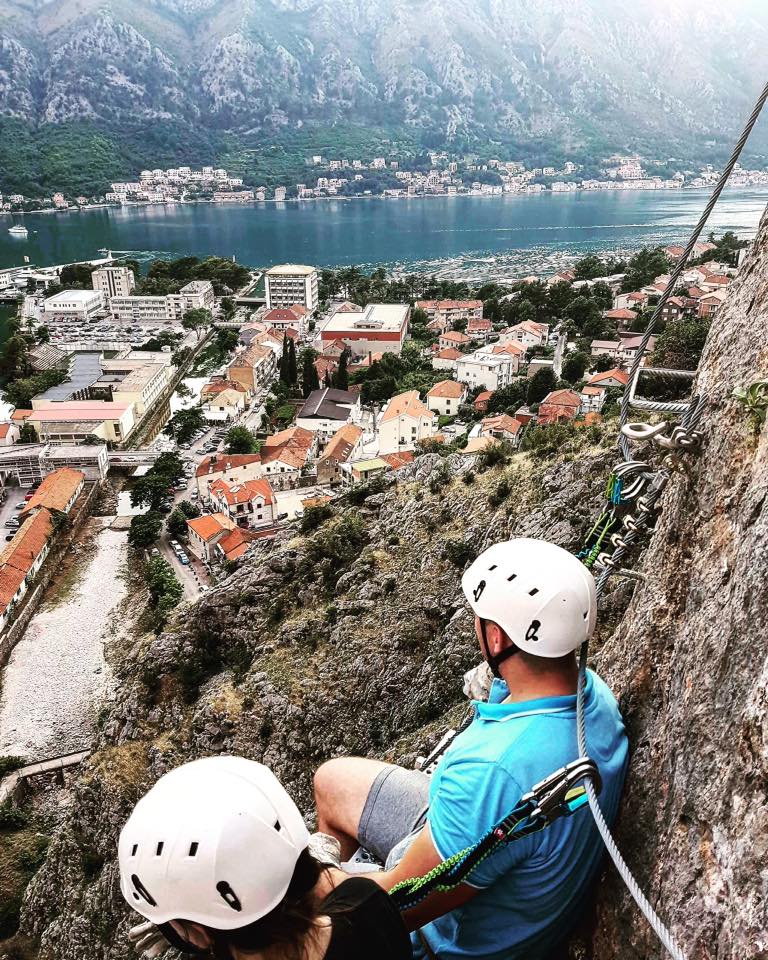 A Via Ferrata (Italian for "iron path") is a protected climbing route found in the Alps, but through time became more popular and recently could be found in many other locations. Via Ferrata Kotor is the first safe climbing zone created in Montenegro, opened for visitors on 2 May this year. Mića explains: "So far, all interested participants have gone through the path because it is safe and secure. By doing so, the experience and everything that can be seen from Via Ferrata Kotor offers an unforgettable and exciting experience. Via Ferrata is an open system for all people, as I like to say, from 5 to 205 years old, no matter the climbing experience, because it does not require certificates or other proof of ability. It's safe for kids, safe for adults. With guides and safety equipment, the experience is inevitable. Via Ferrata offers the relatively inexperienced a means of enjoying dramatic positions and accessing difficult peaks, normally the preserve of the serious mountaineer." I'm among those, so, to be honest, it wasn't easy for me to say Yes, I'm going to climb. After just few steps, I realized there's nothing to be scared of. Just focus and climb. You can do it. And I could.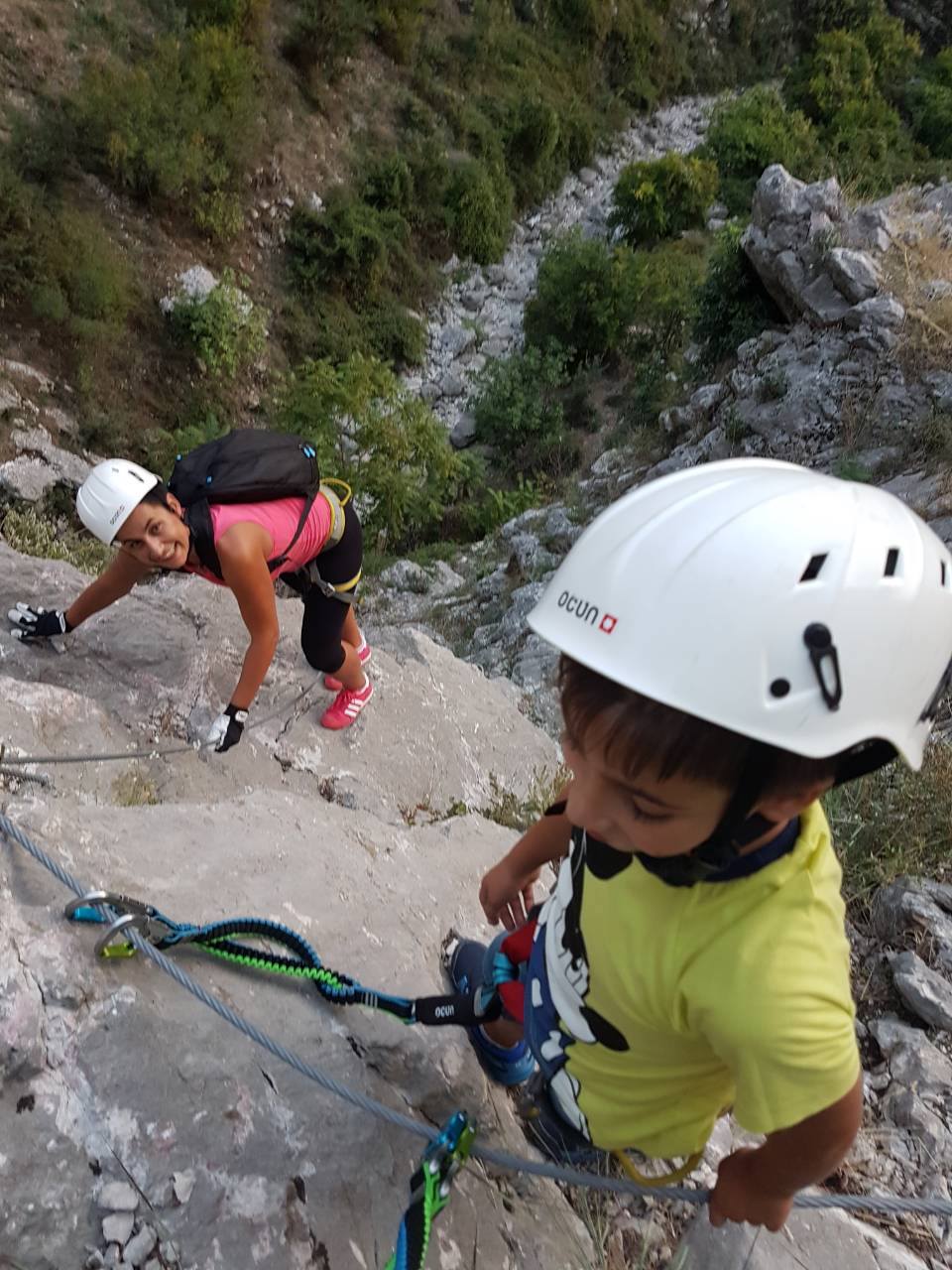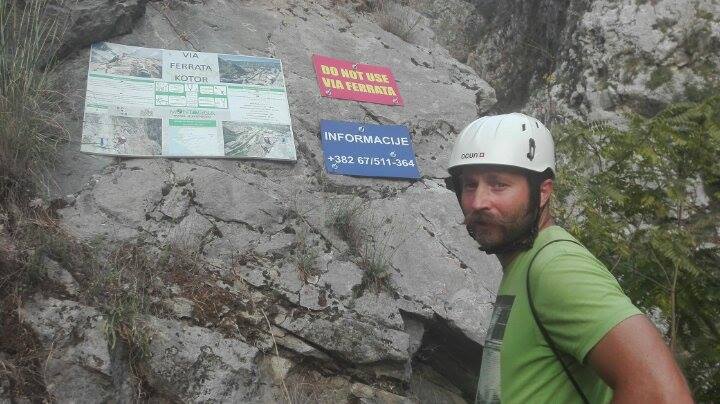 The only equipment I took with me were induced courage and the shoes I had previously tested on the rocks and were sure did not glide. I had a handicap too, I arrived about an hour before sunset, and that's why we decided to climb a less demanding route. Mića explained the basic rules and helped me dress properly and secure the safety gear and the belt, which kept me permanently attached to the iron wire, which draws the way we will run on the rocks. The helmet, Mića explained, serves above all to protect us from the rocks, which can always be separated under the foot of a climber that is above us. But with a helmet on your head, it is not a problem. The climber is obliged to watch the stone, and the other climbers to stand on the rocks. And no worries. As for the belt and its features and functions, it has long been used on many more inaccessible terrains than the rocks above Kotor. Mića explains - Via Ferrata Kotor has two tracks, one of which is of medium difficulty, B category. The second, adapted to children and climbers in unfit conditions (and those who are late and come at sunset), fall into the C category.
What does the Via Ferrata actually consist of? What is the system about?
"Via Ferrata actually means the Iron Way. This is a mounted lift, consisting of a steel rope, steel wedges fixed to the rock and attached to the ground. At the Via Ferrata Kotor there are two sheltered platforms, which allow the climbers to rest, as well as several steel steps, where it does not exist naturally on the rock itself. Platforms are suitable not only for rest but also for enjoying the fantastic view of the Old Town of Kotor and the serpentines leading to the upper village of Špiljari, the settlement older than Kotor itself. It is an old trade route connecting Kotor with its hinterland, so it is always interesting for tourists to hear part of our history while enjoying the view of our architectural heritage." Once I realized that there was nothing to be scared of, the serpentines were already in the shadows, but as I know now that it's safe, I'll come back in the daylight again, so as to admire the view and old stories as a stranger.
Particularly interesting is that on the Via Ferrata Kotor, climbing can be discovered by the youngest. "They leave their fear in the refrigerator, they trust me, and I freely wipe their fears to climb to the rocks, which is a great undertaking for them. It is important to listen to the instructions and have no fear of their safety. The trail is suitable for older people and children, for the physically fit and unfit. Only, as I said, you should leave your fright in the fridge and accept the challenge of conquering nature. The essence and root of our fears is easy to explain. We all mostly go horizontally. When we find ourselves on the vertical, which somehow distorts the walking system, we are faced with a challenge. That challenge gives pleasure to the climb and interests of the participants, who must be focused on climbing and the proper use of safety equipment. So they do not just face the rock, but themselves," explains this passionate nature lover. And if fear comes, you really do not have time for it. And when you succeed, you have not only won the rocks, but yourself. The feeling is great! "Our guides are all members of the Mountain Rescue Service, Highlanders of course, who are ready, trained, have all the knowledge of the possible challenges of hiking, enjoyment and safety are guaranteed," said Mića. I felt safe. I imagined that I was one of the goats in the herds, climbing on the mountain slopes above Kotor. It's great to be privileged, to watch Kotor from the goat's perspective. Priceless!
The origins of the Via Ferrata date back to the nineteenth century, but they are often associated with the First World War when several were built in the Dolomite mountain region of Italy to aid the movement of troops. Many more have been developed in recent years, as their popularity has grown and the tourism benefits have been recognized. Over 1000 Via Ferratas currently exist in the European Alps. The majority are found in Italy and Austria. Others are found in a number of European countries, and a few places elsewhere. Via Ferratas have traditionally been associated with limestone mountain regions, notably the Dolomites and the Northern Limestone Alps. However, they are now found in a range of different terrains.
After Via Ferrata Kotor, the second one is already installed in the Durmitor National Park. "Today Via Ferrata is commercialized and gets a whole new meaning. In what sense? By allowing people through national parks, through adrenaline terrains, to feel themselves, to find themselves in a way that everyday life does not offer us. There are more and more Via Ferrata systems in our region. There are 32 in the national park Triglav, Slovenia, in Split and Omiš, Croatia, there are two in Serbia, and the construction of some trails began in Kosovo and in Bosnia and Herzegovina. Maybe we'll join together one day and offer a good story like travel arrangements that offer a whole regional experience from the perspective of its heights. Throughout Europe, there are networks that run from one another to Via Ferrata. I hope we will have this in the future.
How many citizens are interested in climbing up and looking at Kotor from a completely new perspective?
"There were plenty of promises and demands, but I have to admit I'm a bit disappointed, our citizens are a bit difficult to move during the summer season. I hope that autumn and spring will bring changes, and our citizens will decide to come and enjoy a safe climb and experience this part of the terrain where they probably have not had the opportunity to see in their lives. And I recommend them warmly." The interest of foreign guests was much more significant. Mitar says climbers came from more continents. They had visitors from Australia, Asia, many European countries, but also from America.
"The biggest interest, of course, is among the hikers and mountaineers. When they come here and find that we have the Via Ferrata system, they are very happy because they have the opportunity to find out a completely new track. Some come informed and ready and carry their own security equipment with them. These were mostly guests from Scandinavia and the Benelux countries, and we also had Poles, Austrians, and Britons. Unlike them, we are more tied to cities, cafes, and sports betting. For me personally, it is a waste of time, while staying in nature is a gain of time."
Although it has the most natural potential and is based on valuable and multilateral cultural heritage, Montenegro still cannot boast that it has made a step down from the masses to the niches of users of specific tourist products on an international level. However, year after year this awareness is increasingly present, and support for projects such as Via Ferrata is not missing. "We have very good communication with the local tourist organization and the Municipality of Kotor. They recognized that Via Ferrata enriches the city's offer. It is very advantageous to have the fact that we do not have to drive to our path, that it is within easy reach of the Old Town, that the guests who decide to climb along Via Ferrata Kotor carry beautiful photos and a wider picture of our beautiful city. We always use the opportunity to inform the guests about the cultural and historical past of the city, which further enriches their experience. Our project has been recognized by the National Tourist Organization as well, aware that every new, specific aspect of the tourist offer enriches the overall image of Montenegro going to the world, so cooperation is great for both sides," says Mitar Jovanović.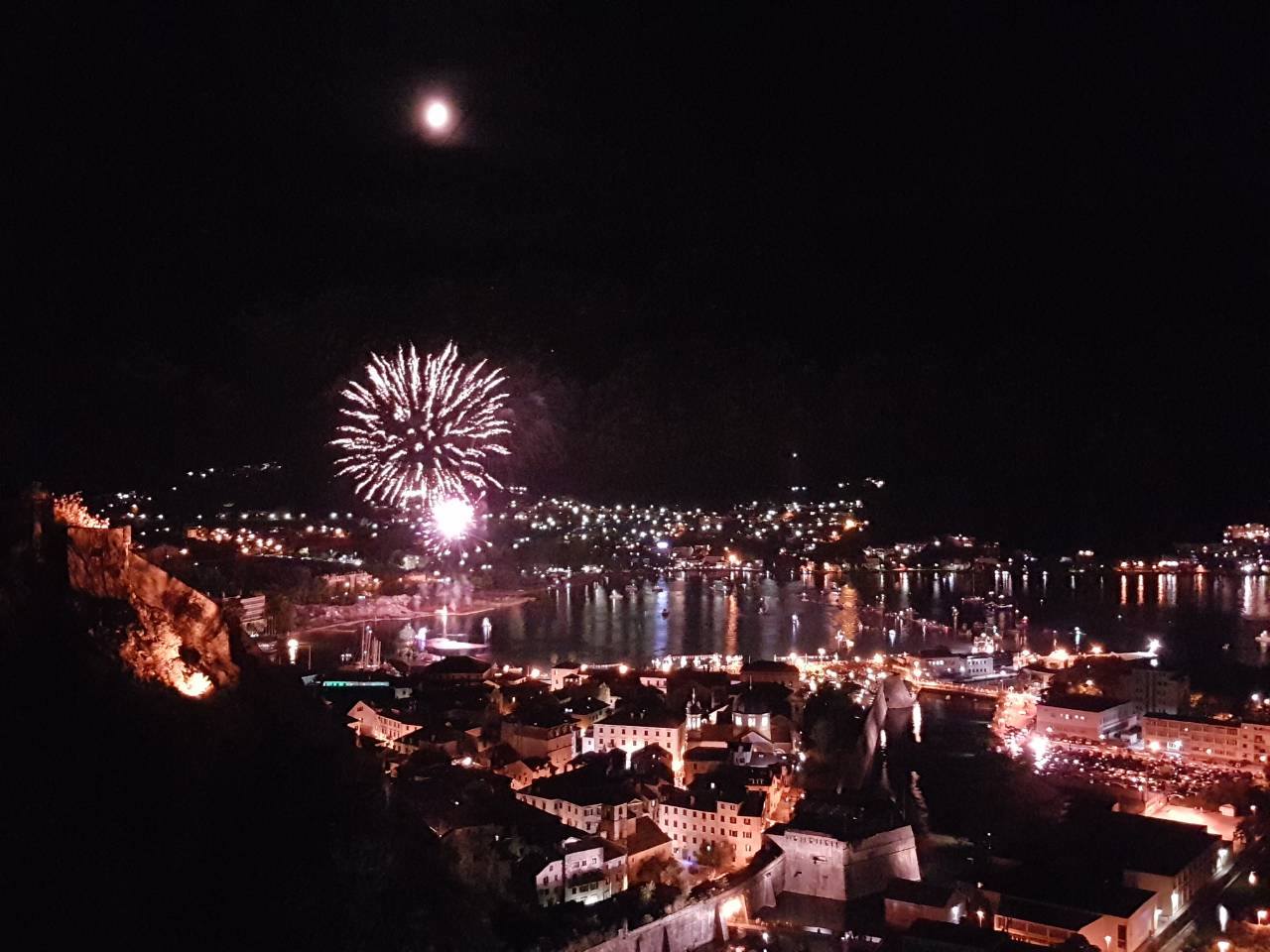 Out of the extreme is even more extreme. And anyone who knows Mića, knows he's always full of ideas. "During the Boka Night 2018 we organized a night climb on Via Ferrata Kotor. Climbers had a special night that night. From a very favorable perspective, they watched the Kotor harbor with defiles of decorated boats, which is the basic characteristic of the Boka Night tradition, and of course, fabulous fireworks, lasting for more than 15 minutes. There were plenty of participants from abroad, so we enriched the content and possibilities of our traditional party."
Next time I will climb on time to test myself on the more difficult route. And I think I'll go to Durmitor soon. Well, that is the personal level of victory Mića mentioned at the beginning of this story.