04 August 2018 - The Green Montenegro International Film Fest (GMIFF) is a conceptual film festival whose main concept is environmental protection. The aim is to develop and raise the awareness of the need to protect the environment through the artistic impulse and the improvement of the knowledge and the awareness of the ecology through the awareness of the global trends which Montenegro tends to follow.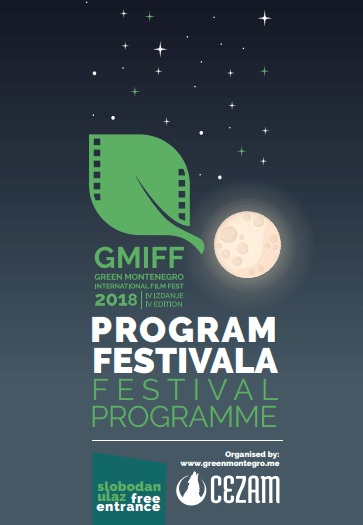 The festival is going to be held in one of the most beautiful natural environments in Europe – the Durmitor National Park. During four days of the festival, from August 4-7, a large number of tourists, guests and locals will have the opportunity to enjoy nighttime film screenings in an impressive open space beside the Black Lake, just under the Durmitor mountain.
On the first evening of the festival, the President of the Municipality, Mr. Vukićević, wished a warm welcome to all visitors. The festival was opened by the permanent UNDP (United Nations Development Programme) coordinator in Montenegro, Ms. Fiona McCluney. Then, the competitive part of the program began, when the audience had the opportunity to watch the films "Seed: The Untold Story" by Taggart Siegel and Jon Betz and "Requiem For Mrs. J." by Bojan Vuletić. After the films, the audience danced to the live reggae sounds coming from the Cuba bend performance.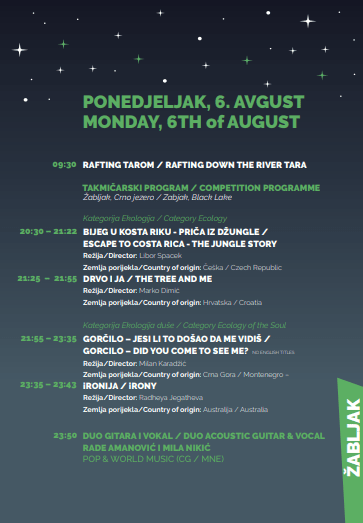 The festival is educational and non-commercial, divided into three subcategories: Ecology, Ecology of the Soul and Promotional and tourism videos. During the festival, visitors will have the opportunity to enjoy domestic, organic food and participate in many different side program activities such as lake kayaking, hiking, cycling and many other "green activities" which will be organized in the spirit of environmental protection and the reduction of the carbon footprint. The films will be screened in an attractive open space, with a large number of programs during the four days of the festival, which will additionally complement the tourist and cultural offer of Žabljak. The organizers of this year's GMIFF are the Culture Centre Žabljak in cooperation with CEZAM, with the support of the Ministry of Sustainable Development and Tourism, Ministry of Culture, the Environmental Protection Agency, Ministry of Education, National Tourism Organization of Montenegro, UNDP and others.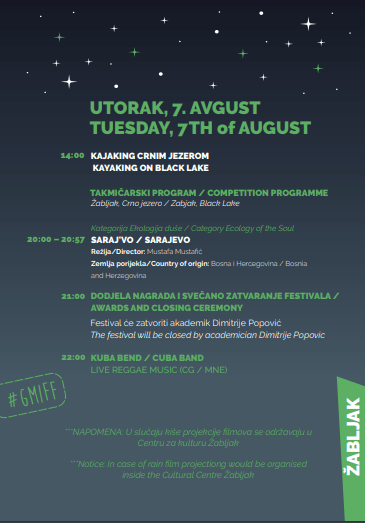 The entrance is free and everyone is invited!