28 July, 2018 - The Forte Mare Fortress hosted a "The Boka's Heart" designer show, and the lights of Herceg Novi were illuminating the catwalk with models from Novi Sad, Belgrade, Zagreb, Split and many more. The models wore the creations of designers from Serbia, Bosnia and Herzegovina, Montenegro, Denmark and two designers from Italy.
Lightweight models, clothes from handmade materials, summer materials, colourful colours, dominant white, patterns that highlight the beauty and strength of women – It was the third designer show "The Boka's Heart", which was launched three years ago by designer and stylist Vesna Krivokapić, born in Herceg Novi, who lives in Copenhagen and deals with the fashion.
The Forte Mare Fortress attendance was full. Fashion experts came, Vesna's friends and colleagues from Herceg Novi and other cities from Montenegro and abroad, guests – everyone enjoyed.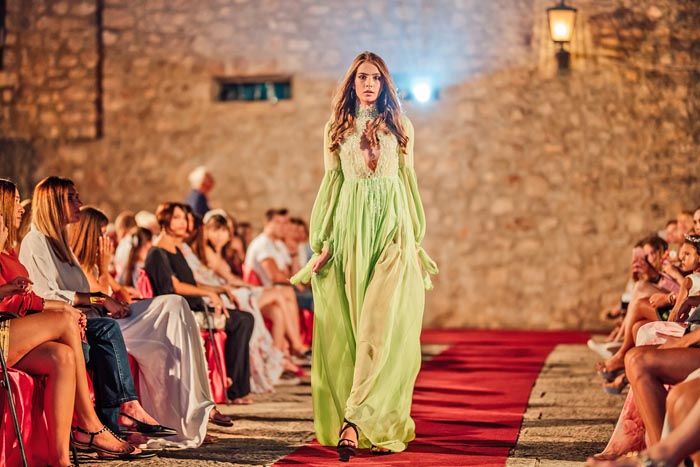 "I will make designer shows a tradition. Our castle needs this evening, for a complete tourist offer. I hope that the Municipality and the Tourist Organization will understand this in the future and provide greater support," noted organizer and designer Vesna Krivokapić.
She presented this time with ten lifestyle dresses, inspired by the Adriatic Sea, where she lived for the first 25 years of her life, and then Scandinavian, which surrounded her by the next two and a half decades. Her dresses and sets are faded, made of silk, girdle and cotton, suitable for walking along the coast. They were already seen by the fashion audience in May, at the international fashion scene, in Sicily.
That fashion is "in the blood" of many women in Montenegro which is also confirmed by the designer Julija Nikčević, whom Vesna chose to present our country in the designer show.
"I like this very evening and the whole atmosphere and organization. I am grateful to Vesna for showing me her trust. I presented the collection "Sunflowers", inspired by a flower that reminds me of my childhood and my native Nikšić. Dominant colours are colours of fields, sunflowers, yellow, orange, black and green. This is a collection for a brave, old woman," pointed out Julija, whose collections on domestic catwalks are known for their attractiveness.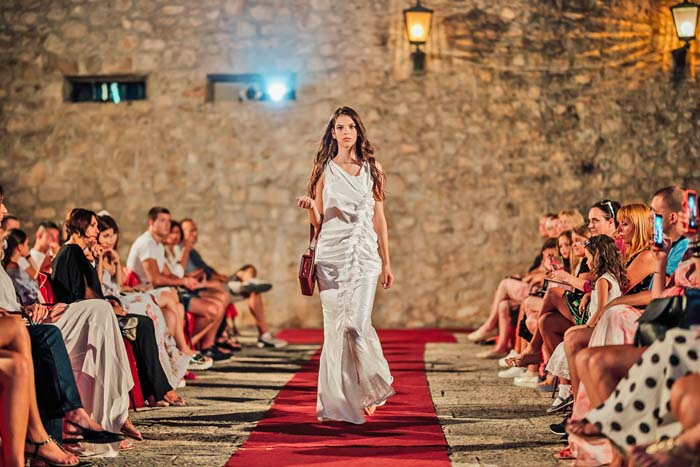 Diaz Kova from Bosnia and Herzegovina takes part in the fashion event "The Boka's Heart" for the third time. He showed the audience in Herceg Novi Hand-Made, beautiful purses, which were also presented in Sicily, together with Vesna's collection.
"We cooperate constantly. It is a unique example that neither distance, nor religion nor nation, nor anything is a problem if people want to cooperate. When it comes to designing a purse, I do not bother with what is in the trend. I am trying to create a product that does not die, like an artwork, like Mona Lisa. I'm doing an artistic bag, with a special technique, unique in the world where I have been doing innovations for eight years. This technique has yielded results – so many doors are open wide today in many countries," concluded Kova.