How did you end up in Montenegro for the festival?
It was completely through Ivan Vukcevic, the artistic director of the Mediterranean Notes Festival. I know him mainly from the lovely festival of chamber music in Kuhmo, Finland. Vladimir Mendelssohn, who's playing with us tonight, is actually its artistic director. And this is maybe the greatest chamber music festival in all of Europe, which happens in a small village in the North of Finland every year for two weeks, gathering brilliant musicians and thousands of guests. So, we met there and Ivan shared his wonderful idea which I totally supported. Being a founder of another festival myself I completely understand how difficult it is to launch such a great event, all the work and passion it takes, and, of course, I wanted to support Ivan.
How did you start your own festival?
I did it first of all because of the where I grew up: it's a small village in Holland in the countryside, it's very green and quite a romantic area with many forests and rivers - there is also a medieval church where I practiced when I was a kid. So, I love this place and I wanted to show its beauty to the world, and I love making various musical programs, and make something colorful and exciting, and it's an opportunity to bring together people I love to play with. This year in August is already the 14th season (can't believe that!).
What is the formula of success for a classical music festival?
Well, you need an artistic director who has a lot of energy to start with, and a certain artistic concept to create an event with a special idea. I love making music quite adventurous, like putting Bach next to some Arabic compositions, or Vivaldi to Piazzolla, include improvisations, etc., so I like contrasts and I'd bring musicians who like to take the risk, who live in the moment. Another thing which is really important for the festival is volunteers, young musicians and music lovers who support the festival with their enthusiasm and learn about this event at the same time. And of course, the community support.
What's it like to bring together musicians who never collaborated before on one stage?
Sometimes it can be a disaster, but the task of an artistic director is to make a kind of beautiful cocktail, to mix the ingredients that can be a wonderful combination. Sometimes something doesn't work, it happens and it's absolutely ok, but much of the time this creates such unexpected, exciting and memorable moments. People who play wonderfully in a fixed group for a long time happen to lose a little bit of spontaneity, and then putting people together from Finland, Argentina, Australia, etc. - people from different generations and with different backgrounds - can bring unbelievable and exciting results. This is a special thing of the musical festival: people who wouldn't meet otherwise have the chance for a totally new experience. With a couple of rehearsals they should react quickly and learn quickly and it can be really great.
Do you believe this is the way to bring classical music closer to the general public?
Certainly, one of the ways. I think for the general public this is a chance to see exceptional musicians communicating, feeling the music, being emotional in a very nice atmosphere with all the lighting and natural decorations of the place. This is a very emotional communication with the audience unlike the traditional form of the classical music concert where the artists are dressed in suits and covered with theater silence and darkness which, for the general listener, can be a kind of distanced experience.
Ideally, the musical festival would also include an educational program with concerts for kids, and masterclasses - any sort of experience exchange. And it should happen in some interesting locations such as historical buildings and outdoor places which brings a totally different atmosphere to the concert.
Apart from your role as an artistic director of the Stiftfestival and being a successful musician, you also teach at the Royal College of Music in London, right?
Well, I'm actually not a teacher in the full sense, my students are about 18 or 22 and they are already able to play, and I have great respect for those who can really teach someone how to play from nothing. I'm more about to show the color and emotions in music; it's also a kind of level which is very important, but it's not my real profession. Usually, I have a couple of students and give them 2-3 classes a month and I love being with them.
What about balancing such an intense life flow?
Well, my real challenge now is how to combine solo work with chamber playing, how to approach all my musical interests, and I have too many actually. I'm not the kind of artist who prefers to play in a quartet. I like playing solo, and in a sextet, and I like improvisation, and teaching as well… Sometimes it's a little bit scary when you look at the diary and see (oh God!) I'm away for the next 5 weeks. But this is my choice and I'm not complaining.
A couple of words about the repertoire you're playing tonight?
Oh, it's two really fantastic pieces by Glinka and Mendelssohn, both from romantic epoch. What they have in common is a combination of piano and double bass which is quite unusual, and there are not so many like this. So, these are maybe the two most important pieces for piano and string quintets. And here with us is Zoran Markovic who is maybe the most prominent musician from the former Yugoslavia region, a professor in Ljubljana, Slovenia, and quite an essential figure at this concert: his bass is like an essential pillar. Another exceptional musician who has an important role tonight is pianist Irina Zahharenkova who is beautiful not only to listen but also to watch because she's always smiling when she plays. So, if people want to her real virtuoso, and a beautiful combination of great contemporary musicians, they should definitely come tonight.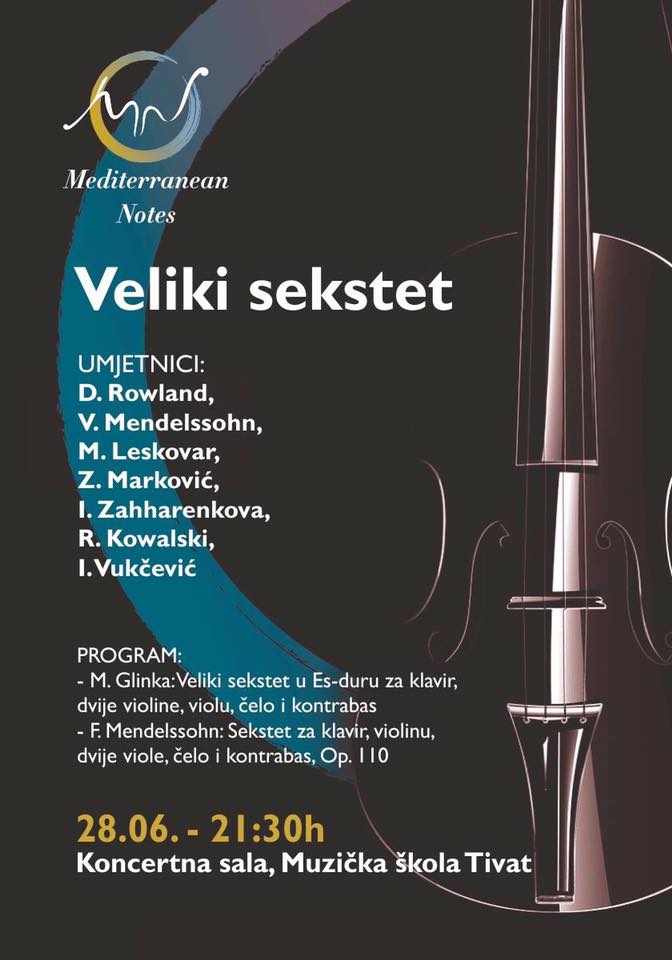 The Grand Sextet concert is organized at the hall of the Tivat Music School tonight at 21:30.