In addition to the networking of olive growers, numerous projects, and activities aimed at the revitalization of olive growing as a basic agricultural branch when we are talking of Boka Bay, the Boka Olive Society also deals with the organization of various events in order to promote the local gastronomic offer, primarily olive products. In this context, the Bokelian Olive manifestation has been organized for years. Vesna Đukić is Executive Director of the Boka Olive Society.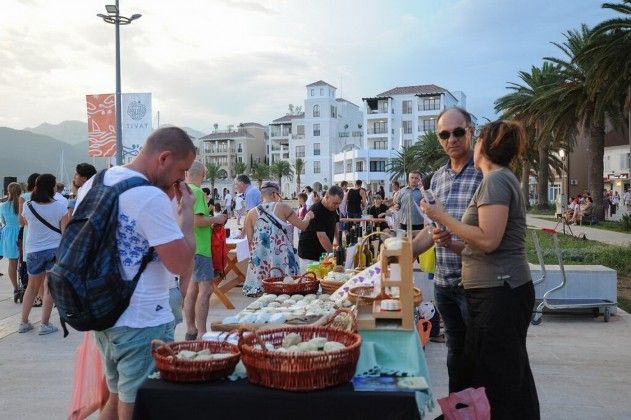 "Since 2007 we regularly organize Bokelian Olive in all three municipalities in Boka. However, in recent years we have little problems with organization and financial support, but we are still trying to keep the event. In this regard, I can praise the Municipality of Tivat and the Tourist Organization of Tivat, which in our work recognized the possibility of improving the offer of Tivat and Boka, and they support us in continuity, which is of mutual benefit. The goal of organizing such events is not only the promotion of products, but also the promotion of our producer, our way of life, and the way of nutrition. It is a tradition we respect and want to preserve for the future generations. So, we give our maximum in organizing events that will show our culture of living, our tradition, not only to our guests but also to the local society, not always aware with the fact agriculture lies on the bottom of our identity".
Olives fed generations of Bokelian people. There was even a legal regulation that a young man could not marry unless he had previously planted 40 roots of olives. The specific gray color of the crust of olive is now read more in neglected agricultural landscapes than being exiled. Declined, neglected, many olive-groves suffer under mildew, waiting for the more responsible sons. The locals have a saying that the olive as a mother, whenever you come back she will embrace you with love. Thanks to the efforts of the Boka Olive Society, more and more people are returning to olive growing, some in the old olive groves, and some newly planted.
"We are very pleased with people returning to the village, especially young people who decided to start their own private business in the village. Returning to old olive groves is neither easy nor simple since they are always burdened with some of the consequences of the past. Or there are unresolved property legal relations, or groves are fragmented into small parts. Likewise, this is a great investment that young people certainly pose a major problem in the beginning. However, there are opportunities to gain support, both through national agribusiness instruments and local self-government, but one has to work hard to achieve something. There are also support programs for agriculture development, provided by the European Union, such as the current IPARD II program, implemented through the Ministry of Agriculture and Rural Development. People are still heavily dependent on these support models, aware that they are obliged to justify each donated euro, while at the same time uncertain in the outcome of their efforts, where the results, when olive-growing is in question, cannot be expected in the short term. But, the situation is changing slightly; we have at disposal an Advisory Service of the Ministry of Agriculture that helps the contractors, so we can state that we are returning to olive. Slowly but surely."
Olive groves also have great potential when it comes to tourism of particular interest - gastro and rural tourism. "All the beauty we inherit and the potential that hides in our landscape opens the door to attract tourists to the site and sell our products. But, of course, these products must have both quality and quantity. Therefore, we must make great efforts, knowledge, and resources to achieve results, which will certainly not be out of the question," said Vesna Đukić, who owns a family olive grove in the village Pelinovo in Grbalj.
Tonight we will be able to enjoy the offer of domestic product producers, who have invested their inheritance, knowledge and work on olive growing, and some other agricultural branches. "At the manifestation of Bokelian Olive, visitors will enjoy a rich exhibition of domestic products, primarily olive oil and olive products. But to make the offer richer, we have expanded the range of offers. There will also be our producers of honey, prosciutto, wine, cheese, and fruit-based products. We invite all interested, our domestic and foreign guests to visit us tonight, to spend a nice evening with us, enjoy the tasting of the products and bring beautiful impressions. They will be able also to buy products from certified organic producers "- calls for a gastro-cultural event of Bokelian Olive Executive Director of the Boka Olive Society, Vesna Đukić.