It is just over a month until the much-anticipated opening of the Chedi Lustica Bay, the first of seven hotels to be constructed on the huge Lustica Bay project.
Already featured in the international media on numerous occasions for its contribution in raising the profile of Montenegro's luxury tourism image, the hotel is also taking the lead in an important direction for tourism in the future - developing the infrastructure for electric vehicle drivers of the future.
Earlier today, we published the story of the announcement of the Nikola Tesla EV Rally 2019 coming to Montenegro for the first time.
A little research online told me that there are no charging stations in Montenegro currently, and as I reached out to various sources for more information, I received an email with some small but significant news - the first Tesla destination charging station is coming to Montenegro next month!
The final touches are being applied to the Chedi Lustica Bay, as it prepares to open its doors on schedule on July 14. Included in all the top quality facilities will be two Tesla destination chargers, the first in all Montenegro.
Electric transport is growing in popularity globally, and a growing number of tourists will be using the electric vehicle option in the future, and destinations with a well-developed infrastructure look set to benefit.
Montenegro's current lack of charging stations puts it only slightly behind Croatia, where the expansion of the network is happening quickly, largely in part to the efforts of the Telsa rally organisers and their e-mobility business.
When the first Nikola Tesla EV Rally was conceived in early 2014, there were just 4 charging stations in the country and 5 registered electric vehicles. Fast forward 4.5 years and there are now more than 300 charging stations in Croatia, more than 170 of which have been installed due to the efforts of the rally organisers and their E.V.A. Blue e-mobility business.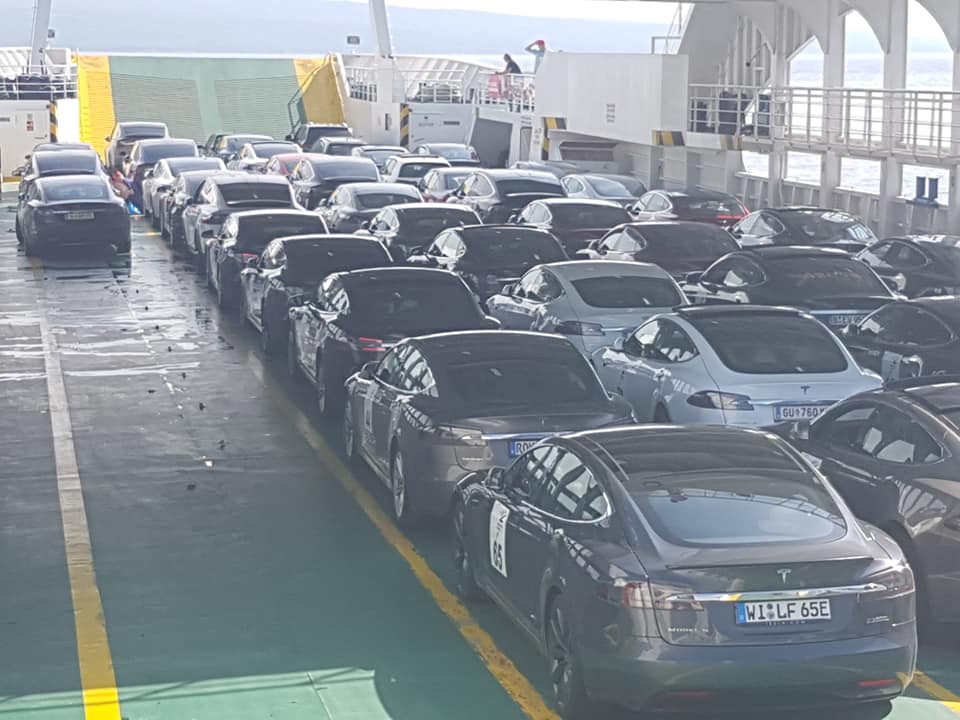 (The 2018 Nikola Tesla EV Rally in Croatia included specially chartered ferries for the electric cargo - the rally included 45 electric vehicles, including 42 Teslas and 2 electric scooters)
That the rally organisers have decided to push south into Montenegro for next year's rally is an encouraging sign that the EV network can continue to develop down the Adriatic coast. It will surely not be long before more destination chargers appear in other locations in Montenegro.
For more information about the Nikola Tesla EV Rally, click here, and to learn more about the Chedi Lustica Bay, click here.