The project founder and brilliant teacher Predrag Jankovic has invited great professionals for the jury board such as Radomir Tomic, one of the most prominent accordion professors in the world awarded with a significant number of acknowledgements and prizes, Miljan Bjeletić, head of the department of accordion and guitar at the Faculty of Art in Niš, Serbia whose students are winners of the most prestigious international competitions such as Klingenthal, Coupe Mondiale and others, and Dariusz Baszak, an accordionist, an educationalist and head of the International Accordion Music Festival in Przemyśl, Poland.
The 2018 festival opened in Tivat on May 28th with the charming sounds of Astor Piazzolla performed by exceptional Serbian ensemble Solisti di sud. The second day of the Festival was marked by a concert of distinguished Russian accordionist Sergey Osokin, a member of the Festival jury who later shared his impressions with TMN.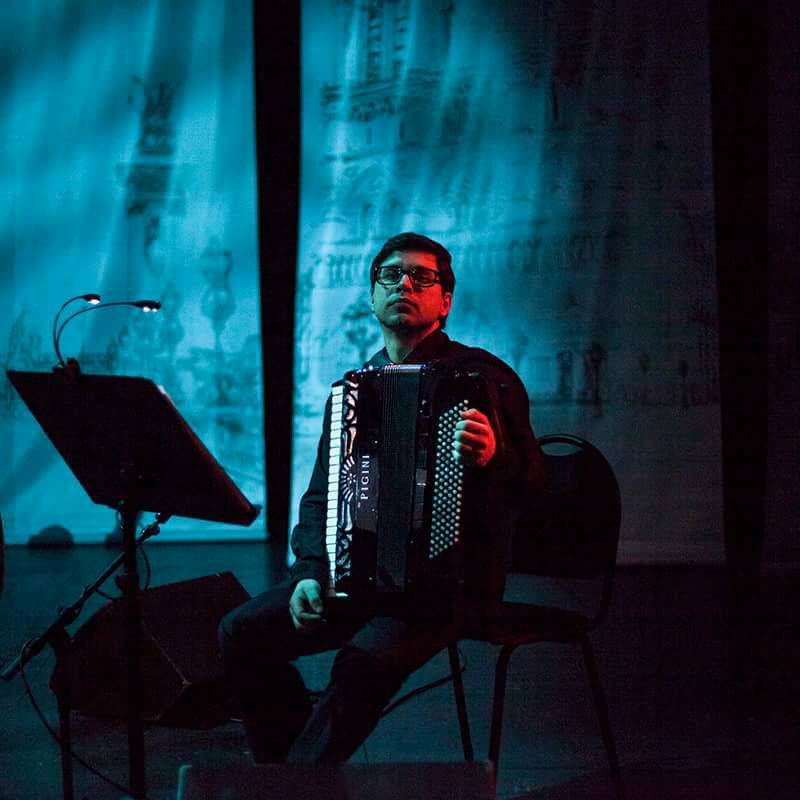 How did you end up hosting a concert in Montenegro?
My candidacy to be a member of the Montenegrin competition jury board was offered by Miljan Bjeletic who has known me for a long time since I participated in international competitions myself. Predrag Jankovic agreed and also contributed to organizing a concert here in Tivat. Before we knew it, we were discussing the details of the festival program and concert repertoire.
What are your impressions as a jury member?
Even before, when I was a student myself, I knew there is an excellent professional school of accordionists in the Balkan region, many of the local teachers studied in Russia or ex-USSR and brought their knowledge and experience to their land. So, I had no doubt I'll see a good level of performance here. I heard that the students had terrific technical skills and artistic approach, and to my pleasure and surprise, many of them played Russian bayan music which is complex and requires a deep understanding of the composition concept.
Do you think participation in competitions is a must for developing a musician's career?
I can't answer this question unequivocally. Some artists don't compete and still succeed like famous pianist Evgeny Kisin. You know, competition means judgment and the judgment is a very complex and subjective thing, especially when you compare a gifted, impressive though careless style of play with a less talented but diligent musician who succeeded to sharpen his skill perfectly. Generally, I believe competitions are a good thing, and they are useful for experience and developing contacts within the artist's community, but not a must for everyone.
What are the challenges of accordionist's lives today?
Accordion music is still at an underground stage in the musical world, and many of the talented young accordionists finish their careers in competitions because art management for this particular instrument is not very developed (in comparison to the traditional classical instruments as piano or violin). I believe the accordion community efforts should be focused on the relationship between the beautiful artists (and there are many) and their public. Today, being an accordionist, you cannot stay in demand playing only classical music, and you have to get involved in the tango projects and join jazz jams. And here comes the central question for a young accordionist: what kind of artist are they? It's a significant challenge to find your style, your genre, to understand your artistic nature within the instrument and make the full effort to play it better than anyone.
You have taught at the Schnittke's Moscow State Institute of Music for almost 12 years. How do you manage to combine it with your concert life?
It's not easy at all, and I wish I could have a better balance between these two roles. Teaching takes a lot of time, it means constant communication with your students, and it causes a kind of inner conflict which Heinrich Neuhaus, a famous pianist and brilliant pedagogue (S.Richter was one of his students) described in his book The Art of Piano Playing. Preparing for a performance, the musician needs to have full focus and concentration on his program; it's important to be detached from the everyday rush, and feel the space and silence around you. And it's not only for practicing your skill perfection, but for revealing the philosophy of the music. Having a concert is not only showing your excellent play but sharing new ideas in the form of melody, making the audience think after all.
How did you choose the repertoire of your concert yesterday?
The program was designed for the general public, so it was a mixture of classical block and jazz arrangements which I wrote myself. Two years ago, I recorded a jazz album which was a super exciting experience for me. It was an attempt to present a fusion of jazz styles (minimalism, progressive, funk, etc.) with a trio (bass-guitar & percussion).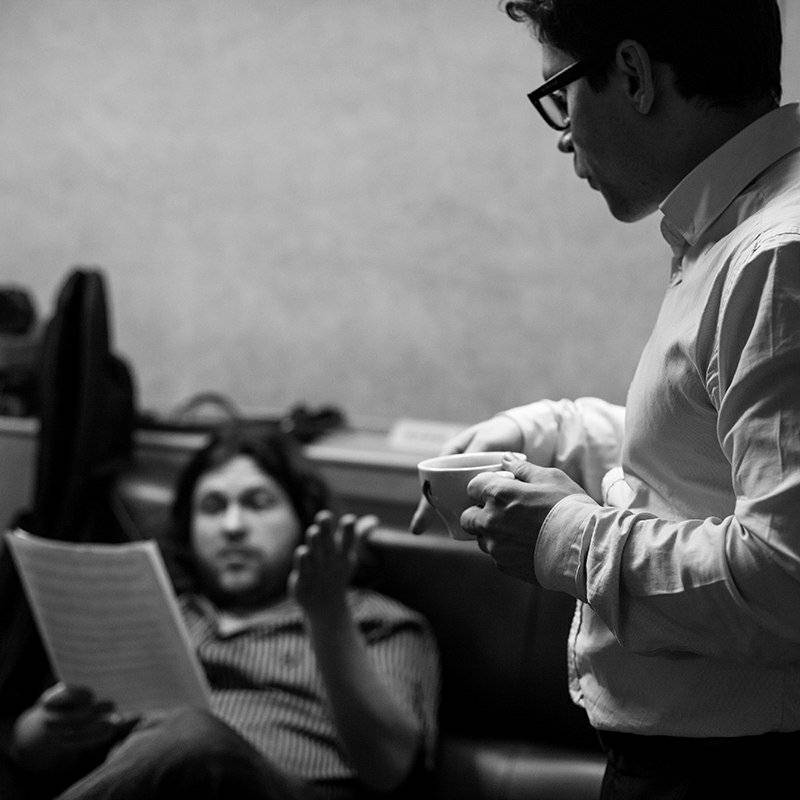 On the 3rd Festival morning a world-renowned teacher Frédéric Deschamps, another jury member whose cutting-edge techniques have consistently produced world champions has given a master class for the winners. TMN had a chance to talk to him meanwhile.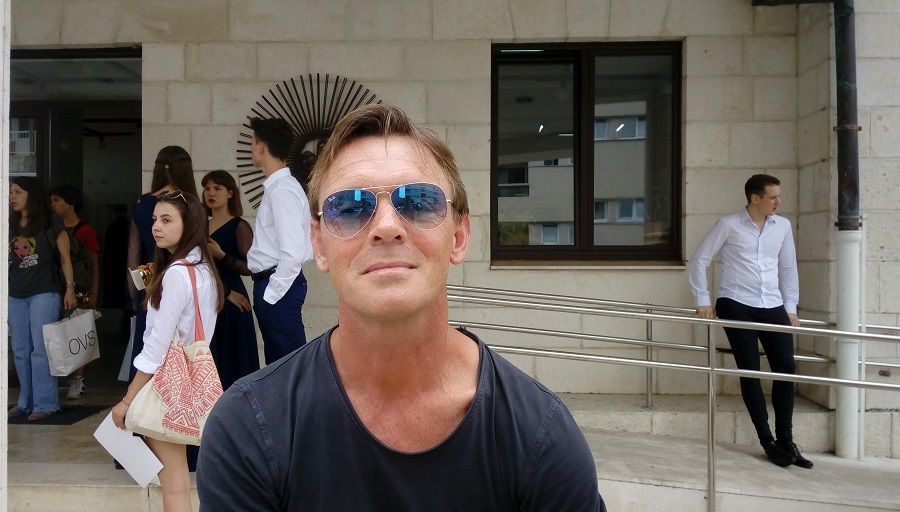 Welcome to Montenegro! We know it's your first visit here. Please tell us about your role in the Accordion Festival in Tivat over the next few days?
First of all, I'm in charge of the world championship called the Confederation Mondiale del Accordeon (it's an international trophy), and my duty as the president of this association is to present it worldwide and to find the best candidates to represent their country at the international level. I was in contact with the organizer of this festival, Predrag Jankovic, several times and was looking for someone who could represent this young and beautiful place, so Predrag invited me to join the festival.
Are you happy with what you've seen here?
Oh yes, I'm very much impressed. That's exactly what I expected as a president of the Trophee Mondial (World Trophy). He has a team that is very well organized and brings children of different ages, as well as those over 18, to play chamber music. And this is precisely the category that we're looking for. Predrag will come to represent Montenegro at the next Trophee Mondial happening in Victoria, Canada in November this year. Today is my first morning at the festival and what I can say is that in the many candidates aged 10-12 and 12-14 they can potentially compete at the highest level. I'm not speaking about senior experienced classical musicians now, but generally, we don't aim to make a competition elitist, just for the closed circle of genius. We need to give a chance and motivation for the young generation of accordionists to go there, have the experience, see what's happening at the higher level and practice more to attend that level. At the same time, we have different categories at the World Trophy such as the ensemble play under a new concept (we have a candidate who will play Harry Porter music by Bayan with the movie in the background in Canada), that will help the musicians sell their art because there are only a few artists who can make their living just by concerts like genius Yuri Shishkin. But there is enough space for new ideas which we help to develop teaching the young accordionists to play as best as they can.
Accordion music has its clichés. What can you say about this instrument today?
Being one of the youngest instruments in the world the accordion is now so famous both in a good and bad way. It was hugely successful as a folk instrument in France with musette dancing music in 1900-1930, but with time it became the instrument of your grandfather, so playing it you'd get a label of an old-fashioned musician for all your life. Slowly, the accordion has conquered Europe, and it has become popular even in China due to its proximity to Russia. So, now we can hear accordion music in the best classes and competitions, and it's common to play Scarlatti by accordion, and his music sounds beautiful with this instrument. However, there is not much repertoire for the accordion, we play a lot of baroque music because you can easily get the style playing as legato as possible with a small wind between the sounds and you reach the effect of a church sound. Out of that, we are really limited with the repertoire, although lately, we saw more and more composers interested in the creation of the accordion music and in the World Trophy we have reserved a particular category for new young composers.
What is your master class about?
Well, it's very fun and unusual. You know, I had almost nothing to do with the accordion in my younger years, except for short classes my grandmother. I studied to become a veterinarian and fell in love with horses (which is still my other passion), but one day I watched a competition of accordionists performing contemporary music, and I just realized that this is what I want to do (I might be crazy sometimes). I said to myself: I wish to play that music. I found a way to learn and practice accordion for 2,5 years, but already after the first year, I was the second in the national competition.
Wow, what a talent…
My talent is actually to learn and understand how things work. When you open the instrument and see what's happening inside, when you open one model and see where the wind goes, you understand the mechanic of the process. And when you know how things work, you find the solutions. If you want to play fast you will not have to press down, because the more you press down is like running in the snow: you lose time, you get tired and fall immediately, and most accordionists in the world make a mistake by pressing down too much because they are slower, they get tired, they go high with their fingers and finally "fall down".
So, your master class is focused on the technical aspect of playing?
The movement creates the sound. Think a bit deeper behind that. The accordionist plays not just with fingers but with the whole arm, and the player needs to control the arm, not the fingers, same as the pianist. Without proper technique, we cannot adequately express ourselves in music like in regular communication. The accordionist involves different parts of the body extracting the sounds, and he has to know precisely his moves.
Today I heard a guy, Sandro Krslak from BiH, absolutely crazy! Of course, he had bad points (he played Scarlatti like it's not written for harpsichord, his sonata by Mehul was too fast) but he's so impressive, so genial, and was the only person who moved when he played. I see my work as those people looking for diamonds among the stones in the river. Many people would pass by thinking it's just a stone, but I can see that it is a fantastic diamond. I can cut it accurately and make a ring, and a box for that ring with all the necessary decoration (we live in the time of "decorations"), and I feel responsible for that stone which was the same as the others in the river.
Studies show that the talented musicians who practice more than others have better achievements. Do you agree that practicing is even more important than the talent itself?
Of course, I do. It's all about the defect of the quality, and it's not about the musicians but life generally. If someone is very generous, he'll be abused by others, and someone who's exceptionally talented, meaning he can play easily and fast, he'll take the risk of making mistakes. When you have pure talent, you have to practice more, and it's even more complicated. Talent is an ability to do things by reflex, naturally without thinking, but when you need to change something natural, how would you do that without consciousness? You need reflection and it's something contrary to the reflex, and it uses another part of the brain, and here is the conflict. And the person lucky to be fast and electric by nature sometimes has to slow down and instead of repeating his mistakes, simply spend time understanding the sound – its beginning, its evolution and its end – and how to play these parts of the music.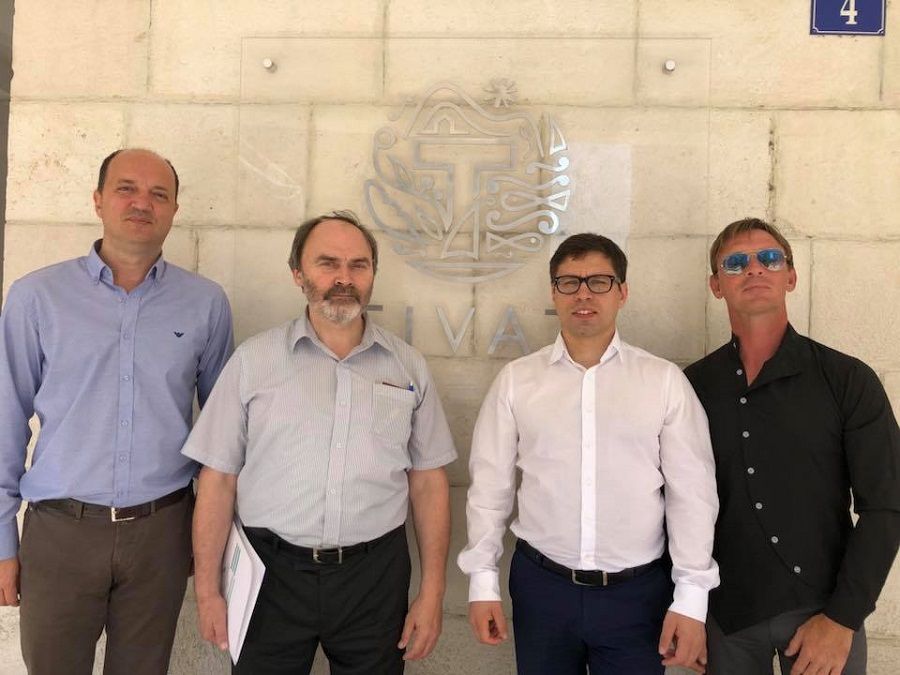 Harmonika Fest jury members Miljan Bjeletic, Radomir Tomic, Sergey Osokin and Frederic Deschamps

The winners hosted a concert on the last day of the festival which was followed by the awards ceremony.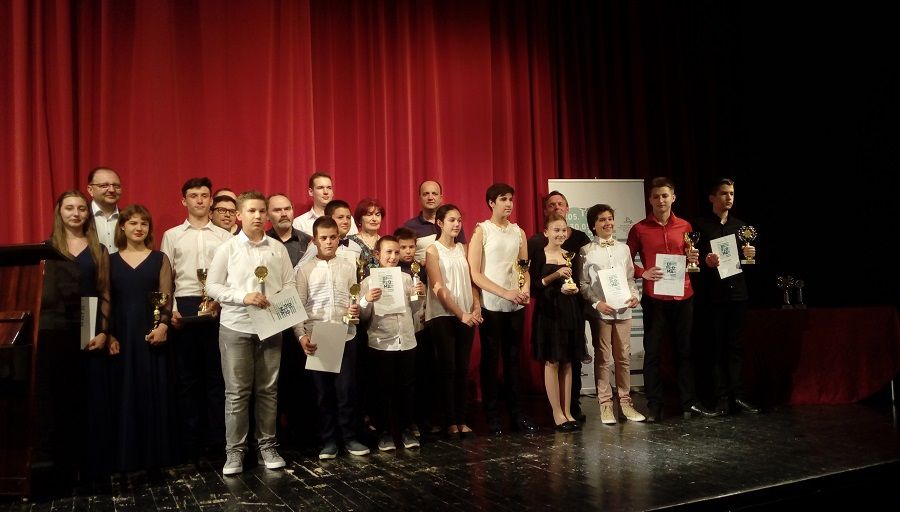 The accordion Oscars have gone to Serbia, Bosna and Hercegovina, Poland, and Montenegro. Trio Feraverto from Poland has received an award in III category of chamber music.