May 25, 2018 - The Sailing Club Delfin from Tivat has organized a summer sailing school, reserved for children 6 to 15 years old. Delfin is the most successful Montenegrin sailing club with 70 years of tradition, and working with the youngest is one of the segments they pay most attention to. About 50 children pass through the primary sailing course every year, which shows the success of the development of Montenegro as a maritime country.
One of the coaches at this year's sailing school is Irina Kusovac, one of the most successful club competitors, who, apart from the national level, has remarkable results competing in international regattas. She has been sailing for eight years now, and for the last four years, has been engaged as a coach for the youngest.
"My coming to the club was quite spontaneous. It was my parent's idea. They suggested that I try it. 'Mom, I will not, it's the sea. I'm afraid.' They insisted, and I tried. I went out to the sea that day, and since then I have been at sea every day," explains the cheerful seventeen-year-old student of SMŠ Mladost in Tivat. She has shown her talent already in the smallest class of the Optimist sailboat and now competes in Laser Radial and Laser 4.7 classes.
Although we live by the sea, we witness that a large number of children feel fear of the sea because, for them, the sea is unknown, so they have no chance to explore it as a friend.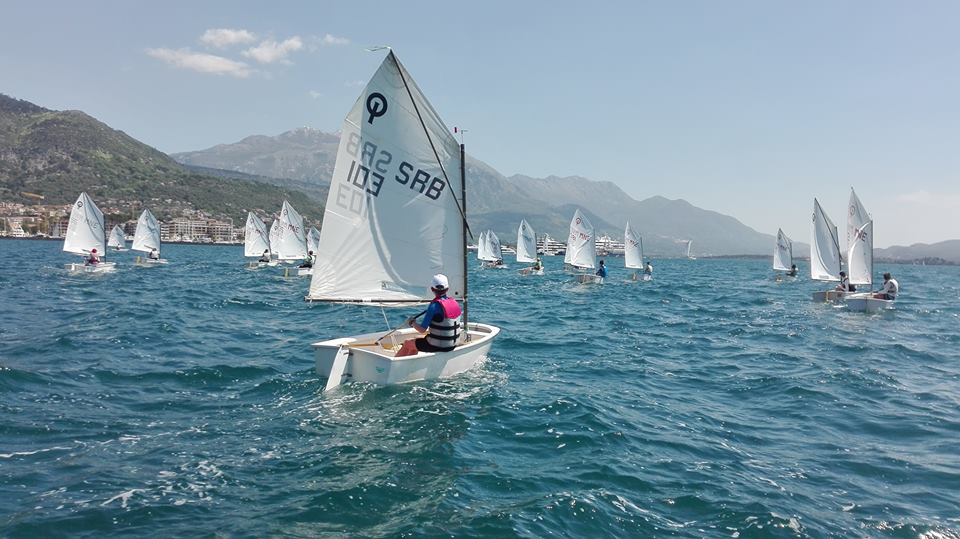 "It's an inexpressible fear, but you need to have the opportunity to experience it. The fear we have when we are small is natural, but if we do not expose ourselves to the sea, if we do not get along with it, this unfounded fear deepens. And that is very wrong. As a student, I can comment on the education system in Montenegro, when it comes to physical education in elementary and high school. Although this year we have two classes per week, and last year we also had activities every day during the school sports course, not one of the lessons was dedicated to sea and water sports in the whole year. And again I will emphasize - we are also the people of the sea. That is very wrong. During May and September we should have an opportunity, if nothing else, to at least to look at the sea," insisted the sea wolf Irina Kusovac.
Irina's dedication to sailing and, of course, her treasured and decisive nature, apart from being one of the most famous Delfin skippers who was recommended several years ago to become a trainer, helps the children in the summer sailing school.
"This year's summer sailing school begins with work on June 2 at 10 am on JK Delfin's premises. I love working with children, and I can hardly wait to start school, and even more because last year, due to the preparation and participation for international regattas, I was prevented from dedicating that part of my work to the club. Three years before, I enjoyed working with children and the ability to contribute to their release from fear of the sea, but also to transfer their first knowledge and skills to enjoy the sea. Every summer we have around fifty children, which is a great pleasure and a great success for our little club."
Irina will be joined by her teammates Balša Dojkić and Nikola Golubović. Balsa is part of Irina's generation in the club and has been increasingly engaged as a coach during the winter months, when the chief coach of the club, Ilko Klakor, who often travels with Irina, Ilija Markovic and Igor Leso on international regattas, is not in Tivat. Nikola is a bit younger, but he has excellent results in the Optimist class.
The sailing school is bilingual and attracts the international schools from Boka Bay - Arcadia Academy and Knightsbridge School International - which established cooperation with JK Delfin and whose students attend the summer sailing school.
In addition to the school for children, Delfin also runs a training program for interested elderly candidates this year. "When sailing is concerned, it's never too late. From this summer, we are also offering an adult course, which will be organized on Laser-type sailboats. And indeed, the oldest can try it out."
As for the sailing school for the youngest, training will take place on the weekends until the middle of June, to be held from Monday to Thursday from 10 am to 12 pm, starting with the summer school break.
"Our school begins with introducing equipment and adopting basic rules of conduct at sea, which is indispensable. They already see themselves and know that knowing these rules is necessary. In our school, children not only specialize in sailing but also gain valuable knowledge, such as nautical knots and getting to know the wind. Many skills can be useful to them not only for sailing."
The club provides sailing school attendants with all the necessary equipment and sailing boats, life jackets, a fast boat that continually surveys the sailing boats. Only water and sun protection caps should be worn for training, says coach Irina Kusovac.
To register for the sailing school, candidates should come to the YC Delfin premises, and for all additional information, you can contact the club officials by e-mail: This email address is being protected from spambots. You need JavaScript enabled to view it., and phone numbers +382 67 579 940 and +382 68 285 479.