The concept of the series is to present the most attractive tourist destinations in the world as seen by the average tourist in Bar, Montenegro, in cooperation with UNDP and Mikael Bader, a German who lives in Bar and is engaged in tourism. The host of the German TV show was the well-known machinist from Bar, Zoran Boskovic who, on the basis of this cooperation, at the end of his career, also realized his dream - sitting in the operator's cabin of the fastest train in Europe - the German ICE 3, and seeing for himself how the most up-to-date railroad works.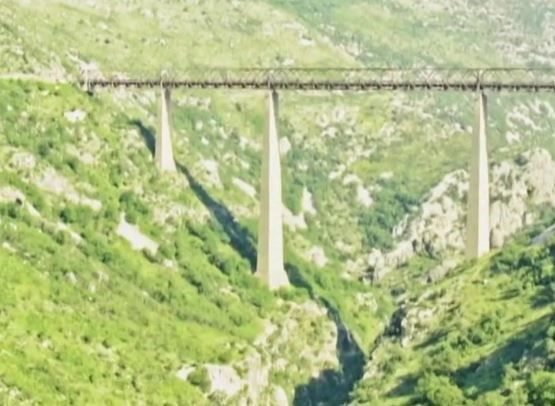 A clip from the show (screenshot)

Mikael Bader originates from Germany and has been living in Bar for twelve years. This most famous "German from Bar" has participated in numerous humanitarian and other civil sector actions, and is also the initiator of a series of ideas that promote tourism in Bar and Montenegro. That is how the filming of the documentary-promotional film took place, which has seen almost by 2,000,000 viewers so far.
"Last year, I was contacted by the journalists of the German television SAT 1, who wanted to make a documentary about the attractions and features of Montenegro in 45 minutes. I took them on a tour on our shore, but also on the north of Montenegro, and we came across beautiful stories, amicable people and therefore this fantastic movie was created. The reactions of viewers, and it was seen by nearly two million people, are good. A lot of Germans who want to come here and spend their holidays here have already contacted us. We have shown Montenegro, among other things, as a green ecological tourist destination, " said Mikael Bader for Radio Bar and Bar info, who also stated that one segment of the film was driving a German train crew on the route Bar-Bijelo Polje.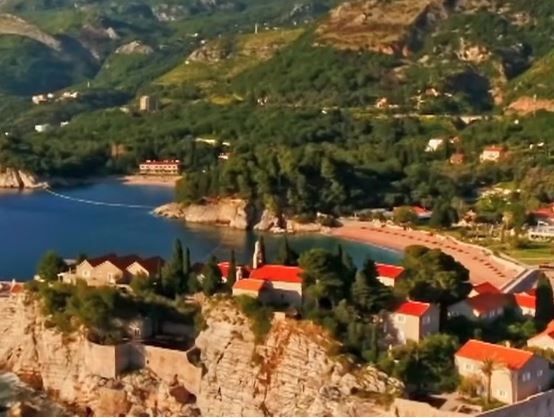 A clip from the show
"Experienced machine engineer Zoran Boskovic was driving us, and it was an opportunity for German journalists, and later filmmakers, to get to know Montenegro from the bridges, canyons, and fantastic landscapes, but also to find out how many green oases are located here. Zoran then revealed to us his desire to see how the fastest European trains in Germany work," said Bader. Machinist Zoran fulfilled his dream, and thanks to Bader, at the end of his career, saw how the German railways function.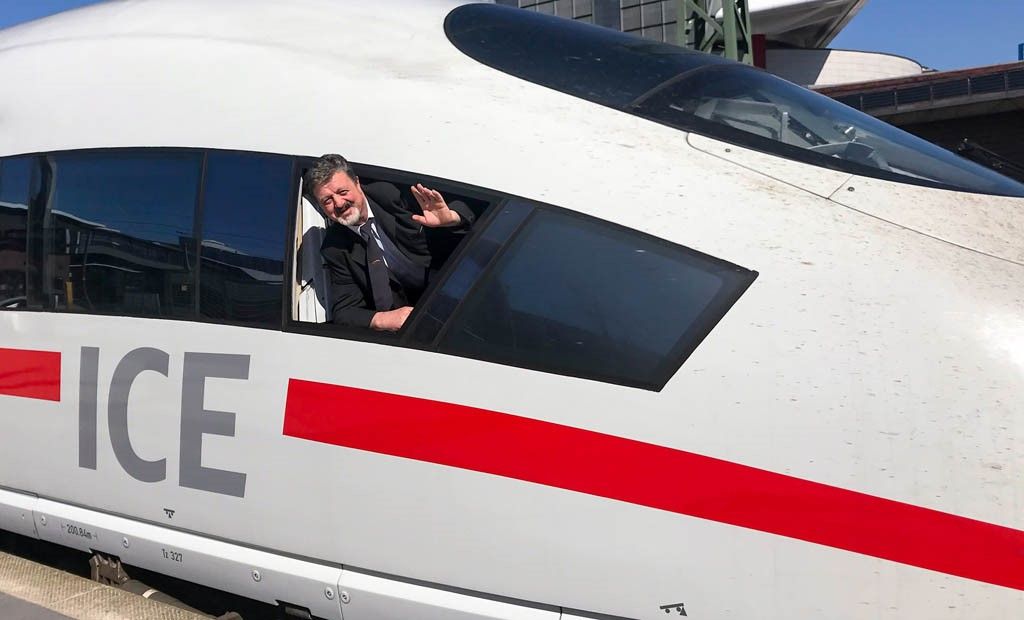 photo: Bar info
"This is one experience that every machinist would want. It's about the fastest trains that are almost a technological wonder. Though next year a more contemporary ICE 4 train will emerge, this experience was precious for me. I was sitting, briefly, in the commander cabin of 300 km/hour speed train, where everything is electronic and reminds me of operating a plane. We have passed the fastest section of München-Berlin," said Zoran Boskovic, who is very impressed not only because of this experience but also because of the excellent reception they had in Germany.
This machine engineer, who has been running Montenegrin trains for four decades, also met a colleague who drove the chancellor Angela Merkel in Germany.
"I was especially delighted that the German ambassador came to Berlin airport to see us and to find out our impressions and how we were welcomed. I can say that I have always loved and respected the German people, and now even more. We also visited Reichstag, the EU building, where the employees knew we were coming and threw us a wonderful welcome. I was at the podium from where European leaders made their speeches and visited a series of museums, the Braden Gate," emphasized Zoran Boskovic, a modest and hard-working man who, with devoted love and responsibility, took over the demanding job of the machinist.
Zoran transferred his love of the job to his son, Luka, who is also a machinist.
"Exceptional responsibility and conscience, as well as physical and psychological readiness, are needed for this job. Also, the willingness to be in action all the time, without the usual hours of work, a unique discipline. I was trying to carry out and finish my career without a single incident. I kept my health and the healthy relationship towards the job and society, which is the most important thing to me. If I were to be born again, I would again be a machinist," said the machinist from Bar not hiding his emotions.
In addition to Mikael Bader and the help of the German Embassy, this project was also supported by NTO CG.
Text by Bar info, on May 16th, 2018, read more at CdM